coconuttzo
Tiki Socialite

Joined: Jan 13, 2010
Posts: 144
From: Hilo, Hawaii


Posted:

2011-03-06 10:27 pm

&nbspPermalink

Wow, have I been gone that long?

Just a few pendants I've been working on. I actually had more new designs due to Christmas orders but I was so busy trying to make the mailing deadline to ensure delivery before xmas, I forgot to take pics of them. I got a chance to hop island & spent the holidays with the in-laws on Oahu.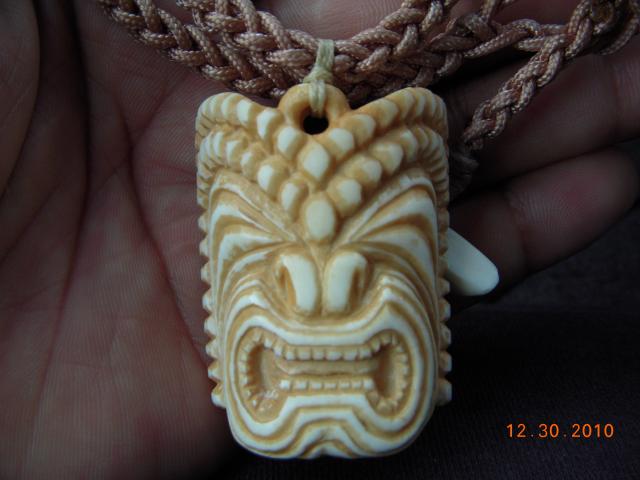 I made this for a friend of mines(former high school art teacher back in Tonga) who lives in Oahu. He actually has his own pendant booth at he back of the Dole Plantation visitor's center. His pendants are far more superior to mines using the rarest of raw materials, but I still wanted show him how much he has influenced my new hobby. I wish I could show you pics but he does not allow picture taking of his carvings for fear of others copying his designs. Just to give you an example of how exquisite they are, while I was there, a woman used her credit card to buy 2 pendants made of wooly mammoth tusks(ivory) for $5,000 a piece.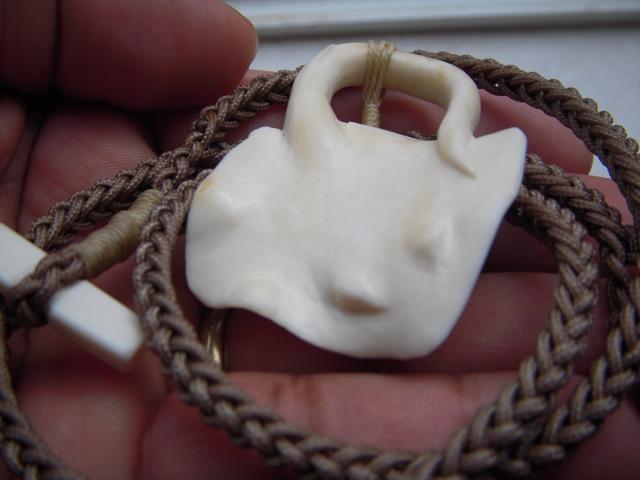 I made this stingray out of beef bone and like my manta rays, I wanted to portray movement which I tried to make with the ripples on the sides. I dunno, I was just playing around, making it up as I went along I guess.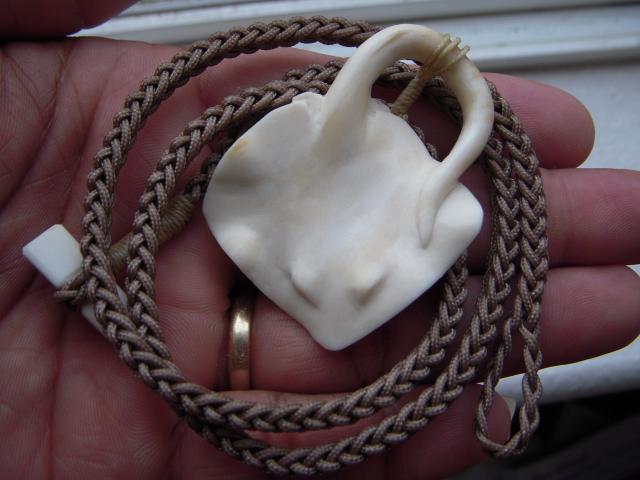 This here is a contemporary design of a traditional Hawaiian Makau being that it is more elongated than usual. I made it this way because I didn't want to waste a lot of the material, being that this is made from sperm whale ivory(tooth). I was given some scrap whale ivory from a friend who gets them from Niho Palaoa carvers. I was fortunate to find a fairly large enough piece to make this. I was even able to use the cut out center peice for the toggle.




The two pendants on my neck. Please excuse the bad lighting. The pic was taken at night and the camera flash was too bright.




This is a hei toki made for my wife's birthday...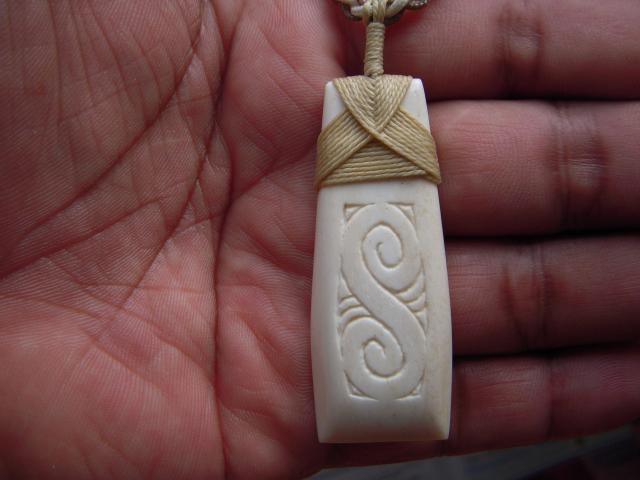 and this is the other side of it with an "S" for my wife's name, Stefanie carved as a double koru symbolizing our two children. A two-in-one or reversible pendant.




Just a plain hei toki. I'm still thinking if I should make this a reversible pendant as well.




A coffee stained Tanagaloa.




top & rear view of Tangaloa showing how I attatched the loop. I thread a short piece of micro-paracord. Burn the ends till they swell up and that, prevents them from coming out.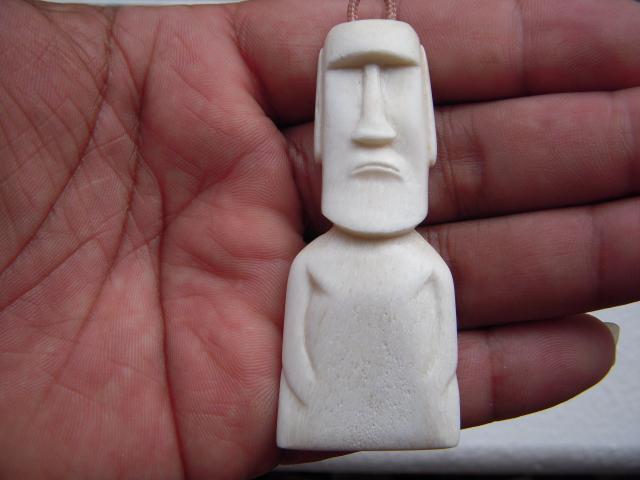 This pendant intially started off as a hei toki but as I kept grinding down, it was becoming more porous, so rather than ditch the project, there was enough solid material to carve something else so a Moai came to mind. I was just going to carve the head and discard the rest but then figured I play around with the remaining shape and carve a body. When I was finished, I was kinda plesed with the results so I just kept it as is. This is my evolving Moai Toki(is there even such a thing?). I threaded a loop similar to the Tangaloa.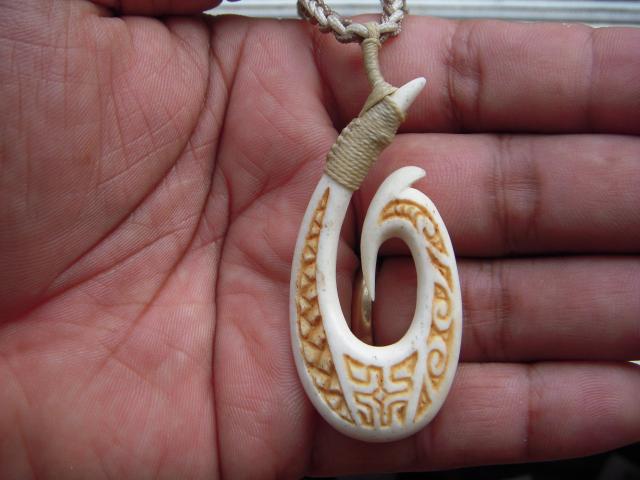 This is a koru designed matau with tatatau(tattoo) motifes. A commissioned piece for a mixed polynesian man(Tongan, Tahitian, Maori). The braided weave(Tongan design, left side) symbolizing his cultural roots intertwined with each other creating him. The human form(Tahitian design, center) symbolizing himself. The 3 korus(Maori design, right side) reminding him always that everyday life begins with a relationship with God first(top), family second(next below), before he can consider thinking for himself(bottom).
I lashed this hook on wihthout drilling a hole & don't ask 'cause I could'nt even remember how I lashed it. I just played around with different styles and eventually ended with this final look. It sure took me long enough.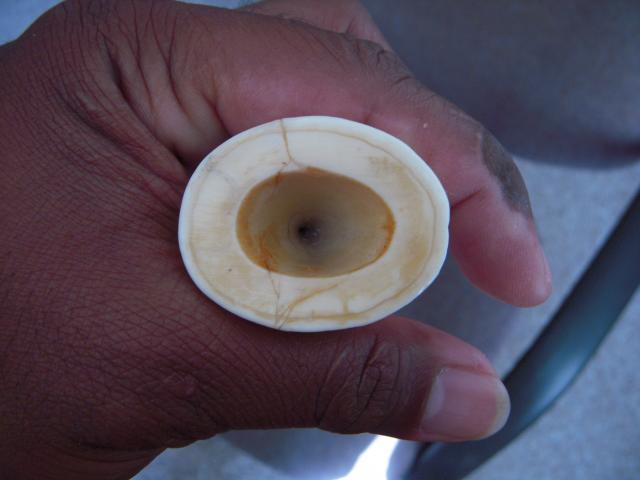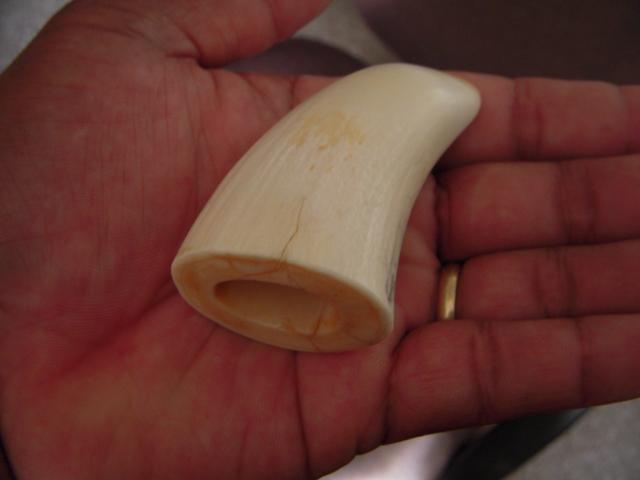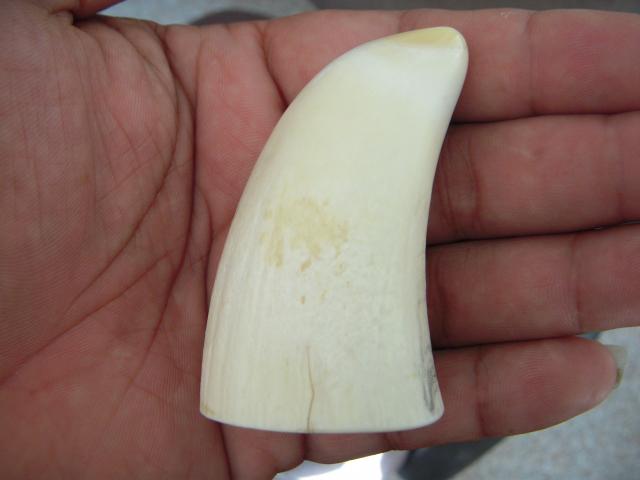 This is a sperm whale tooth that my friend(the one who gave me whale ivory scraps) wants me to carve something out of. The dilemma I'm facing is that he wants something traditional Hawaiian, not scrimshaw, and hanging with point down. Anybody on TC with ideas are more than welcome to post a comment. I do have something in mind but it is not traditional, more contemporary, & my design would have it hanging with the tip side up(in my design, there won't be a tip).

The whale's tooth was pulled from a dead whale carcass that had drifted to shore years ago.


&nbsp


&nbsp