coconuttzo
Tiki Socialite

Joined: Jan 13, 2010
Posts: 144
From: Hilo, Hawaii


Posted:

2012-11-07 01:36 am

&nbspPermalink

Howzit, TC ohana! WOW, It's been too long & unfortunately due to my hectic schedule, I've got little to show for it. Here are a few pieces I've been recently working on. Check'em out & let me know what you think. They'll be going to the marketplace hopefully soon. I'll also be posting some large authentic Tongan tapa sheets there as well. I'll keep ya posted.

Here is a tiki adorned fish hook pendant carved from cow bone. This was some hard work. At first I was gonna be lazy & do just one side but after I was done, the reverse was beggin for some carvin too. As if one side wasn't hard enough. I'm kinda glad that I went with it though. I'm still thinking if I should stain it and brighten the high areas with light sanding. What do you think TC?

Front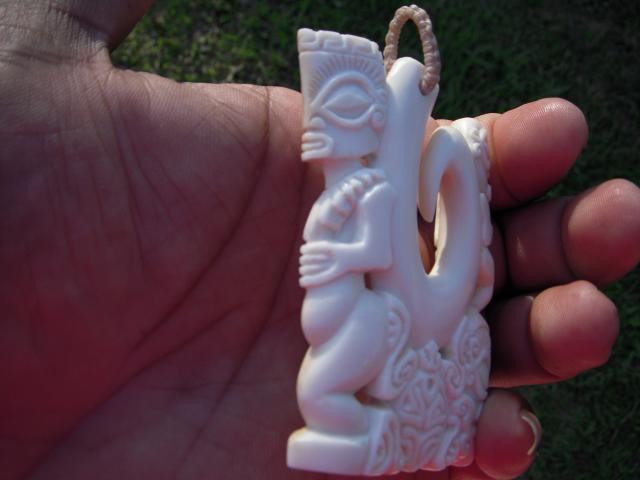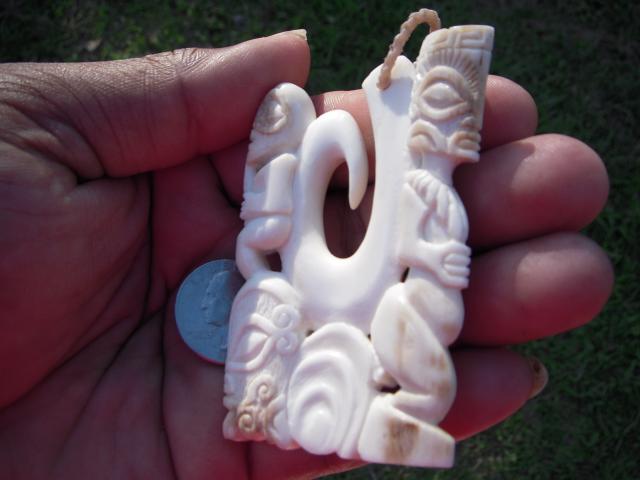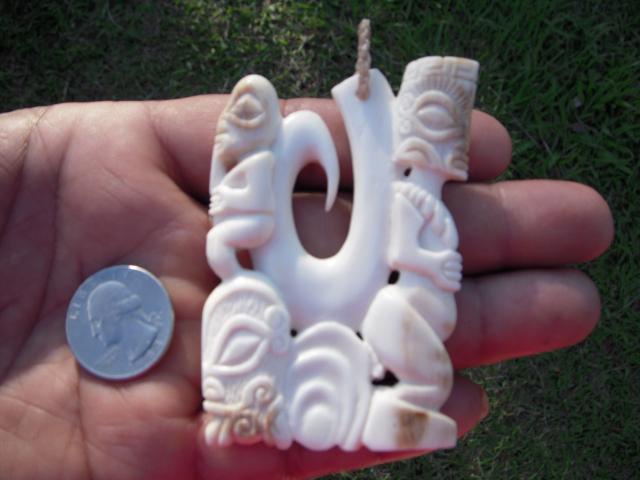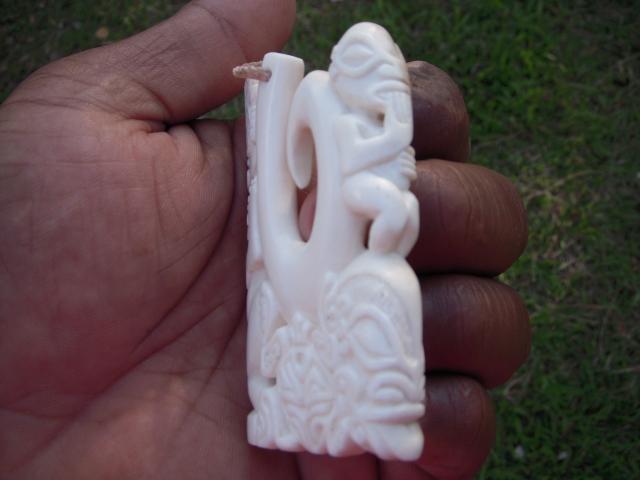 This next one is also carved from cow bone. It was inspired from a tshirt design & no, that isn't a bikini top he's wearing. The holes in the side of his jaw is where I will be lashing the necklace cord to. To stain or not to stain... that is the question.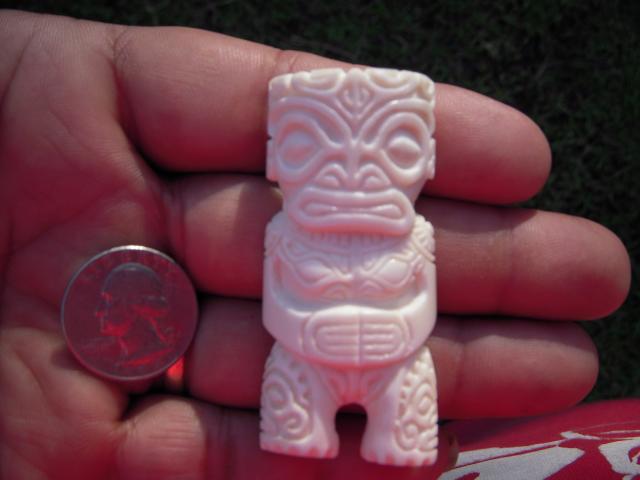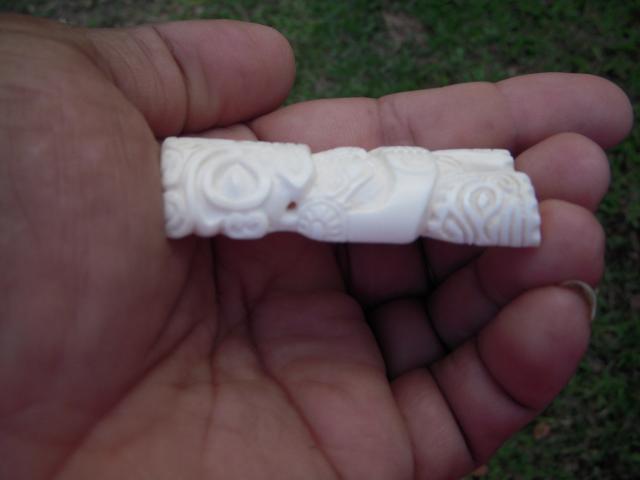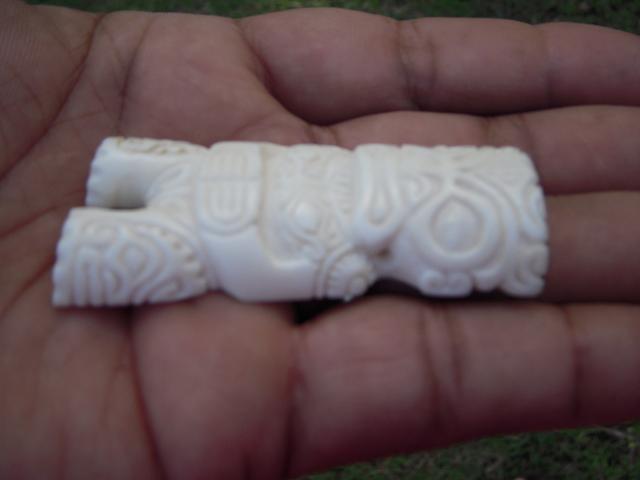 Next is MY FIRST full bodied Manaia attempt carved from the bark of wooly mammoth tusk. This very well seasoned piece of ancient ivory was so beautiful before I cut it up that I was scared of wasting a lot of the textured features. I had to sketch a lot of potential manaia designs for months before I was satisfied with one that wouldn't take away too much material & yet not look too busy. I hope I did the ivory justice! The only thing missing are the eyes for the three heads because I have no paua shell. I do have sperm whale ivory scraps but am afraid that it'll look like cow bone. Any ideas?




Now for some unrelated tiki stuff but well within the era I suppose.

I thought it'd be cool to make a miniature Hawaiian weapon for a pendant so I accquired a small tiger shark jaw which measured about 7" x 3"




I got a piece of rare Koa'ia wood & proceeded to make a Hawaiian war club, "Lei o mano". I wanted it to look rather aged so I used the outer cambium section of the wood. As I was shaping & rasp filing the wood, I thought the natural texture of the cambium would give it that aged artifact look I was going for so I left it in my design.

After gluing the teeth into the carved groove, I was going to lace them down but they looked good as is & I didn't want to ruin it like how I've regretably done other works in the past(burnishing pendant incident). I also didn't want to drill another hole for the pendant tether so I came up with this single string lashing I had in my mind. It seemed impossible at first but as I started going at it, it just seemed to fall into place. NO DRILLING NECESSARY! As far as knowing how I did it? I haven't a clue because I can vaguely remember.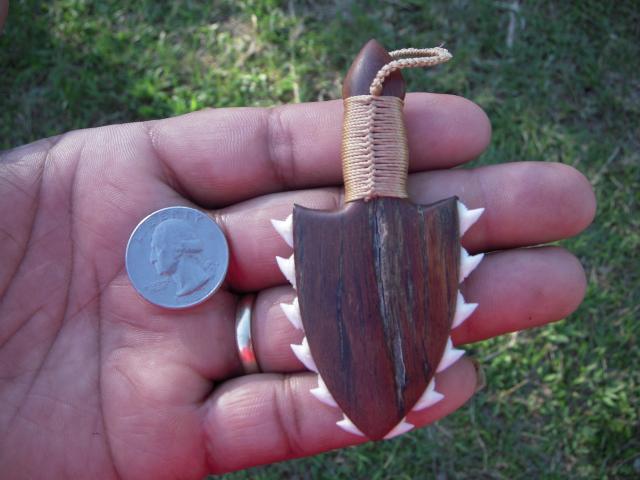 And finally, here are two fish hooks made from ancient wooly mammoth ivory tusks. Those spots are not mildew. They've been on since rough cut to final stage. I've tried sanding them off but I guess it's part of the mineralizing effect from being buried in icy mud for so long.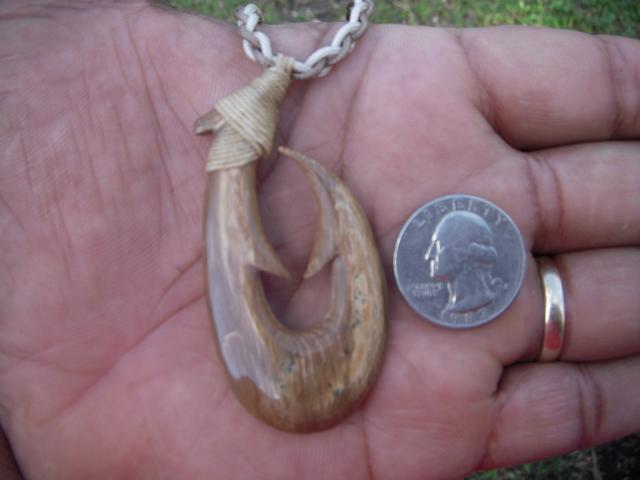 [ This Message was edited by: coconuttzo 2012-11-07 02:07 ]

&nbsp


&nbsp