JOHN-O
Tiki Socialite

Joined: May 16, 2008
Posts: 2720
From: Dogtown, USA


Posted:

2010-02-21 10:28 pm

&nbspPermalink

OK, before we get to my trip to Smugglerís Cove, letís start with my visit to Forbidden Island, a place I havenít been for almost 3 years. Now letís face it, most of the recent Tiki Central Bay Area spotlight has shone on SC with FI being relegated to ďthe place that Martin Cate leftĒ. Conventional wisdom would dictate that the quality would fall much in the same way when a celebrity chef leaves a famous restaurant.

This feeling was reinforced when I had a chat with someone I meet at LAís Varnish bar earlier last year. This self-described San Francisco ďNew CocktailianĒ insisted he was a former FI regular and that the place had gone downhill when Martin left.

Since I was staying with friends in the East Bay, I decided to check it out for myself. Upon entering FI, it felt as if I was just there the previous week. That ďnever changes, frozen in timeĒ Tiki atmosphere was still in place. The mood was still that of a low-key neighborhood bar, FI hadnít turned into a beer swilling sports bar.

Now did you ever have a cocktail that after the first sip, made an impression that just stayed with you? That was the impact I got when I first sipped on a Martiki-mixed traditional Mai Tai in 2007. Now Iím more of a Navy Grog guy, but Iíve never had a Mai Tai quite like that since. That was my first cocktail choice of the evening. I took my first sip, and then had that same feeling of sublime recognition I remembered from years before. Nothing had changed. Another key drink of the evening was the Jet Pilot which I would say was one of the best Tropical cocktails Iíve tasted (Iím jumping ahead here, but I also tried the Jet Pilot at SC. Very very good, but I think I preferred the FI one just a tad more.)

So hereís my point. In my opinion, any rumors that FI has gone downhill are total BS. Talking to Susan (one of the bar managers) and Paddy (my bartender of the evening), FIís dedication to master mixology and devotion to classic Tiki-style are still very much in place.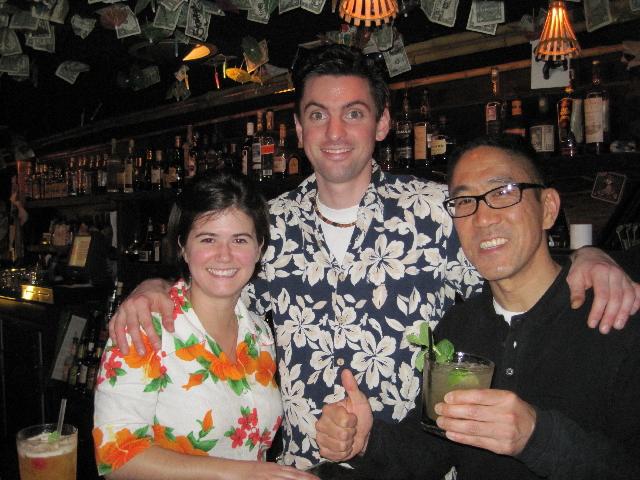 On the West Coast, itís sometimes easy to take FI for granted. Now we have so many great Tropical cocktail places like SC, DTBC, the revamped Tonga Hut, the downtown LA TV, and Frankieís Tiki Room. We forget that when FI first opened, the only other real game in the West was Tiki-Ti. Itís great to see that one of the first places that set the high Tiki standard still continues to maintain it. Donít think of FI as the place that Martin Cate left but rather as the place he helped to define.

Next up, my Smugglerís Cove assessment. Itís very positive but you'll also find some of my comments surprising.

[ This Message was edited by: JOHN-O 2010-02-22 18:53 ]

&nbsp


&nbsp