little lost tiki
Tiki Socialite

Joined: Jun 12, 2006
Posts: 7750
From: Orange,CA-right near the Circle!


Posted:

2011-04-18 09:56 am

&nbspPermalink

Thanks Wendy!
i had to tolerate a whole day vending with GROG teasing me about orange and green colorways... I guess it's not the colors,but what you do with em!
When a painting calls for pink-i obey...When it asks for olive-i grab the olive...

and now........Here it is!
the twins!
The veil of secrecy has been lifted and they are now a part of the
clamshell roofed Mermaid bar at Mojave Oasis!
(if anyone has a good shot of these in situ,i would love to see them!)

soooooo,without further adieu....

"Land of the Mermaids (Angelfish)
3x4'
acrylic and cel-vinyl on gessoed wood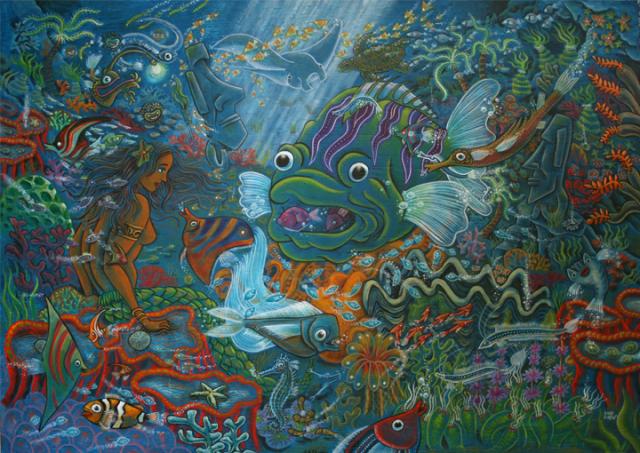 "Land of the Mermaids (Seahorse)
3x4'
acrylic and cel-vinyl on gessoed wood



Thank you Amy,for letting these humble offerings share occupancy with so much stunning art and handiwork! i am moved and honored to have been able to add to that Incredible weekend!

i may be doing a limited edition print of each
25 of each,signed and numbered...but i'm still on the fence about it..
we'll see....

Anyways friends,Thank you all for your encouragement and kindness and patience
during the sneak-peek phase of this project!

and if you can make it out to Mojave Oasis sometime,give my twins a lil hug and smile!


_________________



www.kinnyruzic.com Art Blogs Wishes Fulfilled!
I'm on Facebook and now Instagram under Ken Ruzic
AW Jeah!

&nbsp


&nbsp