Ojaitimo
Tiki Socialite

Joined: Aug 04, 2006
Posts: 1317

Posted:

2010-04-23 2:38 pm

&nbspPermalink

The Ahmanson Theater is going to have the broadway production of South Pacific on stage for two months starting in May. I used to get rush tickets, ten minutes before performance time for $10.00 each. Anyone know if they still have rush tickets?
Walking distance from Trader Vic's and the Tiki Ti too.


From the Ahmanson website

South Pacific

Ahmanson Theatre
Set on a tropical island during World War II, South Pacific tells the sweeping romantic story of two couples - US Navy nurse Nellie Forbush & French plantation owner Emile de Becque and Navy Airman Joe Cable & a young local native girl Liat - and how their happiness is threatened by the realities of the war and by their own prejudices.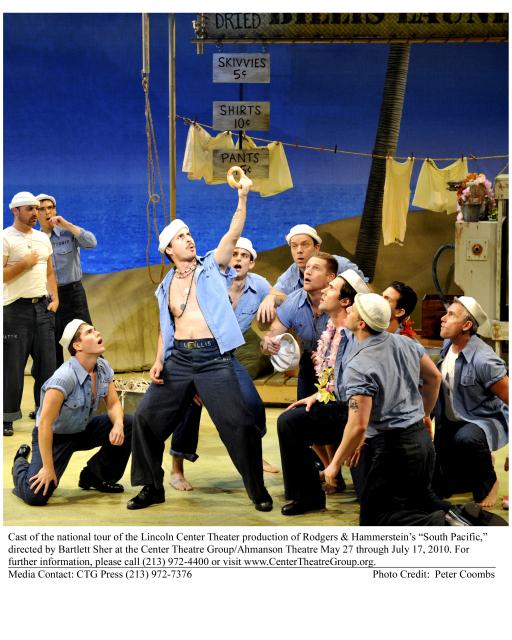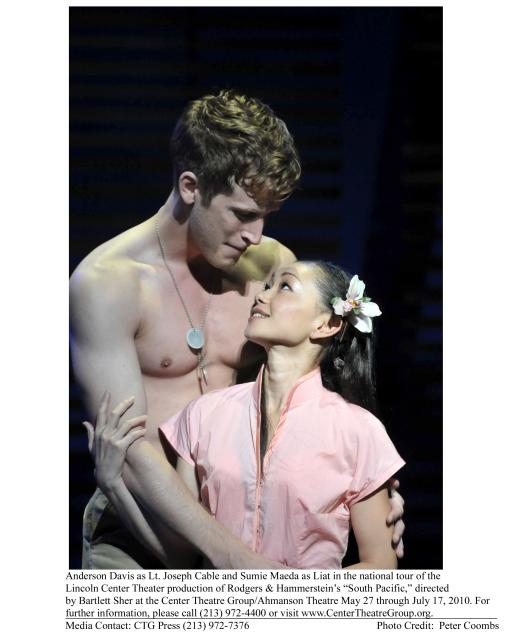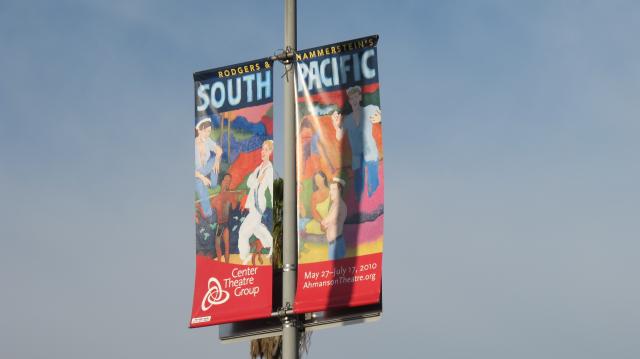 Thursday, May 27, 2010, 2:00 pm


Thursday, May 27, 2010, 8:00 pm



Friday, May 28, 2010, 8:00 pm



Saturday, May 29, 2010, 2:00 pm



Saturday, May 29, 2010, 8:00 pm



Sunday, May 30, 2010, 1:00 pm



Sunday, May 30, 2010, 6:30 pm


Tuesday, June 1, 2010, 8:00 pm



Wednesday, June 2, 2010, 8:00 pm


Thursday, June 3, 2010, 2:00 pm



Thursday, June 3, 2010, 8:00 pm



Friday, June 4, 2010, 8:00 pm


Saturday, June 5, 2010, 2:00 pm


Saturday, June 5, 2010, 8:00 pm


Sunday, June 6, 2010, 1:00 pm



Sunday, June 6, 2010, 6:30 pm



Tuesday, June 8, 2010, 8:00 pm



Wednesday, June 9, 2010, 8:00 pm



Thursday, June 10, 2010, 8:00 pm



Friday, June 11, 2010, 8:00 pm



Saturday, June 12, 2010, 2:00 pm



Saturday, June 12, 2010, 8:30 pm



Sunday, June 13, 2010, 1:00 pm



Sunday, June 13, 2010, 6:30 pm


Tuesday, June 15, 2010, 8:00 pm



Wednesday, June 16, 2010, 8:00 pm



Thursday, June 17, 2010, 8:00 pm



Friday, June 18, 2010, 8:00 pm



Saturday, June 19, 2010, 2:00 pm



Saturday, June 19, 2010, 8:00 pm



Sunday, June 20, 2010, 1:00 pm



Sunday, June 20, 2010, 6:30 pm



Tuesday, June 22, 2010, 8:00 pm



Wednesday, June 23, 2010, 8:00 pm


Thursday, June 24, 2010, 8:00 pm



Friday, June 25, 2010, 8:00 pm


Saturday, June 26, 2010, 2:00 pm



Saturday, June 26, 2010, 8:00 pm



Sunday, June 27, 2010, 1:00 pm



Sunday, June 27, 2010, 6:30 pm



Tuesday, June 29, 2010, 8:00 pm



Wednesday, June 30, 2010, 8:00 pm



Thursday, July 1, 2010, 2:00 pm

Thursday, July 1, 2010, 8:00 pm



Friday, July 2, 2010, 8:00 pm



Saturday, July 3, 2010, 2:00 pm



Saturday, July 3, 2010, 8:00 pm



Sunday, July 4, 2010, 1:00 pm



Tuesday, July 6, 2010, 8:00 pm



Wednesday, July 7, 2010, 8:00 pm



Thursday, July 8, 2010, 8:00 pm



Friday, July 9, 2010, 8:00 pm



Saturday, July 10, 2010, 2:00 pm



Saturday, July 10, 2010, 8:00 pm



Sunday, July 11, 2010, 1:00 pm



Sunday, July 11, 2010, 6:30 pm



Monday, July 12, 2010, 8:00 pm



Tuesday, July 13, 2010, 8:00 pm



Wednesday, July 14, 2010, 8:00 pm



Thursday, July 15, 2010, 2:00 pm



Thursday, July 15, 2010, 8:00 pm



Friday, July 16, 2010, 8:00 pm



Saturday, July 17, 2010, 2:00 pm



Saturday, July 17, 2010, 8:00 pm





[ This Message was edited by: Ojaitimo 2010-04-23 14:40 ]

[ This Message was edited by: Ojaitimo 2010-04-23 14:40 ]

&nbsp


&nbsp