TabooDan
Tiki Socialite

Joined: Jul 18, 2004
Posts: 662
From: Tiki in a Crowsnest, AB., Canada


Posted:

2010-06-16 5:57 pm

&nbspPermalink

Nice find Tipsy!! I bet they could tell some stories!
The bamboo font on the mug is pretty cool and I like the colored base as opposed to just plain white.

Here is a record from 1965 that's called "Tahiti Yesterday and Today". This record features two bands and on the first side is the band called "Quinn's Combo". This seems to be the house band that played at Quinn's Restaurant in Papeete. Also sounds like they were a sight to see.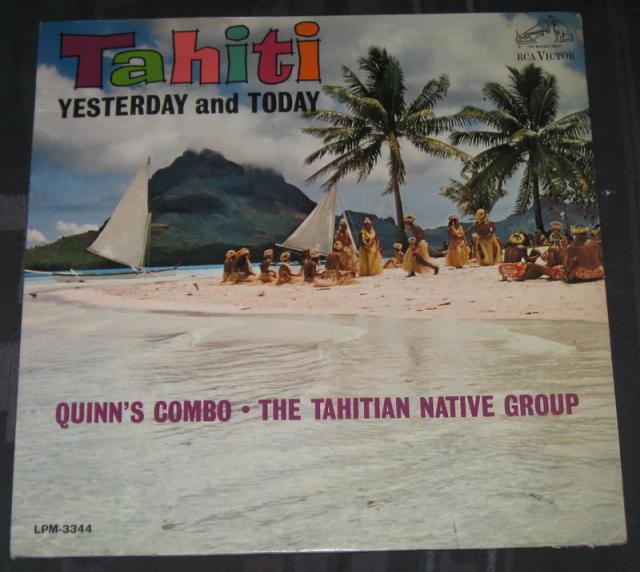 On the back of the album it says:

"Everybody who goes to Tahiti and it's capital city of Papeete eventually winds up at Quinn's Club, a water-front rendezvous that's a "must" for tourists. RCA Victor went to Quinn's to record a live performance of the club's prime attraction - Quinn's Combo, which plays and sings Tahitian melodies in today's tempos.
Artfully combining amplified guitars, drum, accordion and melodious voices, Quinn's Combo darts merrily through six Tahitian songs with an up-date beat that would have flipped Captain Cook. The beat is swingable and twistable, but paramount in the presentation are the exciting simplicity of these native songs and the unfettered gaiety with which Quinn's Combo interprets them. And so, "Tahiti Today"."

Geez.... I wish I could take credit for writing some of that but that's what it says on the back of the record!

Kind of cool to hear a bit about a place that seems to have been a pretty big part of the Tahitian scene. Come on.....Leeteg hang out there!! What a great history this Quinn's had! I wonder if there were any Leeteg related items in there? Maybe a photo in memoriam over the bar or possibly a velvet hanging up? That would have been pretty cool to check out.

Mahalo, TabooDan

&nbsp


&nbsp