Phillip Roberts
Tiki Socialite

Joined: Sep 09, 2003
Posts: 1665
From: OAHU/Seattle


Posted:

2012-01-27 11:35 pm

&nbspPermalink

Aloha!

Well, the condition of the place was just about what I expected... Pretty darn bad...

Central Pacific Bank Clock stopped at the time power went off at the instant it was closed...




A coconut fish suspended in a back room. Apparently there was a great deal more Tiki decoration here during the heyday of this place. Descriptions speak of many things long gone.




Balls...




There were plenty of 10-20 year old shoes lying around, but none in my size... Bummed about that... Rifled the files in the business office and found nothing of real interest. Moving on...

Poster...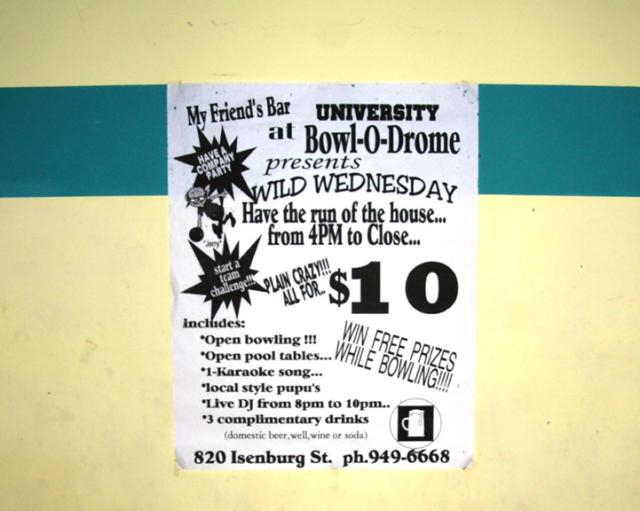 Sign...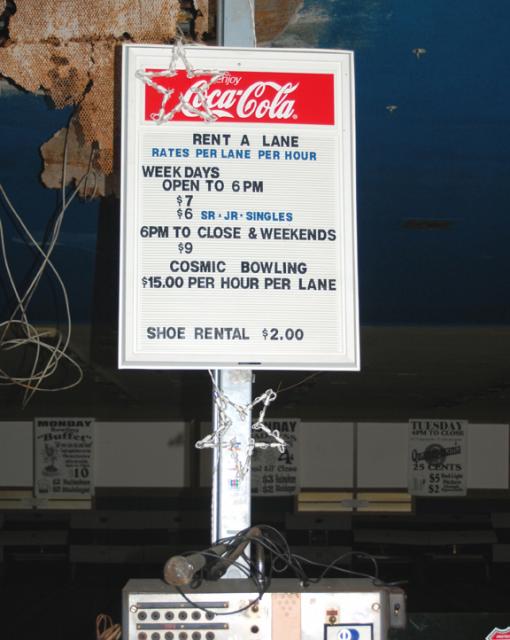 And of course it WAS A bowling alley...




There is some good news about the Bowlodrome... I'll let you in on that later...

On to the mural... which is what you care about...

Let's start with a full shot of the Diamondhead facing wall so you can see the context...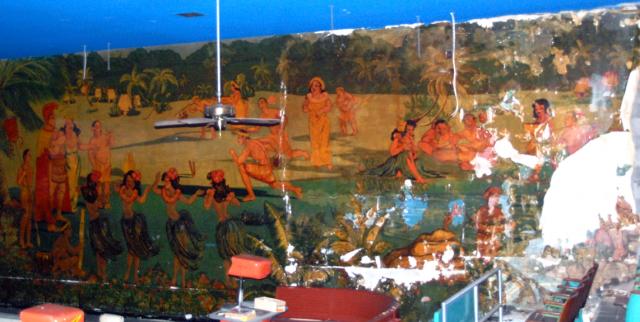 The artist signed her work... Jacquelyn Anderson, Waikiki...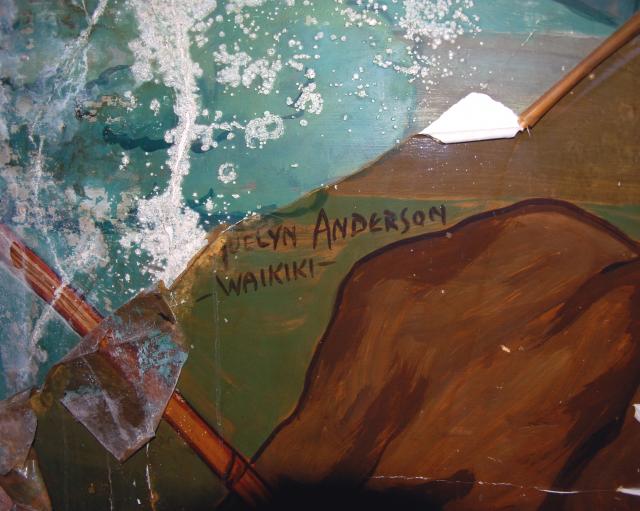 As you can see, the damage is pretty extreme on the Makai side of the mural...




Eating poi to the strums of ukulele... (Of course, we all know the uke wouldn't have been here at this ancient village, having been introduced much later to the islands.)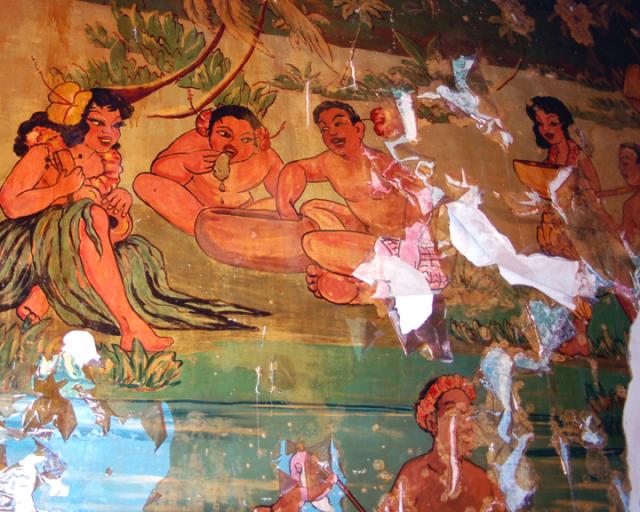 And a Menehune stealing fish IS seen as we move Maulka...




I note that the mural had been covered with varnish at some point as a preservation measure (probably to save it from the cigarette smoke). It peeled away very easily. You can see the original blue colors of the pond from where I peeled away some. This must have been VERY vibrantly colored in 1954.

He's carrying a pig and she's playing ukulele.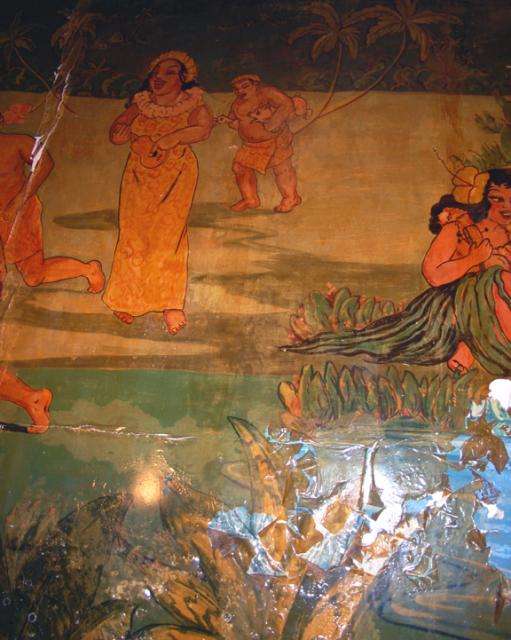 Hula maidens rule! Their frolic is enchanting...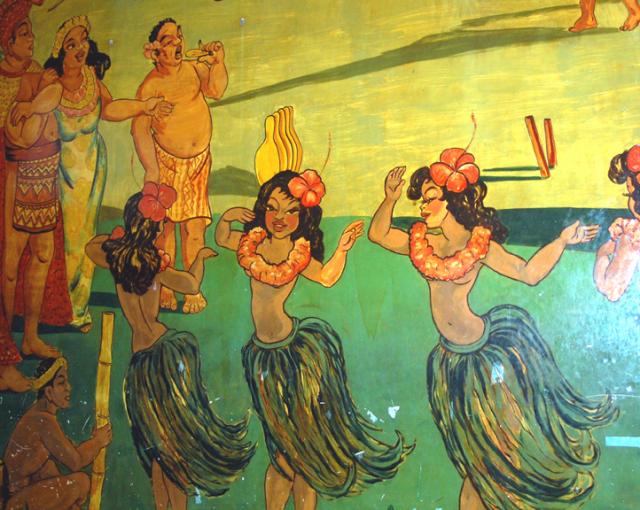 Hawaiian Bowling... U'lu maika is being depicted here with round lava rocks being thrown...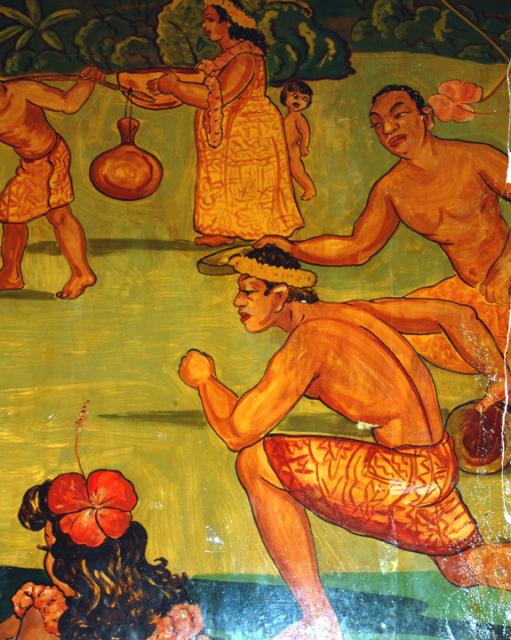 And the MONEY SHOT.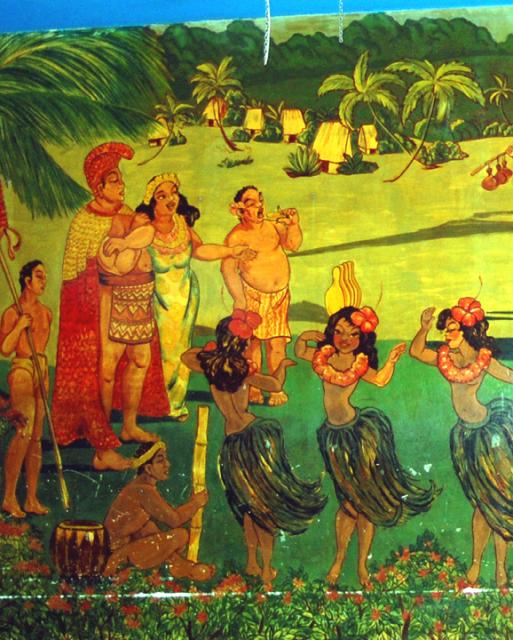 The Ewa wall of the Bowlodrome once contained another mural, long painted over... I found a few remnants of it under the peeling paint, I can only imagine the breath and scope of it. Perhaps a picture will one day surface...




Good news? Yes. Someone with money is thinking about restoring this space to it's pristine glory. We spoke a bit. He will, if all goes to plan, preserve as much of the old mural as possible and comission new works of art.

_________________
Waikiki Tiki; Art, History, and Photographs.
Available now from Bess Press Hawaii.

[ This Message was edited by: Phillip Roberts 2012-01-27 23:45 ]

&nbsp


&nbsp