JOHN-O
Tiki Socialite

Joined: May 16, 2008
Posts: 2720
From: Dogtown, USA


Posted:

2011-05-05 6:02 pm

&nbspPermalink

Here's an out-of-state Zombie review for...

The Hala Kahiki !!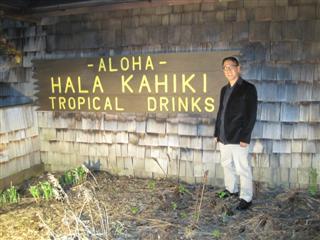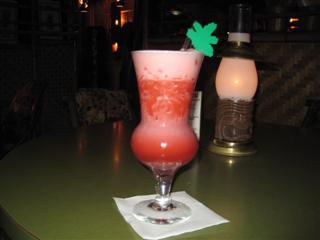 "You mean that place in Ohio? Didn't it close down 10 years ago?" as a few So CA Tikiphiles commented to me recently. Nope, this is the HALA Kahiki just outside of Chicago, which has been going strong since 1966.

Not quite as well known as fellow mid-century icons like the Tiki-Ti or Mai Kai, it certainly deserves to be mentioned in the same breath. This place has been on my Tiki to-do list for quite some time.

I happened to be in Chicago on business, and a small window of time opened up for me (and a co-worker) to visit. Taking a $65 taxi ride from downtown, we traveled 16 miles to what seemed like the middle of nowhere. The Indian cab driver was really curious why a couple of tourists would be traveling so far out of downtown. What kind of place did you say this was?, he asked. "A titty bar ??". No I answered, "A Tiki bar !!".



Walking through the Hala Kahiki's doors was like walking through a time portal back to the 1960's. The immediate vibe I felt was the dark and quiet reverence of a church.

A Tiki church !!

Actually it was more like the holy temple of Witco, as that signature dark wood and leopard print were in sight all throughout the building. In fact there was so much Witco, it almost seemed like it had to be reproductions for so much of it to be concentrated in one spot. It however was the real deal.

The mood was momentarily broken as I heard Abba's "Dancing Queen" begin to play over the sound system. I immediately made a bee line to the juke box and quickly searched for some Exotica selections. Nothing in that genre, but I did find an Alfred Apaka CD and a Hawaiian music comp that I quickly programmed.

OK, now it was time for a cocktail !! True to the theme of this thread, I started out with a Zombie. When I saw it wasn't being served in the requisite Collins glass, my expectations were lowered. After a few sips, my reaction was "This tastes like Kool-aid spiked with rum".

After the Zombie, I sampled a Fog Cutter and then a Navy Grog. The mixology quality was all about the same.

So did the disappointing cocktails take away from my Hala Kahiki experience? I would say No. I think I would have been happy just drinking club soda with the Tiki "time machine" euphoria I was feeling. Much like the Bahooka in Rosemead, the cocktails were probably besides the point.

I've been to most of the original and revival Tiki bars in the West. Now while I love them all, none of them were close to the exotic frozen-in-time Tiki romanticism that I experienced at the Hala Kahiki. I like to think of So Ca (or even the entire state) as being the center of the Tiki universe, but after the Hala Kahiki, I was humbled.

Actually the fact that the Hala Kahiki sits 2,000 miles northeast of the Tiki-Ti, and 1,500 miles northwest of the Mai Kai, maybe IT'S really the center of Tiki culture in America.



&nbsp


&nbsp