JOHN-O
Tiki Socialite

Joined: May 16, 2008
Posts: 2720
From: Dogtown, USA


Posted:

2013-02-26 11:09 pm

&nbspPermalink

More Chop Suey action... This time instead of a Chinese Mai Tai, it's an (Asian) Zombie at the Far Bar in Little Tokyo.




This is the site of the former Far East Cafe which was one of L.A.'s most atmospheric mid-century Chinese restaurants prior to its closing after the 1994 Northridge earthquake. The outer facade and original neon are still there. (And yes this is a Chinese restaurant in a Japanese neighborhood.)

Here's the exterior as it existed prior to WWII, the Far East Cafe is to the far right...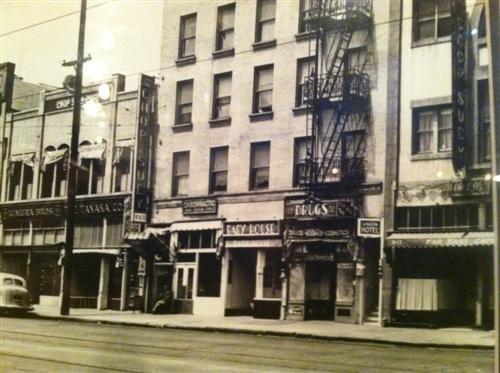 And how it looks today...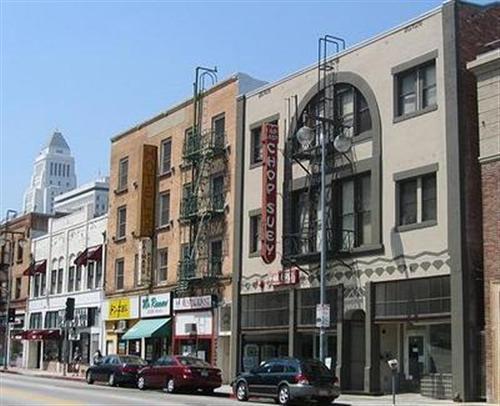 If any childhood restaurant memories are burned into my adult psyche, then it's from this place. Any Sansei kid growing up in L.A. probably had some type of family get together at the Far East, it was a J-Town institution. I remember my grandfather boasting that his two generations of offspring had grown so large that he needed to reserve the entire 2nd floor mezzanine for family reunions.

As kids we used to blow our straw wrappers on to unsuspecting diners below. Also I recall being fascinated by the ancient pull chain toilets in the restrooms. And we always ordered the same "China Meshi" comfort food dishes of almond duck, chicken chow mein, pakai (sweet & sour pork), chashu (BBQ pork), shrimp & lobster sauce, and hom yu (fatty steamed pork). This was Cantonese soul food for local Japanese and Mexican families, as well as L.A. Civic Center employees working down 1st street.

And man, did the Far East ooze historic L.A. !! Opened in 1935, the restaurant was a maze of wooden stalls. The stalls were constructed for curtains to provide diner privacy but the curtains had to be later removed as they posed a fire threat. The place really felt the age of the 1896 Beaux-Arts style building it was housed in. And it remained frozen in time, never really changing over the 30 years I visited there.

The noir atmosphere was appropriately used for a movie scene in "Farewell, My Lovely" based on the Chandler novel of the same name. Narrative lifted directly from the book:

"I was having some Chinese food when a dark shadow fell over my chop suey..."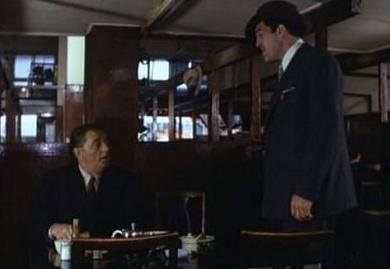 In 2006, the Far East was renovated and opened as an Asian fusion bistro called the Chop Suey Cafe, and had several unsuccessful start/stops trying to establish a new clientele. Far more successful was the adjoining patio bar called the Far Bar, which is accessed via a narrow alleyway...




Apparently that worked out so well that the main restaurant recently took on that brand.

Although the bones of the original Far East Cafe are still there...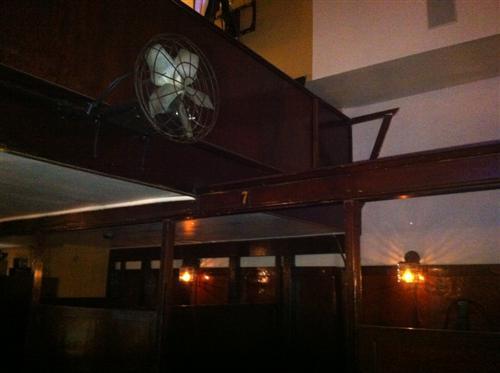 The remodel unfortunately took away much of its timeless historic character...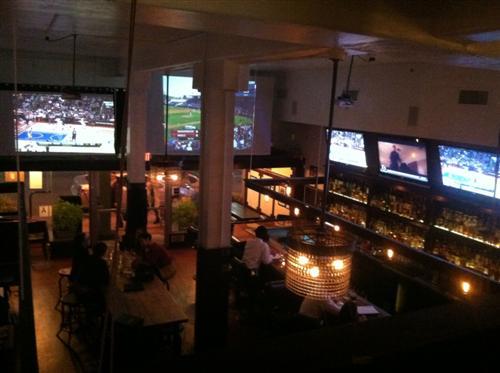 And as you can expect, the beloved cuisine of my childhood is gone, having been replaced with hipster bar food and a trendy craft cocktail menu.

Given the Little Tokyo location, the menu lists "witty" drink names like Godzilla, Yellow Fever, and Bird Flu.

I ordered the Asian Zombie (oddly colored blue) which didn't turn me into an Asian Zombie, but did help to console me on the loss of a special place from my Wonder Years, at least as how I fondly remember it.

On a related note, someone recently asked me "JOHN-O, you grew up in Rosemead. You seem to be taking the closing of the Bahooka rather lightly."

My response ?...

"At this point, I've grown immune."

I just want my old Far East Cafe back !!



&nbsp


&nbsp