Psycho Tiki D
Tiki Socialite

Joined: Oct 13, 2006
Posts: 1843
From: The river Styx, can you pay the toll?


Posted:

2011-06-29 06:14 am

&nbspPermalink

Found a little more information on the

Zombie

Hut and the cross-connection to The Hawaiian Hut in West Sacramento:

Locals reminisce about south area's famous

Zombie

Hut restaurant
By LANCE ARMSTRONG

Sacramento has been home to a wide variety of restaurants throughout the years and among the most unique of these eateries was undoubtedly the

Zombie

Hut.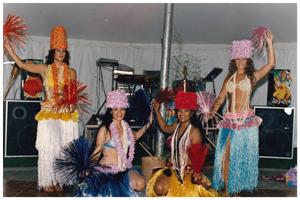 (Left to right) Debbie Kassis, Turia Giles, Evelyn Meredith and Cheryl Cook were among the many dancers to perform at the

Zombie

Hut. (Photo courtesy of Cheryl Cook)Operating at 5635 Freeport Blvd. from 1945 to 1990, this establishment drew a consistent clientele during its heyday.

Despite the passing of two decades since its closure, the Polynesian-style business continues to be fondly remembered by its many guests and workers.

Among the restaurant's earliest customers were Pocket residents Norman and Dolores Greenslate.

Dolores, the longtime historian and archivist of the Portuguese Historical and Cultural Society, said that the first owner of the business was a Portuguese man, named Johnny Quaresma.

"(Quaresma) was a Portuguese fellow, who was known as Johnny Christmas," Dolores said. "The story goes that somebody was saying 'Quaresma' and they were thinking that they were saying 'Christmas,' so he became known as Johnny Christmas. He owned the

Zombie

Hut originally and he may have had a (business) partner, I don't know."

Quaresma sold the business in about 1952 and opened a similar restaurant, the Hawaiian Hut at 2400 West Capitol Ave. in West Sacramento.

Dolores added that the restaurant's Portuguese connection did not stop with Quaresma, noting that another Portuguese man, Eddie Cunha, who was recognized as one of the city's best bartenders, worked at the

Zombie

Hut for at least 20 years.

Another notable bartender at the restaurant in latter years included Eddie Cisneros.

At the time of its opening, this dimly lit restaurant, which was known for its evening entertainment and its many tropical drinks with miniature umbrellas resting on their tops, was located within a relatively barren area, south of Sutterville Road.

As opposed to today, this area near today's Sacramento City College and William Land Park was much less built up and included few places during this era besides Capital Nursery, Raley's grocery store, the Municipal Airport, Bob's Bar-B-Q, The Stables tavern, a pair of liquor stores and the Ceccarelli residence.

But the

Zombie

Hut, which included much Polynesian décor, was well situated for people in the Pocket area such as Dolores, who is a native of the area.

"The

Zombie

Hut was the place to go out in that area," Dolores said. "We used to go there after Norman came back (from World War II). I also used to go there for fashion shows later on when (another owner) Ed Hill had the place. The women used to go over there for the (fashion) shows, but then the men did, too, because there was lingerie."



Place for Polynesian music

The

Zombie

Hut's most renowned entertainment and a staple of the venue was its Polynesian music and dancing acts.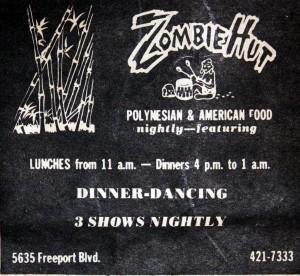 This 1974 advertisement showcases the popular restaurant's concentration on both food and entertainment. The venue also included a beverage menu with many tropical drinks. (Photo courtesy of the Lance Armstrong Collection)Pocket resident Mary Snyder, who was formerly known as Carol Monahan, recalled attending Polynesian entertainment performances at the

Zombie

Hut as early as 1963.

"While I was attending (Sacramento) City College and living (at 2415 33rd Ave.), Alvin Inaba, whose parents owned the whole block where the

Zombie

Hut was located, used to take me to the

Zombie

Hut," Snyder said. "I would see the entertainment there and it was the first place I ever had a prime rib dinner. We would go to the

Zombie

Hut and then to the Music Circus, because his sister was in the Music Circus. I remember seeing the dancers (at the

Zombie

Hut) and some kind of act with fire. For Sacramento, this was quite the thing. Back then you only had the Sacramento Inn, the Hotel Senator and the

Zombie

Hut was right up there, because of the entertainment."

Albert Sakalata, a Tongan-born musician who began entertaining at the venue in 1963, recalled his first memories of the

Zombie

Hut.

"I was asking people where I could find a Hawaiian restaurant and they told me to go to the

Zombie

Hut," Sakalata said. "When I first went there (to the

Zombie

Hut), I was really shocked to see there were torches lined up with fire outside the restaurant and the place was like the (Polynesian-themed) Trader Vic's restaurants down south in L.A. I was with two Tongan boys (Fono Manu and another with the last name of Tofanaha) and we all decided that we were going to work at this place. They approached us and asked us that night to perform a couple songs on stage (with the Lee sisters from Hawaii and their brother, Fred Lee, the drummer) and we were hired on the spot."

Sakalata, who first came to the United States in 1959 when he studied accounting at the Church College of Hawaii – today's Brigham Young University-Hawaii – and helped build and open the world-famous Polynesian Cultural Center in Laie, Hawaii, said that he worked at the

Zombie

Hut for two years before going back to Tonga.

Returning to the United States in 1974, Sakalata, 70, began playing music with his brothers on a touring cycle, which included stops in Albuquerque, Tucson, Lake Tahoe, Stockton and Fresno.



A changing time

As Polynesian-themed restaurants were losing much of their nostalgic popularity in the 1970s and the

Zombie

Hut was in need of various improvements, Hill contacted Sakalata to provide entertainment and become the restaurant's manager.

Sakalata, who also took the stage with a Samoan musician, named Tasili Ngaleai, entertained at the

Zombie

Hut on Tuesdays through Sundays, from 8 p.m. to 2 a.m.


Accompanying Sakalata's group, the Royal Polynesians, at various times were several dancers, including Trudy Lawrence, who was also a singer, Ngaleai's sister, Losa, Turia (Giles) Davis, Katherine (Giles) Marchand, Evelyn Meredith, Debbie Kassis and Cheryl Cook.

Davis, who was born on the island of Bora Bora in the South Pacific and was a part of the

Zombie

Hut dance troupe from 1963 to 1969 and from 1985 to 1987, said that her professional dancing career continued until about 2007.

Commenting about one of her favorite dancing memories, Davis said, "My mom and dad (Fred and Tetua Giles) were at the

Zombie

Hut for years. I loved that and of course my mother was Polynesian (from Tahiti) and my dad always supported our Polynesian heritage. They were always big on supporting any of the Polynesian programs and events. I really enjoyed having them there. But it was not just them (who were regulars). There were a number of people who came there almost every weekend and just became part of the scenery more or less."

Cook, who began dancing at the

Zombie

Hut when she was 15 years old, said that many former

Zombie

Hut musicians and dancers continue to perform together at various events.

"The

Zombie

Hut's Hawaiian floor show still lives on," Cook said. "Albert and his Hula Lovelies, as he called us, still entertain at backyard parties, corporate events and country clubs with the group, Aloha Polynesia."

Although the

Zombie

Hut was definitely not Sacramento's first or last Polynesian-themed eatery and nightclub, it was widely considered the most popular of these places.

Predating the

Zombie

Hut was the Tropics nightclub, which opened at 1019 ½ J St. in 1943.

This business, which advertised itself as the "Pacific Coast's most beautiful nightclub" with "dancing, entertainment and tropical drinks," appears to be where Quaresma may have obtained his idea to establish the

Zombie

Hut.

The Tropics owners were Yubi Separovich, who lived at 2712 13th St., where Quaresma eventually lived, and Frank Radich, who resided at 2716 13th St.

Another similar business in latter years was Albert's Tiki Village at 3514 Marconi Ave. at Watt Avenue. Owned by Albert Mar, the restaurant boasted its "superb Polynesian cuisine."



Quality cuisine

The

Zombie

Hut also had its fair share of quality cuisine, as it served such offerings as steak, prime rib, scampi, lobster, scallops, mahi mahi, salads and roast pig on the weekends for luas and banquets.

And people came from many directions outside of Sacramento to enjoy the food, drinks and entertainment.

Among the

Zombie

Hut's most famous guests were John Wayne, Eddie Fisher, Joey Bishop, Joan Crawford, George Montgomery, Cliff Robertson and Eddie Murphy.

A lot of the draw of the

Zombie

Hut was its unique interior, which included a bamboo décor with many round tables that were individually illuminated by hanging blowfish lights, artificial coconut trees, a 15-foot-wide tropical storm, waterfall area, blacklights, recorded bird sounds, island-themed artwork, a thatched roof stage near the center of the restaurant, four canoes hanging from the ceiling, masks, spears, tiki idols and a large taxidermy collection that included the heads of moose, elk, goats and other animals brought back from Quaresma and Hill's hunting trips.

Remembering the inside of the

Zombie

Hut, Sakalata said, "It was like walking into a jungle."

Complimenting the

Zombie

Hut for a very brief time was Lucille Andrews, Olive Christian and Dixie Lockett's Hawaiian Imports gift store, which opened at 5677 Freeport Blvd. in about 1959.

Although Sakalata brought a much needed boost to the restaurant, by the late 1980s, the restaurant changed drastically under its last owner, Bruce Brooks.

During this time, the venue featured Love Boat theme and disco music shows and eventually discontinued its entertainment offerings.

Additionally, the restaurant replaced its former menu with a fast food-style menu and was only open on the weekends during the evenings.

Sakalata left his position as the

Zombie

Hut's manager in 1989 to begin his own Polynesian-style restaurant, called the Island Marina, in the Sacramento Delta and by the following year the

Zombie

Hut closed its doors to the public for the final time.

The building was demolished many years ago and the strip mall that now stands in its place includes a self-serve dog wash and bakery at the

Zombie

Hut's old address.



Gone but not forgotten

While Sacramento has been without its once beloved

Zombie

Hut for the past 20 years, a tribute to the

Zombie

Hut appeared in 2002, when former

Zombie

Hut busboy Tod Bullen opened a similar restaurant by the same name in Brooklyn, N.Y.

Sakalata, however, feels that the timing is right to reintroduce a

Zombie

Hut-like eatery and entertainment venue to the Sacramento restaurant scene.

"Right now, I think that there really should be a place like the old

Zombie

Hut (in Sacramento)," Sakalata said. "People of this generation are going to the Pacific Islands for vacations, like (to) Fiji, Tonga and Samoa and New Zealand, Australia and Hawaii. They are coming back with the nostalgia of the islands. If somebody could come up with a place like the

Zombie

Hut, I honestly think that it would be very successful."

But in the meantime, the old

Zombie

Hut has left plenty of memories behind.

Good read!

PTD

[ This Message was edited by: Psycho Tiki D 2011-06-29 06:23 ]

&nbsp


&nbsp