danlovestikis
Grand Member (8 years)


Joined: Jun 17, 2002
Posts: 5360

Posted:

Yesterday; 09:46 am

&nbspPermalink

Woodtiki you are very welcome. I made many mistakes along the way. I hope to use this thread to help eliminate those for people who are just starting out. Since most readers won't be going back over my 400 plus pages I do repeat myself.

I was happy to have you in the header. I will be more happy to see if the technique I used works!

The honu mug was copied from a tattoo book, I can't take credit for the design. I loved those tiki heads as fins.

I think it would be wonderful if we could work out a day for your visit to co-inside with IDVooDoo's visit. If not that's OK too.


www.woodymillerart.com


IDoVoodoo if it turns out I know it's going to a good home.

=====================================

I am so near to filling the kiln!

I was able to fit a few more pieces onto the bottom shelf. This is a tricky job. Crystals in glazes sometimes pop and travel. If they stick on another piece that's permanent. So I have to think about what's next to one of those pieces. I never turn a Tiki Bob's face in that direction. No crystals no problems.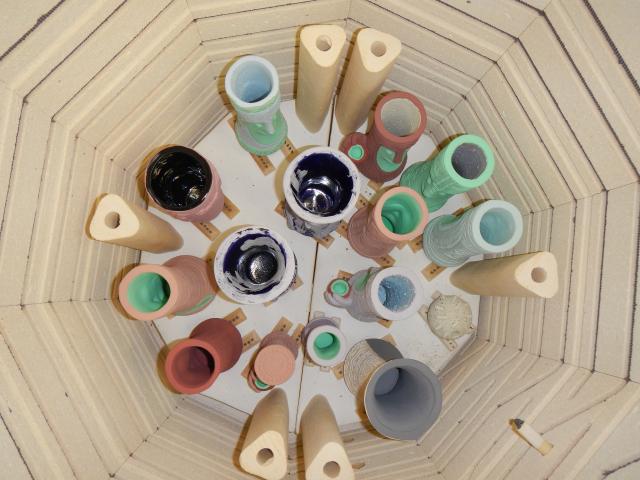 In case you have access to a kiln with an Airovent watch out for the air intake holes.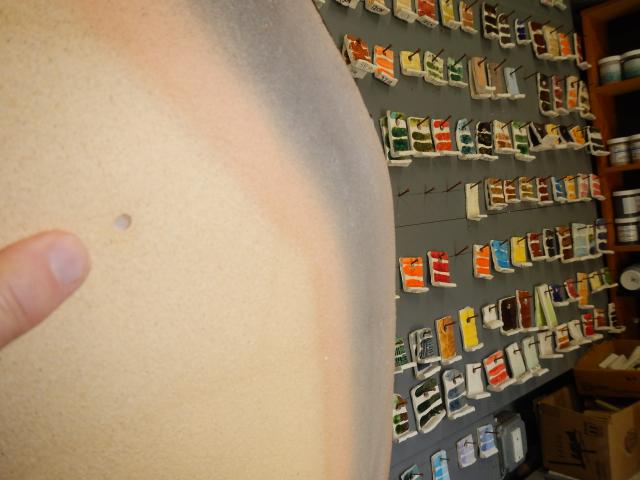 If one of these holes were to be right over the tall lamp it could make a defect in the glaze.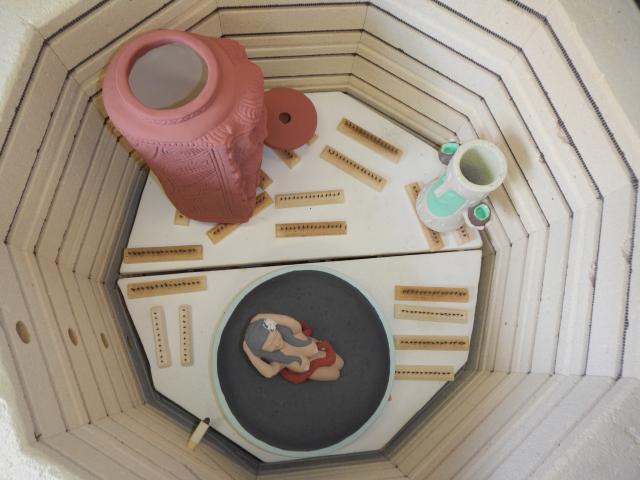 If you are buying a kiln an Airovent pulls air into the kiln so that all levels are firing at the same temperature. Otherwise without it the top layer will fire hotter.

==================================

Awhile back I repaired one of these statue. They had been brought together from different homes and they were mismatched in wear and colors. I fixed them. The last step was to seal it all with clear gloss varnish.

They are now married in Dan's collection.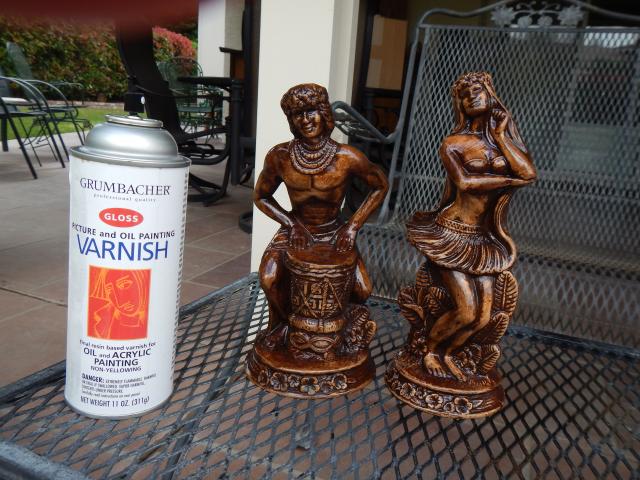 ==================================

Wish List #5 progress report.

This mug is a similar mug to one for Jen Tiki which is being glazed today.

This one is for Kenneth G. McNeil. I picked a glaze for this one that was far different from those for Jen's mug. Both she and Kenneth wanted blues but he let me pick which blue for his mug.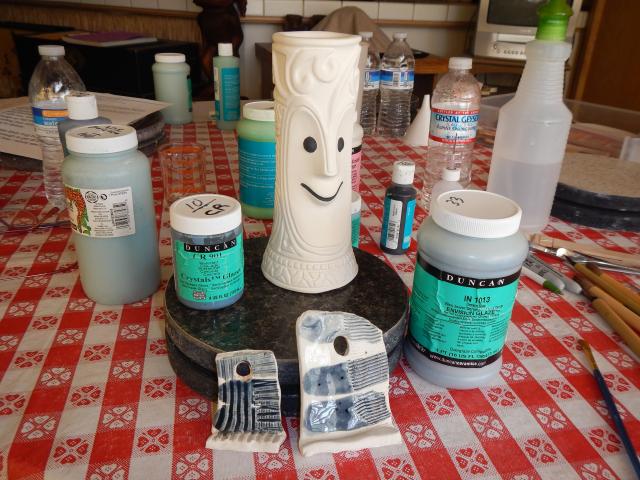 I painted on the three layers and when it was dry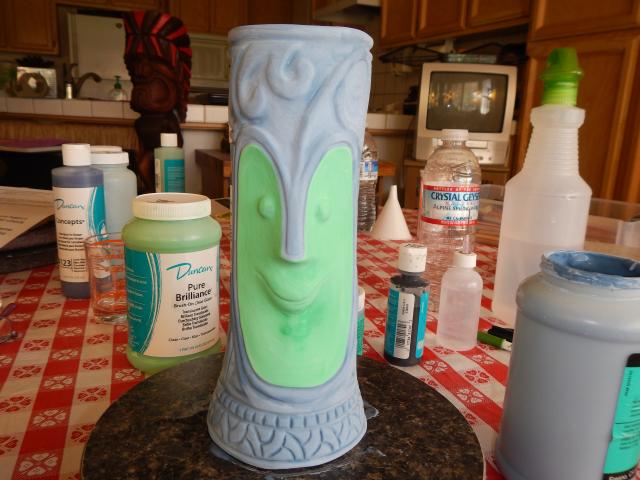 I added some dark blue crystals into the largest indented spaces. I hope it works.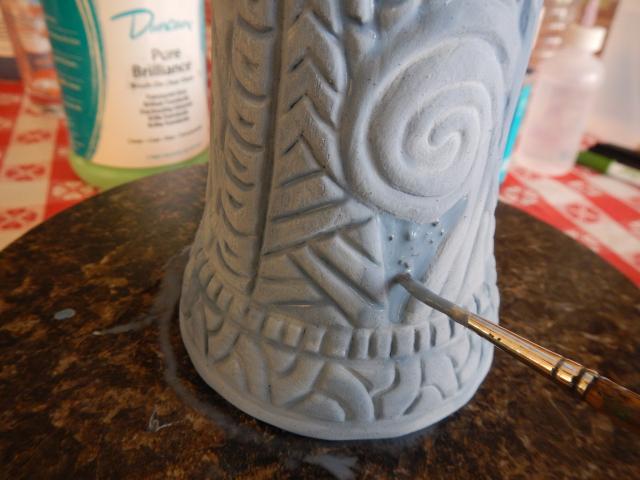 He dried and then was placed into the kiln.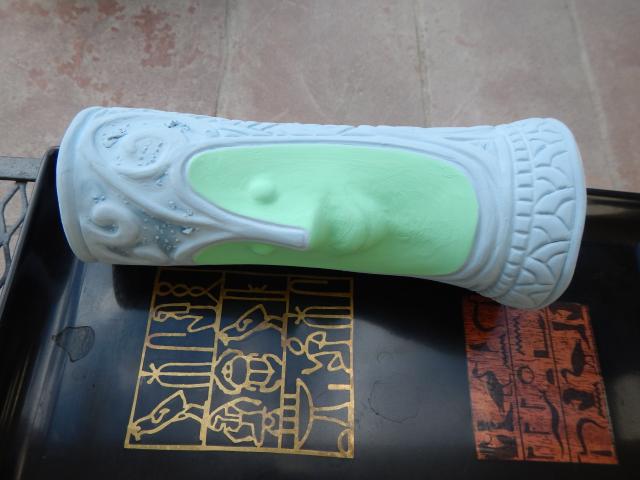 ===============================

This Wish has a story. Years ago on eBay I won a set of eight homemade Tiki Bob's. I was contacted by James of Pocketiki in England asking to split the sale with him. I did that and when they got to my home I shipped half to his home.

Now we made a deal where I would copy the style of these mugs but would make them with their requested names on the sides.
I used a couple of the original mugs as models both for sculpting and for labeling.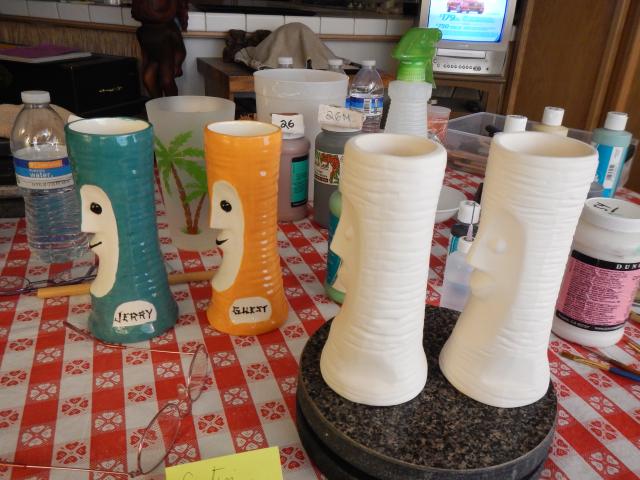 Coating the insides white to match the originals.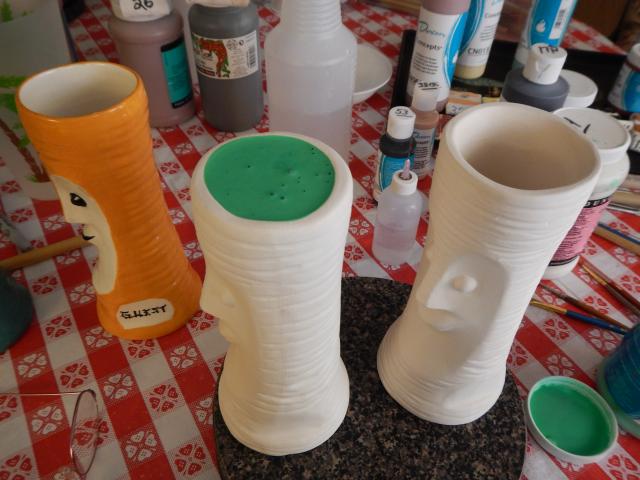 Copying the writing style wasn't easy and there were far more letters in these names so they are smaller too.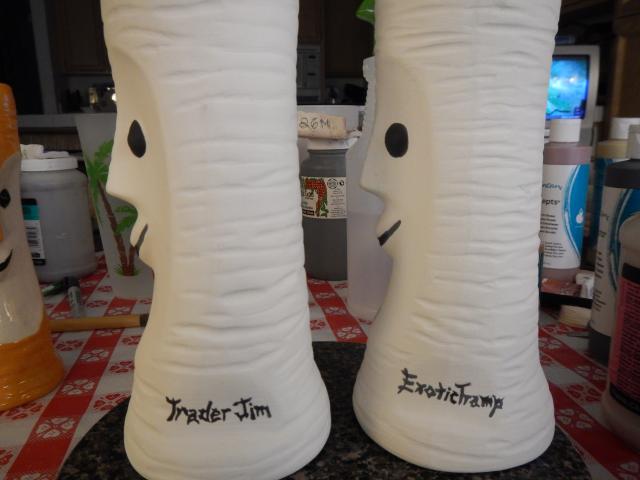 I coated the writing and faces with clear gloss and let them dry overnight.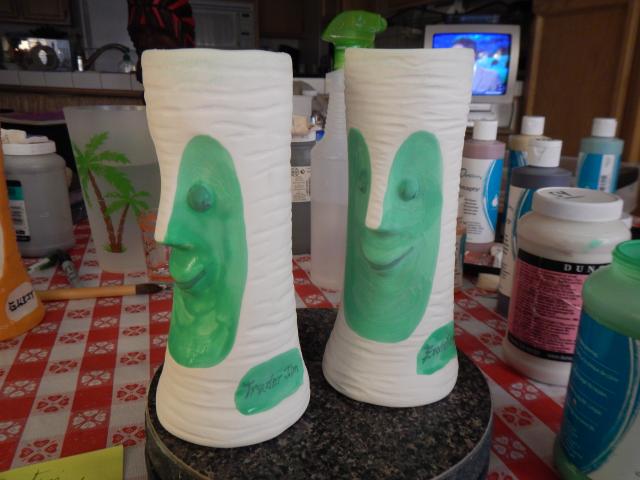 Oh No which is the Trader Jim's mug and which is the ExoticTramp mug? Good thing I didn't have to guess because they had reversed positions on the turntable. I could just make out some raised letters under the green glaze.



Now I painted on their chosen colors. British Phone Booth Red for Sian and...



Black Satin for James.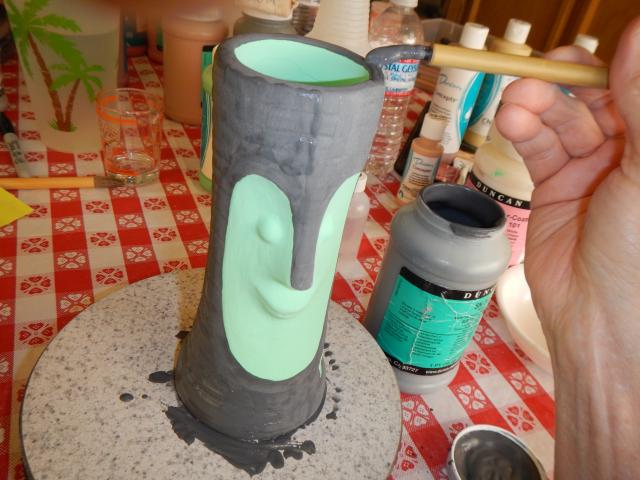 So they would match the originals I even flattened the bottoms and left them bare.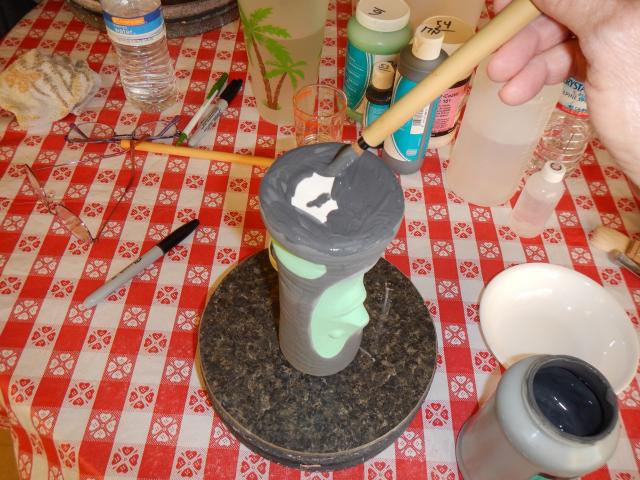 Here's to the last weekend day. I'll be glazing. What are you doing?

Cheers, Wendy




_________________


&nbsp


&nbsp