danlovestikis
Grand Member (8 years)


Joined: Jun 17, 2002
Posts: 7216

Posted:

2013-03-03 08:31 am

&nbspPermalink

hang10tiki if I'd known we were going there I would have taken the photo you did of Dan with the 6 foot high sandwich. Someday we will do that and use it to order!

Hale Tiki good I'm ready for pictures. It is going to be a Tapa snake, the only snake that is hiding well in the Hawaiian Islands. Information on that sandwich...I order a salad with a French roll. Then I steal half of his rare roast beef and add A-1 sauce and I've got a great sandwich too. Even during his birthday month he still helps me with ceramic chores but come the day he gets tikis for his collection. I ran out of spaces and had to move all the strips on the wall so I could put these new ones up once they fire. I hope that dartharnie will put them all together in a photo once he has them.

Big Kahuna I'll let him know.

Atomic Tiki Punk first Dan upstaged me with his mopping, then his chocolate chip cookies and now its the sandwich. I'll just have to work harder on my art.

VampiressRN thanks for asking. First I need to finish Wish List #3, the Severed Heads and the crawl mug for our Sacramento Crawl. Hopefully around September I'll open up Wish List #4.

This is a small side project I've been working on for Roge. He will use it with the base as a stand alone resin tiki and without the base on his resin chunk lamps. He's back from his vacation and ready to take orders. I'll add these photos to his Marketplace thread with the link to Etsy.

I took a shortcut and added sculptors clay to a Easter Island Tiki.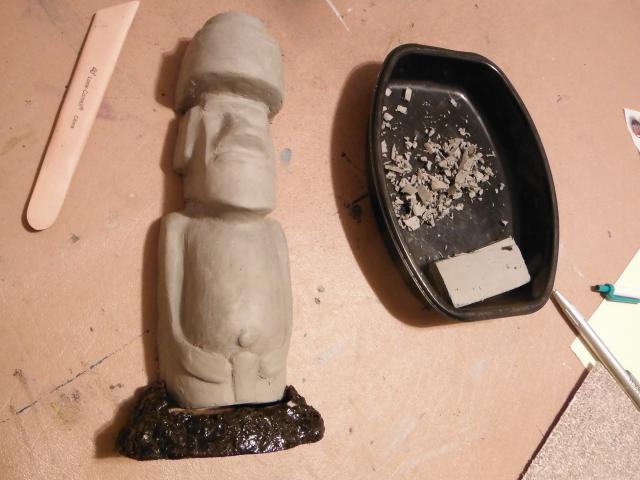 Then I used the large grain sandpaper to make texture.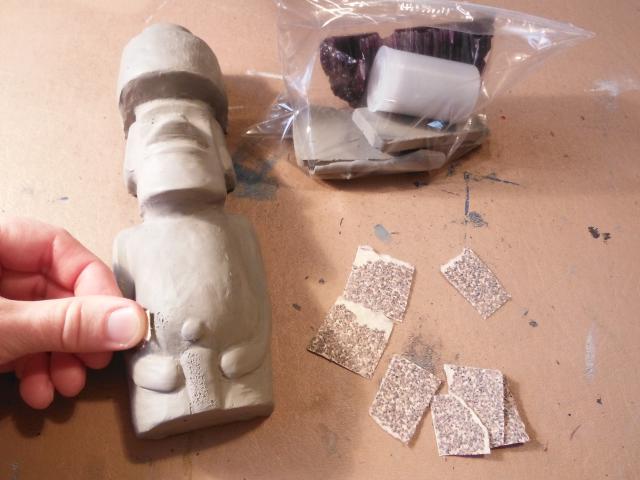 All done.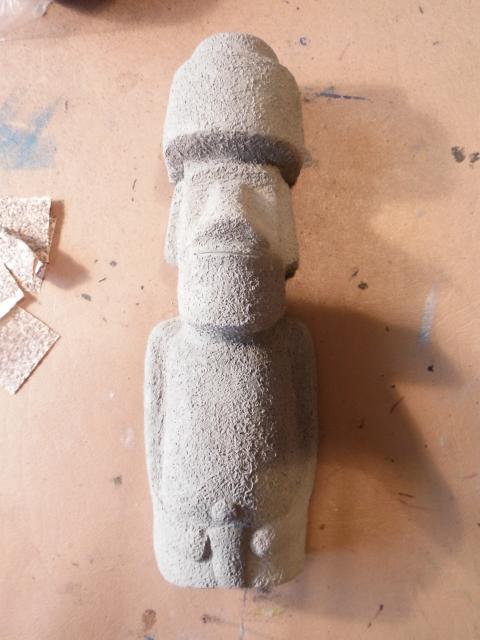 Progress Report Wish List #3.

All the steps for this project for Liddle Lola. First I filled in the lettering with glaze and then did layer number 1 on the woman's body.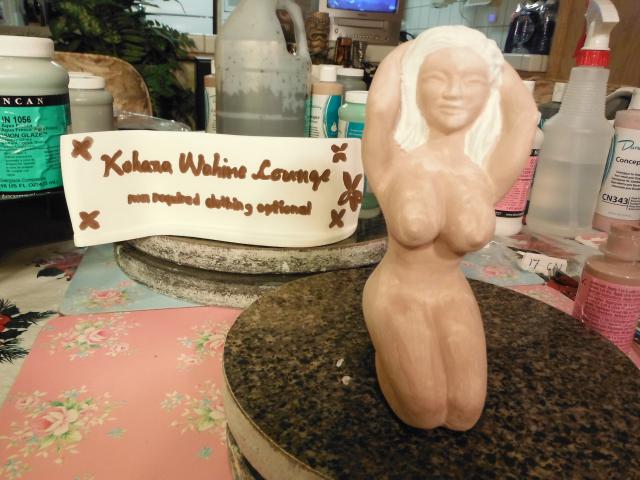 Step two I rubbed off all the excess glaze on the lettering with a wet paper towel and let it dry while I did layer number 2 on the woman's body.



Step number three. I painted the backside of the sign platform and did layer number 3 on the woman's body.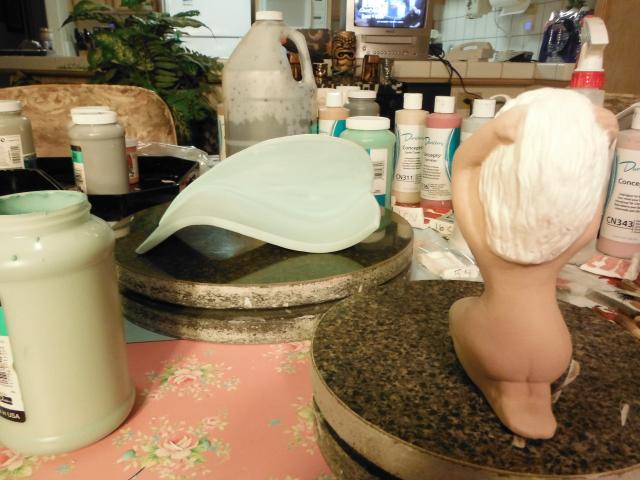 Next layer number 2 on the platform and layer one on the woman's hair.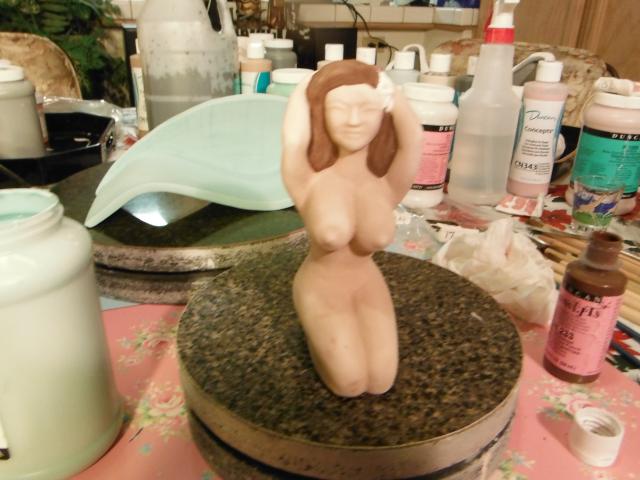 Next layer number 3 on the platform and layer two on the woman's hair.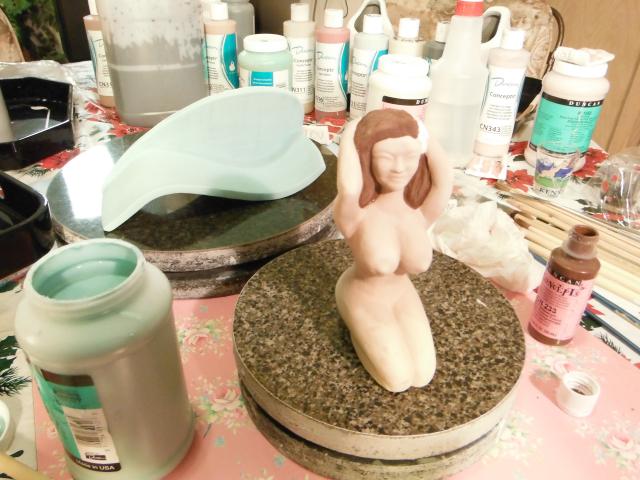 Now layer 1 on the front of the platform and layer three on the hair.



After two more layers on the front of the platform I scrapped glaze off of the flowers and painted them with orange glaze.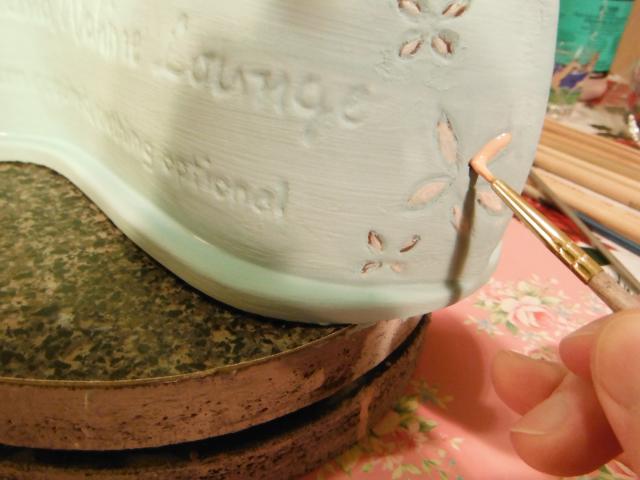 After the sign had three layers of paint on the flowers I did the same with the woman's flower.



After these have fired I will finish off the face and fine tune the sign if the dark brown doesn't come through the glaze that covered the letters.

It's time to start more glazing for the day. I hope you are all having fun, Wendy




_________________


&nbsp


&nbsp