danlovestikis
Grand Member (8 years)


Joined: Jun 17, 2002
Posts: 7228

Posted:

2013-07-21 09:04 am

&nbspPermalink

dartharnie a great statement. I'll have to keep the tradition going. Part two coming up.

hang10tiki like your head at Caliente. Terrific finds really make collecting over the top fun.

VampiressRN you too, we are looking forward to seeing your Witco world hung in your dining room.

PART II of our Kon Tiki Adventour and trip down the Oregon coast.

We traveled to Oregon visiting family. We stopped in Oakland, Oregon to go to a favorite shop that always has tikis. It was locked. While Dan got upset I tried to spot the tikis we would miss when I saw the owner. I banged on the glass window and she let us in. She remembered us from a prior visit. Dan found some really good wooden moai.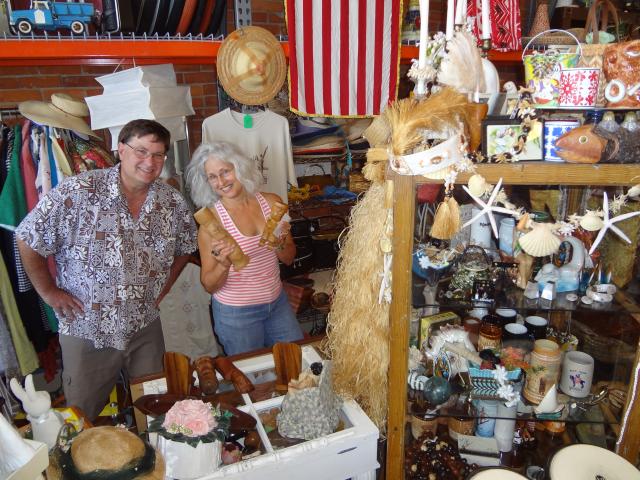 Here is her display. She also has shirts.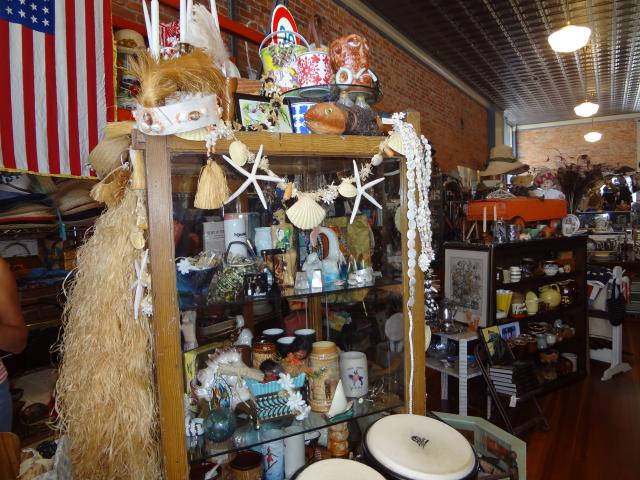 We made it to Portland in three days and checked into the Kon Tiki Hotel. The Marriot Red Lion on the River.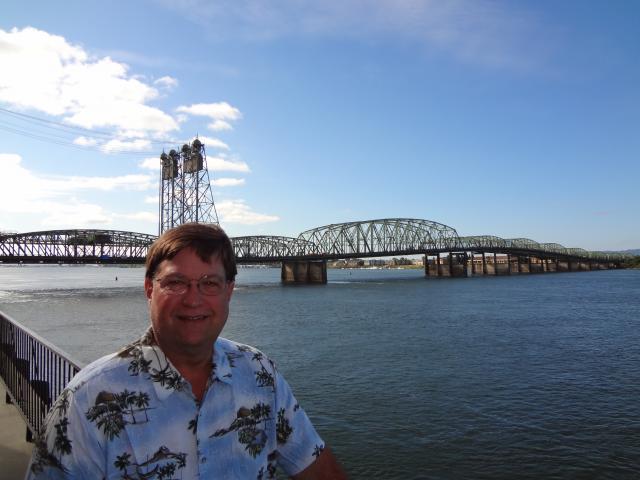 We went the next day to the 1600 booth Antique Expo. In all there were four booths that had a tiny amount of tikis. Dan found this lamp


and this tiki and it made it a good time. We walked for 2.5 hours to find these two.



Tiki Kon starts!


Maholo Tiki who had my work up front in their booth. It's good to have friends.


Car show.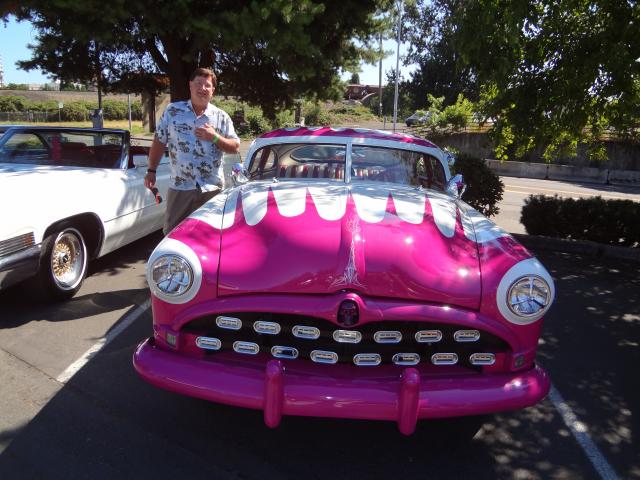 CY in front of his incredible tiki art.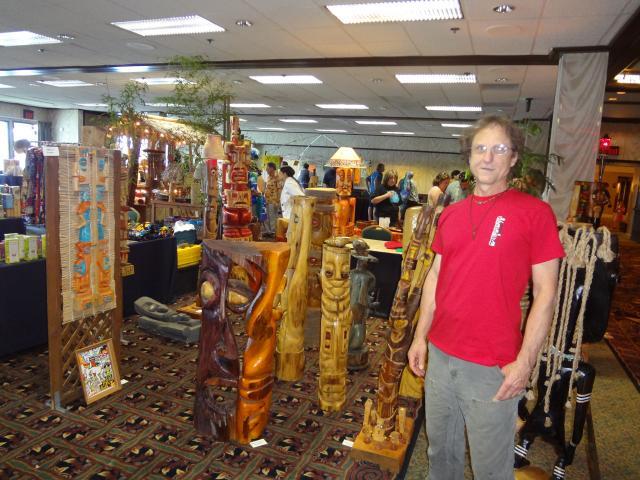 Mikey Tiki and his lady at the Bosko lecture.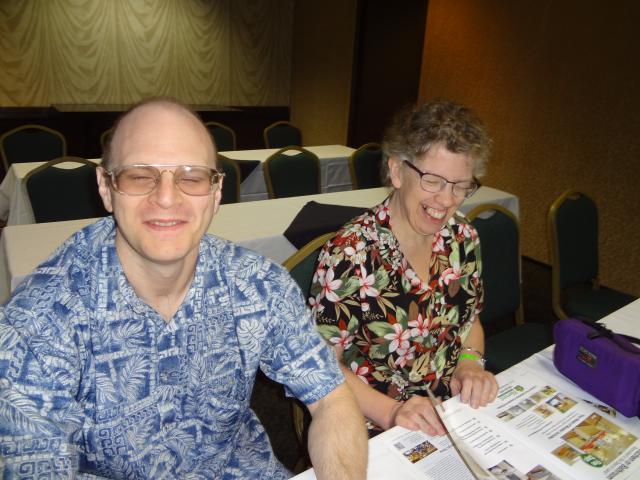 Trader Vic's Portland with Gregory who with Jason ran the show. Good Job Guys!



Polynesian Patti and Moai Mike at the bar.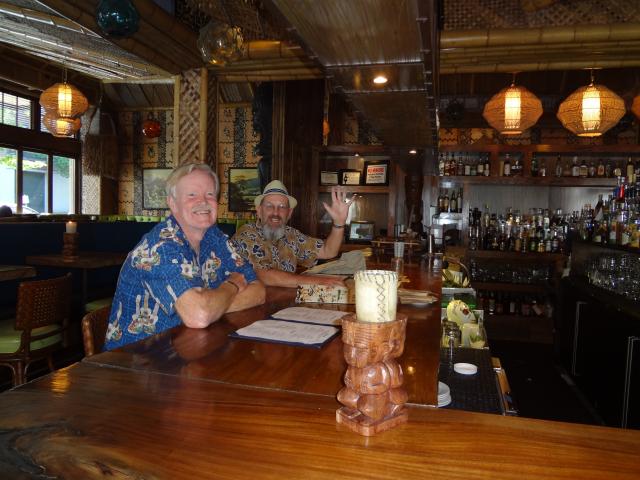 Brunch at the Alibi with Audrey, Dan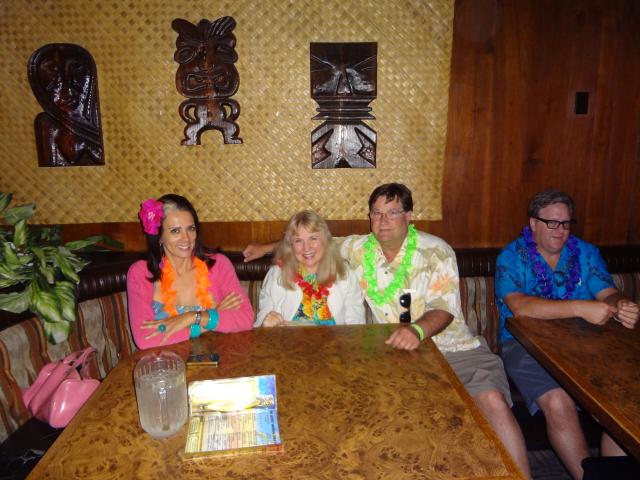 and Big Toe.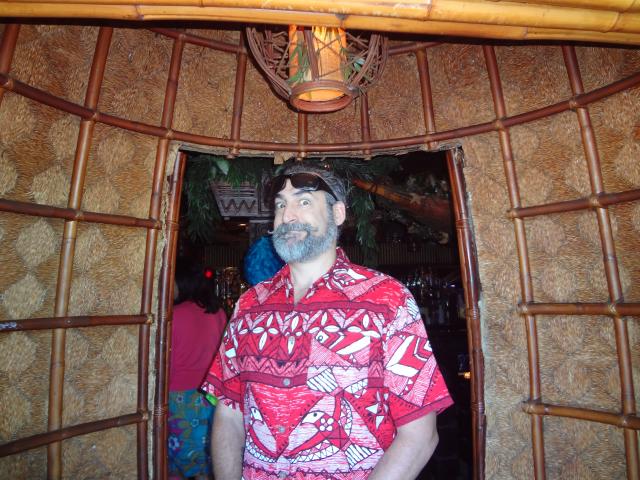 We toured the Munktiki Home and studio. We have a lot in common.



This is their personal collection of their works.



This is Paul with Dan. We love his and his son Miles work.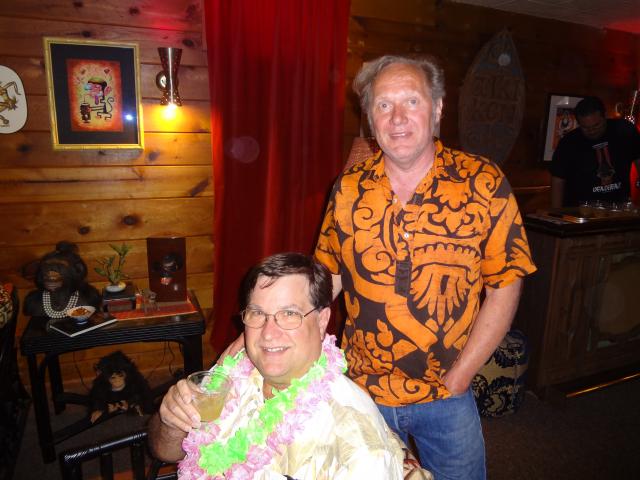 Hale Tiki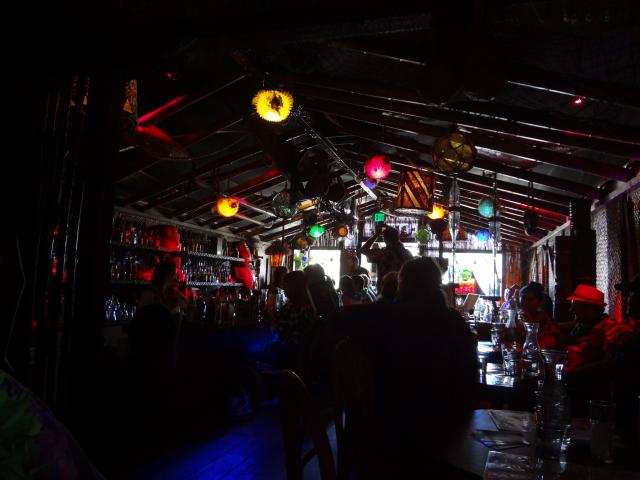 With a flash it was much lighter.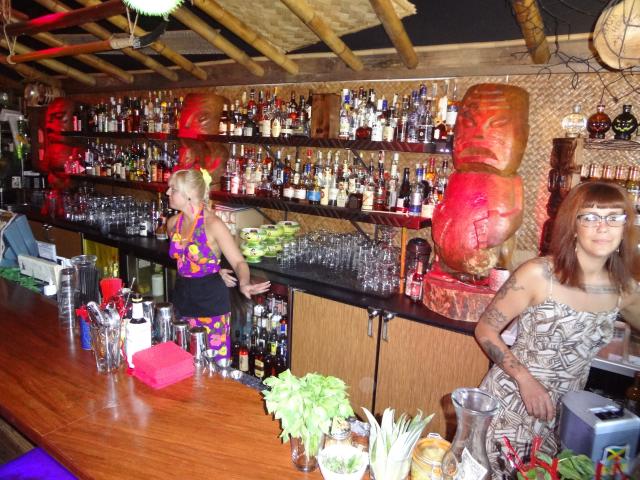 On the Road Home.

In Lincoln City, Oregon in 2001 Dan found a 2.5 foot tall Kava Kava man in this antique store. This time he found a small one for $18 while in the glass case there was a similar one for $85. He took home the cheaper one.


We found a cannibal fork but it didn't grab Dan so back in the glass case it went. I'm sad.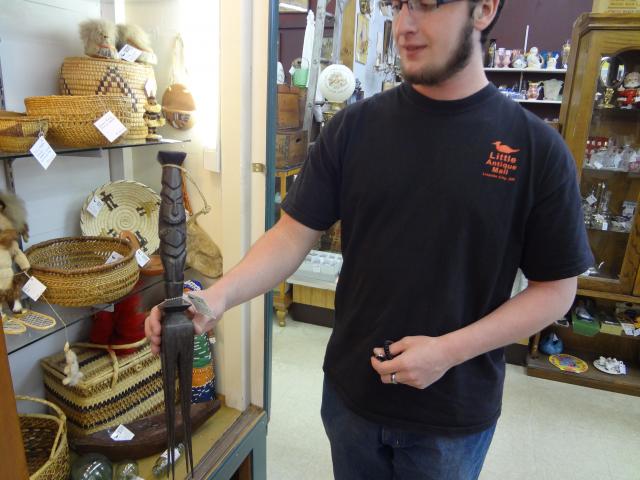 Then we went to another antique store and found a PNG mask that was so much like Dan he had to have it.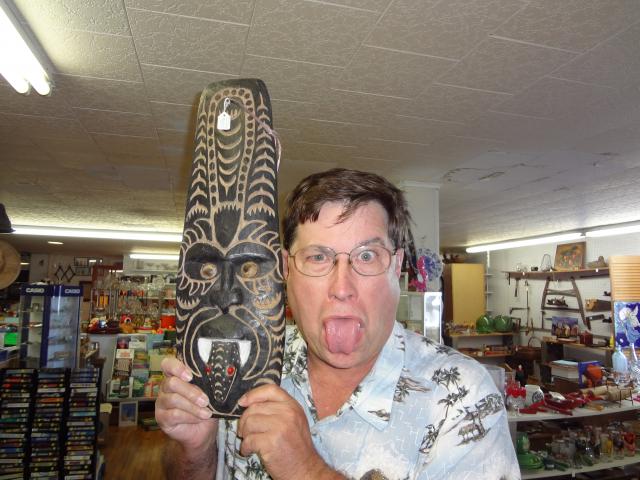 Outside of the Ripley's Belive it or Not building I ran into Bigfoot.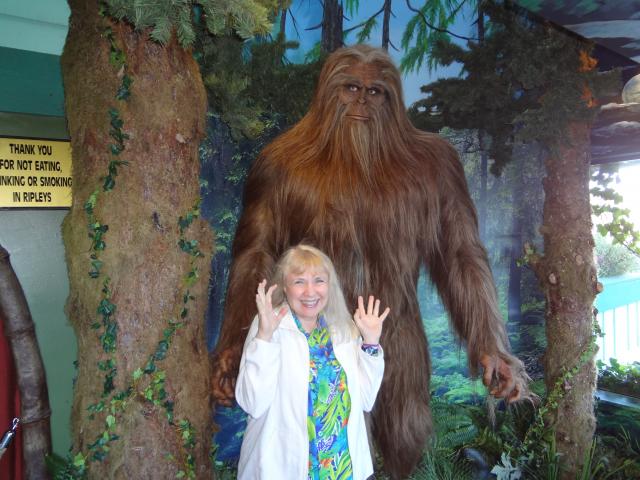 In the pamphlet I found this photo that shows where Aloha Joes got the inspiration for their mug and menu cover. MadDogMike made one for he swap years ago. Post a photo here MDM.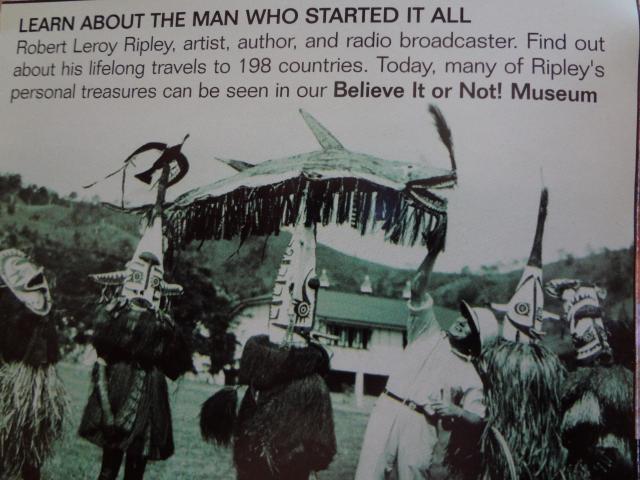 At the next gift store I found a PNG carving. All one piece of wood with two faces an alligator and a bird. $15 a steal.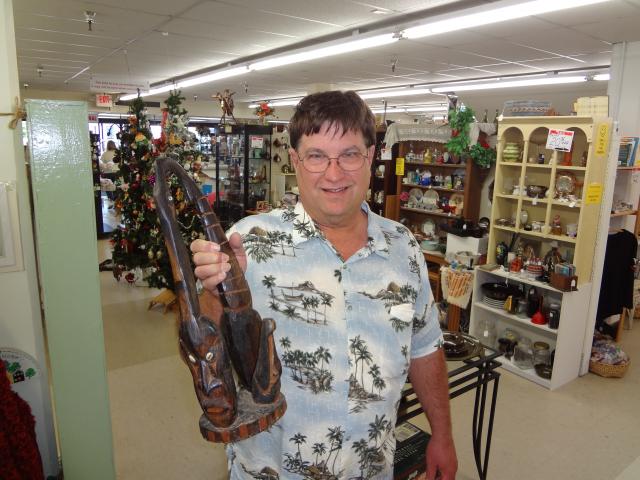 On to a wild animal park with lots of baby's to pet. This is a bobcat.


Across from our hotel in Bandon, Oregon there was a super cool beach with lots of rocks.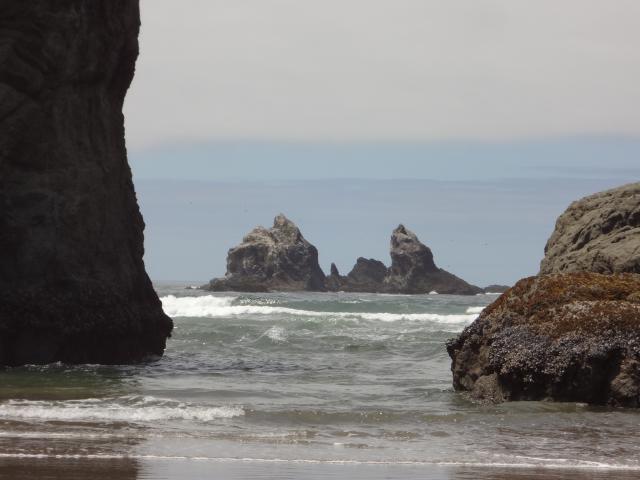 We found one that looked like Dan. First the mask and now the rock. What's next?


We couldn't get into this park because no one showed up to open it. After 20 minutes we left.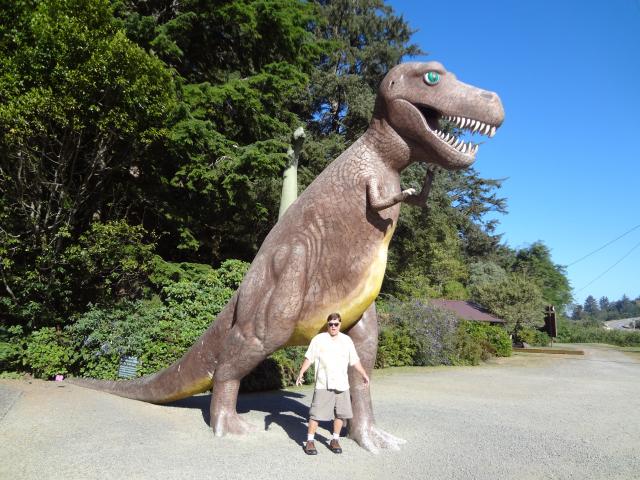 We decided to take our tiki loot and head home. The last stop was where we found the tiki with a story that I posted above. We had a wonderful trip.

Next up will be Tiki Oasis 13. Cheers, Wendy

[ This Message was edited by: danlovestikis 2013-07-21 10:35 ]

&nbsp


&nbsp