danlovestikis
Grand Member (8 years)


Joined: Jun 17, 2002
Posts: 7224

Posted:

2014-01-01 3:35 pm

&nbspPermalink

MadDogMike all my tiki men are stunning.

TikiHula that's cool the Mug Makers of America welcome you! Master Wendy thanks you and Dan says don't blow up her head shrink it.

TikiAno your wish is to be fulfilled.

WaikikianMoeKele Tiki Hula is here and watching me type. Thank you and may you have a healthy new years too.

LoriLovesTiki the persective is off, it's really only 3 inches wide...NOT!

lunavideogames hang10 is many things and creative is one.

(Last thought of 2013... I want a Dan mug! He needs his own mug. We all know how he loves tiki! I would buy one and I bet others would too! Not near a computer or I would have tried to photoshop a picture of how it might look.) Now Dan's head needs to be shrunk.

Happy New Year to you both as well.

hang10tiki Dan loves his new mug and bowl.

TikiHula what a thing to say. He's here and I'm about to make him suffer. Clay all over his hands.

=============================================================================

Hi Friends, to celebrate the New Year I bought a $5 bottle of Champagne, the first I'd ever bought. When Dan tore off the foil it had wire all over the cork and we couldn't pull it off so Dan cut if off.



The we found it had a twist if off place that was hidden by the foil.



It took a lot of strength to remove the cork but Dan did



and we toasted the new year. Then Dan went back to his glass of wine saying the Champagne was too sweet.



Happy 2014 everyone.

===========================================================
We started the day with Tiki Hula bringing in the bowl to the work table.



He stared off carving the hair.



After several hours we had the three pony tails finished on the outside.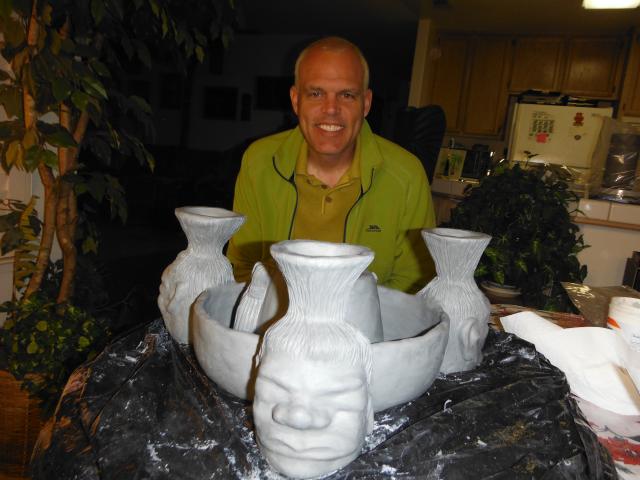 Front view.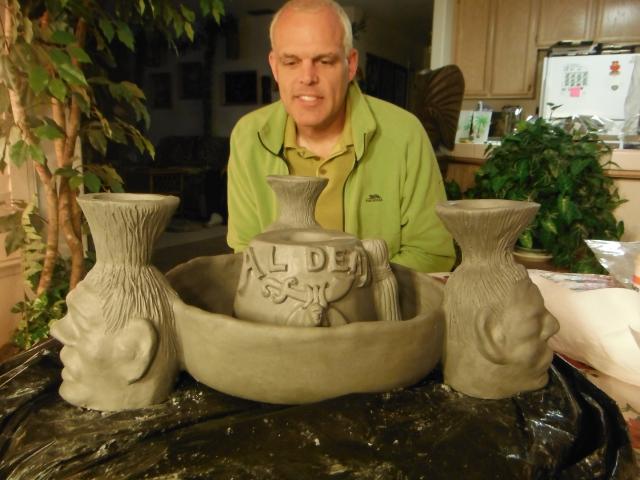 Next we carved out the tops just how he wanted and they were finished or so we thought.



It takes a lot of thought to shrink a head.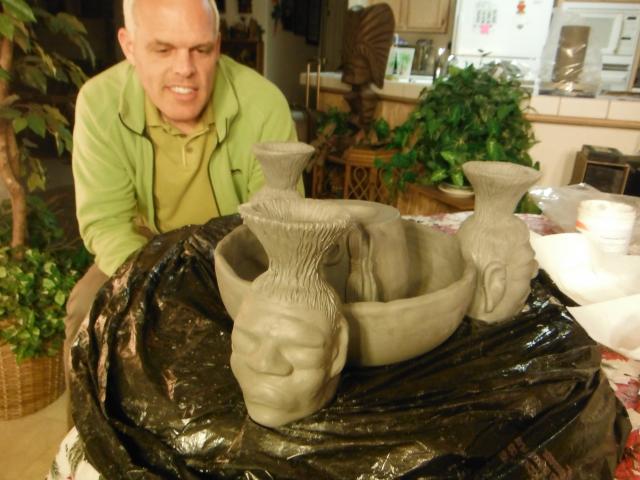 So we began the process.



At the end of the day we had one roughed out.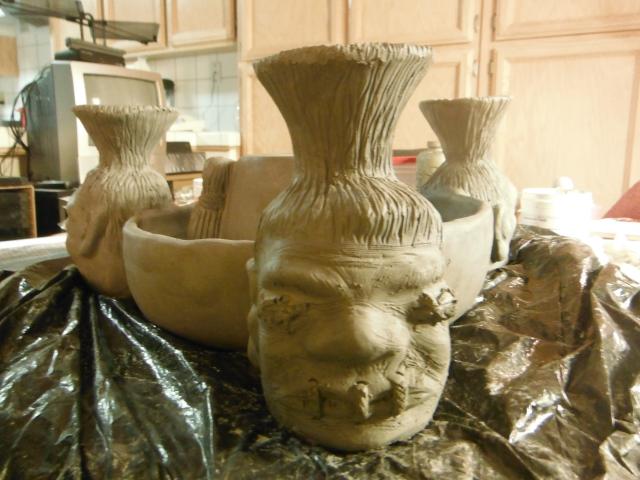 Tiki Hula just exclaimed, "Wendy we forgot the bands around the pony tails". So friends we are logging off and going back to work. Cheers from Wendy and Tiki Hula

PS and from Dan too


_________________


&nbsp


&nbsp