bigbrotiki
Tiki Socialite

Joined: Mar 25, 2002
Posts: 11594
From: Tiki Island, above the Silverlake


Posted:

2011-04-11 12:16 pm

&nbspPermalink



Quote:
---

On 2011-04-11 11:11, JOHN-O wrote:
Hey this wasn't just the 10 year anniversary for BOT but 2011 is the 20th anniversary for the inspiration for BOT.

And at the Bahooka no less. It came full circle yesterday.

In Rosemead, CA !!

Which booth was the Bigbro sitting in on that eventful day in 1991 ??

---


John-O, you are my living conscience. THAT fact totally had slipped my mind! Too much Tiki in this ol' brain to remember. Oh jeez.... we So Cal Tikiphiles are so jaded, taking our classic Tiki temples all over the place for granted, we forget our OWN history with them.

Here's the historic document that proves it:
Flyer #5 of the L.A. Cacaphony Society (an off-spring of the Church of the Subgenius)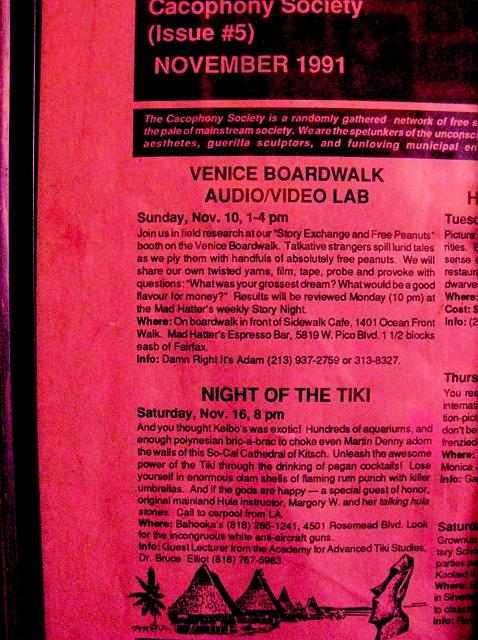 Yes it was at Bahooka (I cannot remember the booth, it was somewhere down to the right past the bar, I think..) where I sat with 8 -10 professed Tiki fans, and realized I knew more about this than anyone, and that I had to do the book.

&nbsp


&nbsp