TikiGeeki
Tiki Socialite

Joined: Nov 17, 2008
Posts: 143
From: Chino Hills, CA


Posted:

2011-05-12 8:55 pm

&nbspPermalink

Some of you already heard me talk about this and are excited to go... well, I've finally got the official details! For everyone else, take note, this is going to be a great event!

If you follow me on Twitter, you already know I practically live at a bar called 320 Main, in Seal Beach. They have the finest craft cocktails in the OC, and were voted one of the best 55 bars in LA (despite the fact they aren't in LA). I've become friends with the owners and bartenders, of course. It all started when I went in there to sample their goods when my buddy RumDood was working. He made a DAMN fine Three Dots and a Dash then proceeded to blow my mind with other Tiki cocktails straight from the Grog Log. It's not a Tiki bar, per say, but it sure has the heart of one... freshly squeezed juices daily, homemade falernum, orgeat, syrups, bitters and a ginger beer that makes an unbelievable Dark 'N' Stormy. RumDood tends bar Sundays, and you can always find the owner, Jason there experimenting and building an amazing array of cocktails. However, it turns out they are huge fans of Tiki and have been throwing around some ideas for a series of special Tiki nights! I told them let me know the details... I might know some people that like good Tiki cocktails.

And when I mean good, I mean REAL GOOD.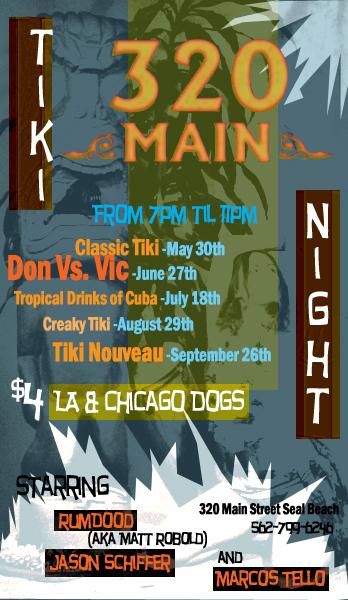 In short: The last Monday of each month, for the next five months will be Tiki Night at 320 Main. Doors open at 7pm-11pm (they are normally closed Mondays, so this will be solely a Tiki night for Tiki lovers, friends and family only). Each month will be a specific theme and cocktail menu. Word has it that Tiki Farm may be there selling their latest and greatest Tiki mugs so you'll have a proper vessel to hold those cocktails in!

Here's the plans for each of the Tiki Nights thus far:

May 30 - Classic Tiki Night

June 27 - Don vs Vic

July 18 - Tropical Drinks of Cuba

Aug 29 - Creaky Tiki (Queens Park, Ti Punch, Singapore Sling, Hurricane, Fish House, this is roughly the menu)

Sept 26 - Tiki Nouveau

Bartenders: Jason Schiffer, Matt "RumDood" Robold and Marcos Tello.

All cocktails will be $8. Although 320 Main is normally closed Mondays, and their kitchen will be closed these nights, they will be serving some food to enjoy while hanging out and sampling the cocktails. First month will be Chicago style and LA style Hot Dogs. As they are just for fun while we drink, they will be minimally priced to cover cost at $4.

Here's a little bio of each of the bartenders, if you haven't had the pleasure of meeting them or sampling their handy work:

Marcos Tello -

President of the USBG Los Angeles Chapter and founder of the Sporting Life cocktail community, Marcos has been instrumental in bringing together bartenders to advance the craft of the cocktail in the LA area. He has worked at some of Los Angeles' best cocktail bars including Seven Grand, The Edison and The Varnish and also is partners in a consulting company that helps bars create and implement cocktail programs in places like LA's well-regarded First & Hope and 1886 in Pasadena.

Here are a few articles on Marcos:
http://www.foodgps.com/mixologist-marcos-tello/
http://theliquidmuse.blogspot.com/2007/09/bartender-diaries-marcos-tello-one-in.html
http://www.latimes.com/features/food/la-fo-bartenders22-2009jul22,0,6774498.story

Jason Schiffer -

Jason started his bartending career under the tutelage of Las Vegas' best Flair bartenders. His passion for the history and craft of cocktails grew over the years and flourished when he moved to Southern California and joined the USBG. Since opening 320 Main in 2009, Jason has created a noted classic cocktail program that has garnered a lot of critical praise. He also helped found the OC Bartender's Cabinet in early 2010, a cocktail community for Orange County bartenders and enthusiasts and sits on the Board for the USBG Los Angeles.

Matt "RumDood" Robold -

Matt Robold is an Orange County, California-based rum connoisseur and cocktail enthusiast that likes to write about his passions on his blog RumDood.com. Matt can be found behind the bar at 320 Main in Seal Beach, or heading the monthly meetings of Rum Society at Caña Rum Bar in Downtown Los Angeles or the Bartender's Cabinet in Orange County, California. In addition to writing his own blog, Matt contributes to the Mixoloseum blog (a group blog run by a collective of cocktail and spirits writers) and sits on the board of the Cocktails and Spirits Online Writers Group. Matt has a personal collection of over 170 rums and can be found as a judge for many cocktail competitions and rum tastings. http://rumdood.com

It's going to be a great night. Nothing but fans of Tiki cocktails and some amazingly passionate bartenders shaking some incredible libations! Please come on down and enjoy the evening with me. If you see me at Tiki Caliente, I'll be happy to talk more about it.

Mark your calendars and see you there!

Do me a favor and let me know here if you plan to come. I'd like to give them a heads up on Tiki Central folks coming. This event is also being promoted to the USBG LA chapter, OC Rum Club and various other industry folks. Nothing but Tiki fans, craft cocktail bartenders and cocktail enthusiasts... but please do let me know so they can get enough food and rum for us! Not to mention, squeeze those limes!

(In case you were wondering, 320 Main is both the name as well as the address... very handy. In reference, it's about 5 minutes north of Don the Beachcomber.) http://320mainsealbeach.com

_________________



Honoring my gods one sip at a time.


[ This Message was edited by: tikigeeki 2011-08-24 09:47 ]

&nbsp


&nbsp