mrsmiley
Tiki Socialite

Joined: Apr 03, 2002
Posts: 3181
From: Las Vegas, NV


Posted:

2011-06-06 11:25 pm

&nbspPermalink

Here is the start of a list I am working on. I have NEVER been to the places with ??? . Any feedback appreciated on those places. Some I picked because of the name or a photo I found. Thanks, Bruce


CODE- (R) is restaurant (B) is bar. (R/B) Means both bar and restaurant are worth checking out!

Phoenix and neighboring area ;
(R/B) Trader Vic's, 6850 E Main St, Scottsdale (480) 421-7799 A great modern Trader Vic's!!(CLOSING 7/30/2011 !!)

(R/B) ??? Hula's Modern Tiki 4700 N Central Ave. (602) 265-8454 http://www.hulasmoderntiki.com/
(B) Bikini Lounge 1502 Grand Ave (602) 252-0472 DIVE Vintage Tiki decor. No fancy drinks! Very DIVEY! NOTE-The new owners have made some minor improvements and are working on the drinks and decor!
(R/B)Durant's 2611 N Central Ave, Phoenix, AZ (602) 264-5967 c. 1950 Classic Steakhouse! Dress up! http://www.durantsaz.com/
(B) ??? Seven Seas Cocktail Lounge 4412 S Central Ave, Phoenix, AZ (602) 276-9973
(B) ??? Bullock's Country Attitudes (what a name!) 2601 W Bethany Home Rd, (602) 433-9303
(B) ??? Recovery Room (great name!) 2027 W Bethany Home Rd, Phoenix, (602) 246-6456


(R/B) ??? Hi-Liter Cocktail Lounge (great name) 4716 N 12th St, (602) 234-0128 c1962 STRIP CLUB and restaurant. http://hiliterclubaz.com/content/ I named it only to warn you!

And instead of adding more posts, if you could go back to your original and add your additions by editing you post. That way, one could print up this thread when they travel. Thanks!

_________________
I'm the most thirstiesterest of all!
TRADER VIC'S stuff for sale on EBAY 1957SPUTNIK
http://shop.ebay.com/1957sputnik/m.html
If you like it, it is ZAZZ! If you don't it is RAZZ!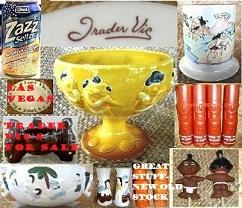 [ This Message was edited by: mrsmiley 2011-07-26 00:36 ]

[ This Message was edited by: mrsmiley 2011-07-26 00:36 ]

&nbsp


&nbsp