Limbo Lizard
Tiki Socialite

Joined: Aug 24, 2006
Posts: 778
From: Aboard the 'Leaky Tiki', Dallas


Posted:

2011-11-27 1:23 pm

&nbspPermalink

"Mom got drunk, and Dad got drunk, at our Christmas party.
We were drinking champagne punch and homemade egg nog... "

Homemade Egg Nog (under 0.5 grams carb, per 5 oz. serving, all from egg)

2 cups heavy cream
4 to 6 whole raw eggs*
1/3 cup sucralose powder (Splenda, or equivalent)
1/2 tsp. vanilla extract
1 tsp. ground nutmeg

Mix in blender, then chill in refrigerator for at least an hour, to let the nutmeg flavor emerge. Serve plain or mixed with spirits. Dust with fresh grated nutmeg, if you want to show off.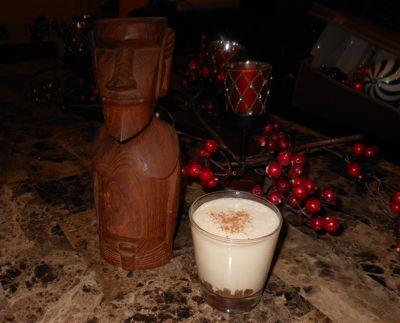 * OK, about the raw egg deal. The odds of getting ahold of a salmonella contaminated egg is 20,000 to 1 - supposedly. But what if you, like me, are pretty good at beating the odds, when it comes to bad luck? You can use pasteurized-in-the-shell eggs, if available in your area. Or you can pasteurize them, yourself.
I put my eggs in a metal basket, and suspended it, off the bottom, in a large pot of hot water. Using a cooking thermometer and gently stirring the water, I heated the water to 130°, then carefully to 135°. Keeping an eye on it, I held the eggs at 132° - 137°, for over 2 hours. Ideally, you want to have the yolk reach 131° for about an hour (try to avoid letting the water reach 140°, as it'll overly cook the whites). Then I chilled them in ice water, and put them back in the fridge.
The whites will have become cloudy-white and thicker, as if they've gelled a bit, but still liquidish. They're not suitable for whipped egg whites or meringue - they won't hold peaks. But they're great for egg nog. Since the nog's kept chilled, if the odd salmonella bacterium were to escape death, it wouldn't be able to multiply to dangerous levels. What ever residual risk exists, after all this, I'll accept, because I love my egg nog.

"... Merry Christmas, from the fam-uh-LEEE. Feliz Navidad!"

_________________
"The rum's the thing..."

[ This Message was edited by: Limbo Lizard 2013-12-08 18:47 ]

&nbsp


&nbsp