tigertail777
Tiki Socialite

Joined: Nov 25, 2004
Posts: 679
From: Oregon


Posted:

2011-08-02 04:53 am

&nbspPermalink

I have been looking over the art here on TC for a long time, and am frankly a little intimidated by all the massive amount of talent on here, but thought since time is on my hands it would be fun to try an attempt at a tiki painting. This will be a first for me in a lot of ways: my first big tiki art piece (I have done some small sized inconsequential things in the past), my first real painting on gesso wood, and my first attempt at using oils ( I am however doing all of the under painting in acrylics I am not ready yet for an all oil piece, but the acrylics just don't have the color vibrancy I am after alone so I figure both of them should work out).

I love underwater scenes, I have not done a lot of them but I have enjoyed trying to get the lights and shadows correct on what I have done in the past so figured I would make my first painting an underwater scene. Specifically a mermaid taking a "hot bubblebath" in a hydrothermal vent as a leering tiki looks on. Sorry if the picture of the pencils isn't very good I had to try and take it in the brightest room in the house (the bathroom) which is painted orange and makes everything have an orange tint. I hope I got the proportions right, I currently don't have an easel and have to tilt the piece in my lap to try and draw it. I still think the corners need balancing out somehow but overall the main pencils are in place so I will start painting on it soon. I am also going to put up a non-tiki cheesecake painting I did in sort of the same vein to give an idea of how the finished painting will look through my style. I still may re-work some of the non-tiki one (it is called "MS. Stacked Man!") so it's just to give an idea of style not really the final outcome. I hope it is okay to post the non-tiki one just for giving an idea of how the tiki one will look?

Let me know what you think please. I am excited to try and tackle this, I know it can't ever really be anywhere near the same league as many of the fantastic artists on here, but at least it will be a heck of a lot fun.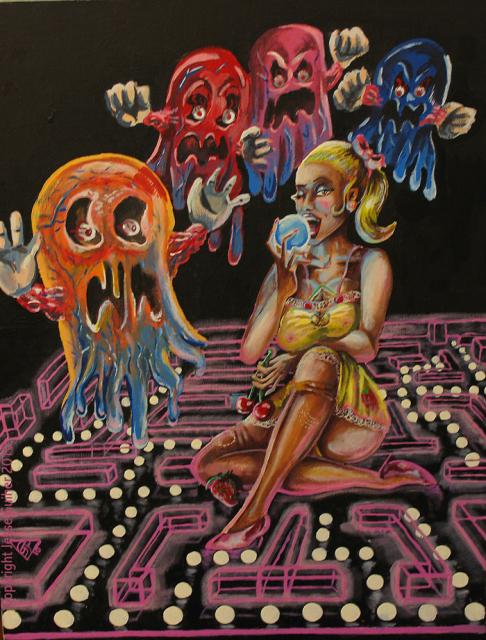 [

















[ This Message was edited by: tigertail777 2014-06-27 00:49 ]

&nbsp


&nbsp