tigertail777
Tiki Socialite

Joined: Nov 25, 2004
Posts: 679
From: Oregon


Posted:

2011-08-02 10:04 pm

&nbspPermalink

Thanks MaddogMike and Zerostreet for the great comments.


I will be starting the actual painting tonight, but meanwhile thought I would share bits and pieces of some of my older Hawaiian themed work. I'll start with a bunch of pen and ink drawings I did that didn't wind up getting used for a college graduation project. These are tiger themed old school tiki bar drinks. Pen and ink is probably my favorite medium I love doing detailed cross hatching that resembles copperplate or wood block printing like you would see in old books. I use very old fashioned methods: quill pens that they stopped making sometime in the 60's, and an inkwell from around the 1930's, I even had a friend make me a rocking ink blotter to use. I am not sure anymore what all the drink names were except for the one with the grapefruit slice on top with three cherries impaled on toothpicks; its supposed to represent a tiger paw, so that is the name of it.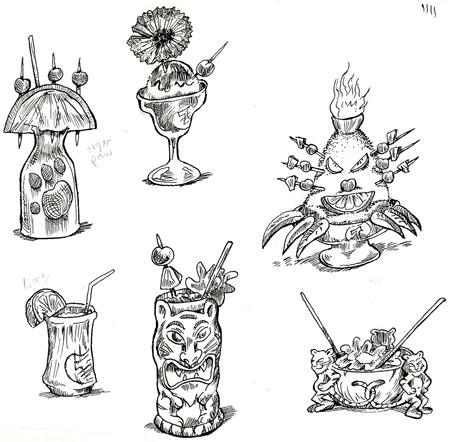 I still think it would be incredibly cool to have a "tiki tiger" mug like the one in this first set of drawings. I have never tackled making such a thing though and don't have the tools... perhaps some day.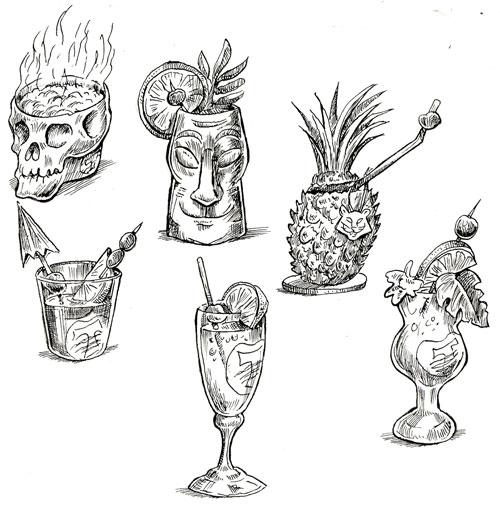 The tiger Moai is a lot more subtle than most of them, if you closely on the upper lip you can see he has a little bit of a tiger muzzle, and his eyes are slanted like a felines.

Okay now back to work painting! Hope you enjoy the pen and ink drinks!


&nbsp


&nbsp