tigertail777
Tiki Socialite

Joined: Nov 25, 2004
Posts: 679
From: Oregon


Posted:

2012-07-03 8:04 pm

&nbspPermalink

Well finally back to something tiki-ish, my entry into the art swap with a Pele/volcanoes theme. This is my first velvet painting attempt, and boy have I learned a lot. First off I had no idea the absolutely incredible subtleties you can get with shadowing on velvet. This experience really has caused me to re-think how I do my canvas paintings, I think I can do more realism and depth with shadows if I start with a darkly painted canvas and will try it out on the next canvas I paint. I have so far thoroughly enjoyed velvet painting even though it is one of the most unforgiving mediums I have worked with. I think even watercolor and pen and ink have a bit more leeway for mistakes than velvet does, at least you can go back and go over mistakes to some degree but not with velvet...no sir! I also was not prepared for the numerous layers you have to build up of the paint onto the velvet, nor the way you have to blend the paint into the fibers of the velvet. It's been a fun learning experience, and I am quite sure I will be doing more velvet in the future.

First off, I got a bunch of photos together online for reference of magma, volcanoes and females (particularly female hands in the right pose) plus some hula dancers for good measure. Then I sketched it into my own composite in white pencil directly on the velvet. I re-sketched about 3 times, I found out you can "erase" the lines if you brush the velvet with a hair brush.



Then came the first stage of painting. You really have to sort of work/rub the paint into the velvet on the first pass, more less putting down a workable layer for the darker/thicker areas of paint. Subtle blends can be gently rubbed with the brush into the velvet for softer shadows, but it is easy to overdo this and use too much paint. Once that paint is on there you have to work with it right away as it "sets" into the hair like fibers of the velvet and once it is on too long you really cannot rub it in any further. You have to work carefully with velvet; when I paint normally I invariably find I have dabbed an elbow or part of my hand in paint and accidentally dragged it on the canvas creating tiny blots or smears. I can take care of that pretty easily on canvas, but no way in hell can you do it on velvet unless you rework the composition. It is a very fun medium, but also a very exacting one. I am sure over time I will get better with it, and I guess for my first velvet painting this didn't turn out too bad.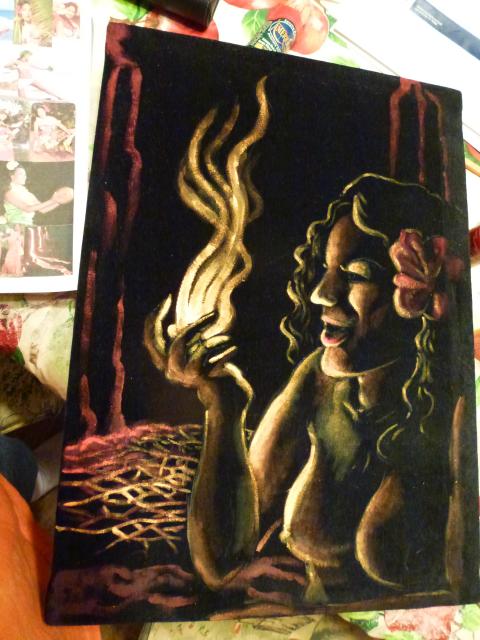 It is not quite finished yet, I have another photo I will post soon that shows I did a bit more on it already (such as putting in her eye and more shadowing etc). She's getting there.




&nbsp


&nbsp