tigertail777
Tiki Socialite

Joined: Nov 25, 2004
Posts: 679
From: Oregon


Posted:

2012-07-27 06:17 am

&nbspPermalink

Well I finally finished Pele. Not entirely happy with all the anatomy, I see now the head is a bit too big for that body and something about the turn of the body and the breasts doesn't look right. However for my first black velvet painting, it's pretty good considering how unforgiving the medium is. I am very glad I got to to do a volcanic theme for my first one as I feel it really suits the black velvet well. I have learned a thing or two about making frames and stretching fabric over it so hopefully the next one should be a little less loose. Think I may have to invest in one of those canvas gripper tools if I keep doing these to make things easier. I have been thinking a lot about my next piece, and I keep coming back the idea that the old Mai Kai sign I wanted to paint all lit up would be perfect for velvet. I am halfway toying with the idea of doing the same thing in a regular painting as well so I can see them side by side, but I have never been one to want to repeat myself so I am not sure about that. I also could see painting some Poly pop matchcovers in velvet ( I collect matchbooks/matchcovers).

Photographing or digitally documenting paintings is very hard to do, and black velvet makes it twice as hard. I have not yet figured out that magical way of capturing my paintings where they look at least pretty close to the original, even when I plop them on the scanner something just doesn't look right. So below you will see all my struggles with photographing this velvet Pele, granted I should have some kind of better lighting but ALL the lighting in our house has a horrible yellow tinge to it. One of these days I will figure something out to do this better, meanwhile on with the show...

This first one I used photoshop to try and get the colors close as I could to the original, but I am not sure how well it worked out.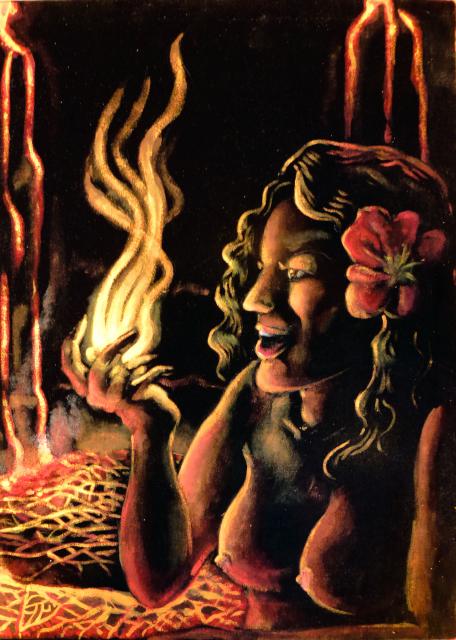 This one is too light and the lights make the colors "off"


I tried a different setting on the camera, I think it was for candles or night time and it made it too dark, but the colors are a bit closer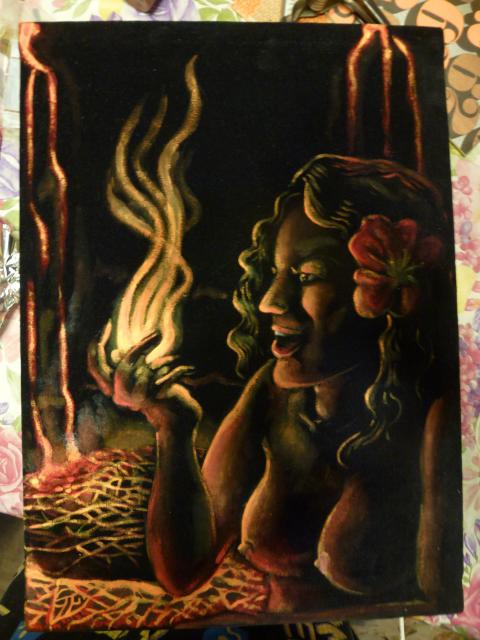 Sometimes I have noticed if I zoom in on something it captures better color and detail so I tried that with this one. The detail is nice and the colors are not too bad, but they are off.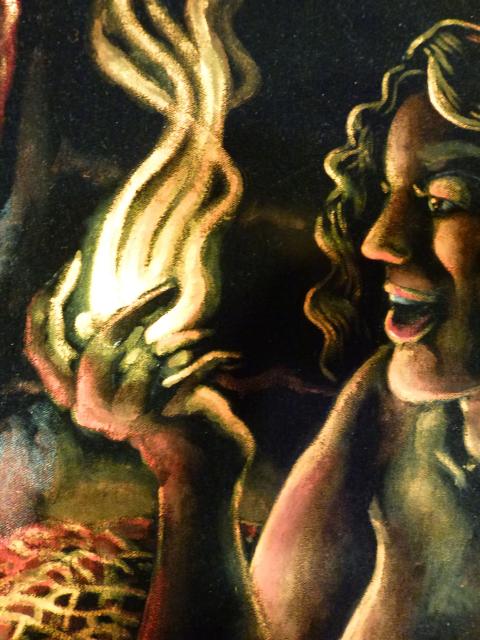 Finally, here is a close up of my favorite part on this painting....wait for it.....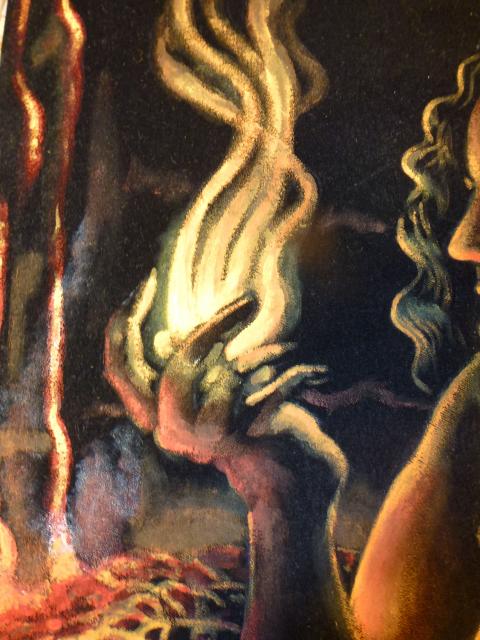 THE HAND. Yes, I know most who know me would say the boobs, the breasts, the headlights, American Apple pies... you get the idea...I do seem to have a bit of a "fixation"

...but no I really liked how the shadowing and form came out on the hand on this. Which is a big deal for me because I have really struggled for many, many years to get my hands even halfway decent looking, its been one of the banes of my existence as an artist so I am very pleased to see some improvement.

Well kids, until next time under the pineapple sunshine it's time for the tiger to bid adieu.






&nbsp


&nbsp