tigertail777
Tiki Socialite

Joined: Nov 25, 2004
Posts: 679
From: Oregon


Posted:

2013-03-28 11:48 pm

&nbspPermalink

More progress on Tiki Tiger studio. I have most of the main bamboo up and am working on the outer bamboo trim on the 2X4's. The original plan was to put black velour cloth on the ends to make the bamboo stand out, and more importantly hide my cutting mistakes on the burlap. But I gotta say I am not feeling it with the black velour, and am not sure I will keep it now. I can't seem to cut straight to save my life so it has some uneven ragged edges I don't like, and just doesn't have a "finished" look. I am thinking of taking it down, and replacing it with small strips of wood that in the future when I have time I will get a dremel tool and carve tapa designs into. I would welcome any thoughts or ideas on this, as I am unsure what to do about it.

I am doing this all as cheap as I can as I don't have much of a budget, so have had to get creative. For instance all that bamboo is a craigslist find: someone was selling 20 feet of 3 foot high bamboo fencing for $50 so I cleaned it up and cut apart the wiring holding the poles together. Turned out really well because I got some nice straight bamboo pieces with pre-drilled holes in them. The wood shelving sticking out is pretty crappy looking pressed wood so I am covering those with Hawaiian pattern cloth pieces that look like something from off Aloha shirts. I like this idea because it also makes for a softer surface for books and knick knacks, and the colors reflect the tiger faux fur on the upper beams. Plus it must be said, Aloha shirts hold a special place in my memories having grown up around them so much and being influenced by them artistically.

I have learned all kinds of things about bamboo I never knew or thought of. Had no idea it cracked so easily, and finally figured out the strength lies in the nodes. I also never knew bamboo has this weird inner translucent "skin" when I first saw it I thought I had some kind of spider infestation with a ton of webbing inside every pole. And I learned you don't cut bamboo straight through like a piece of wood; you have to keep sawing around the edges evenly or it may splinter and crack the entire thing lengthwise.

Finally I have learned staple guns are ridiculous unwieldy tools that take all the strength you can muster to push down the dang handle, and woe betide your poor fingers if they get caught underneath the handle when it snaps down.



Ran out of burlap, so that small strip on the side is going to have to wait. I used every blinking last tiny scrap of the burlap I had, plus a few burlap bags I found in the garage.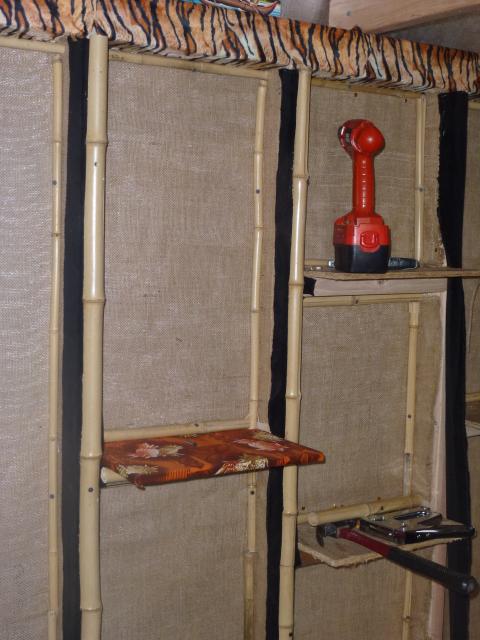 You can see the black velor here a bit better. I just don't know if it works that well.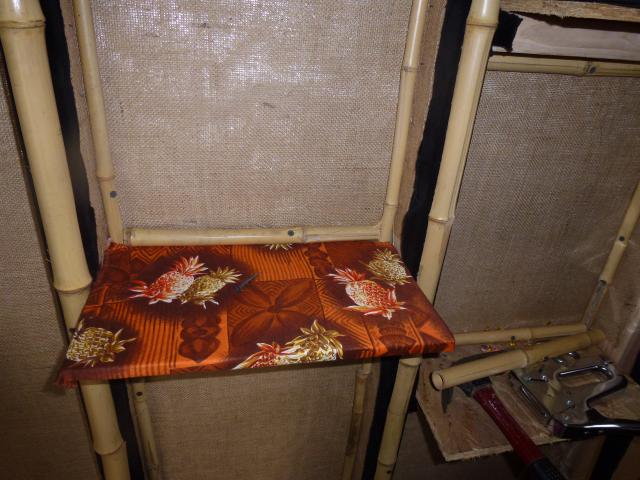 This is the Hawaiian pattern cloth covered shelf I have so far. All of them will be like this eventually, though I may have to use more than one cloth pattern as the pineapple one I have sold out.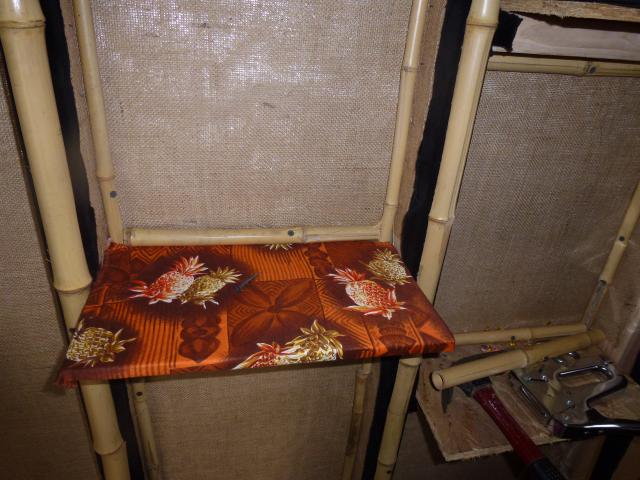 That's it for now. Tune in next time as I turn the air blue with cursing when I once again hurt myself with one of many tools.



&nbsp


&nbsp