tigertail777
Tiki Socialite

Joined: Nov 25, 2004
Posts: 679
From: Oregon


Posted:

2013-07-19 04:58 am

&nbspPermalink

Well first off to blow Haletiki's mind more... A little bit of an update on the tabletop mini golf. The first hole has been re-sculpted for the most part. I gotta order more clay to finish it off then I can paint it and add the "green". I would also like to put fiber optic lighting in eventually, but it may have to wait.

Here is just the course without the galleon ship prop.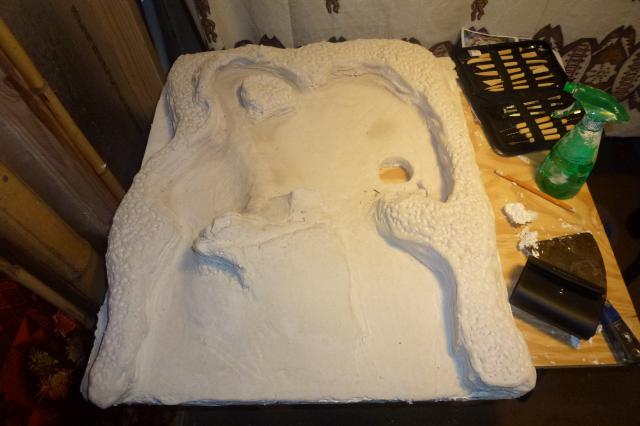 Here it is with the ship in temporary position (I still have to build up the lip of the hill leading into the holes in the side).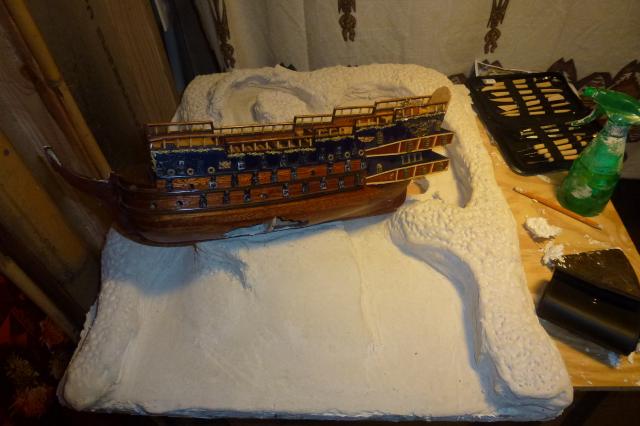 Here is the backside of the ship resting on the reef. You can just barely see the hole in its hull. If you put into one of the two holes on the front, a series of channels inside the ship will deposit the ball directly into the golf hole for a hole in one.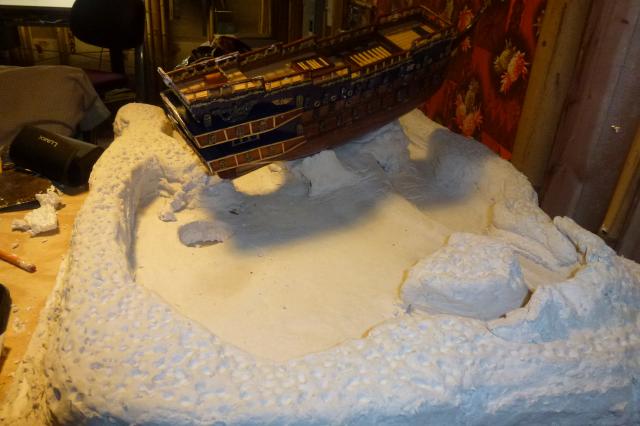 Now for the squeemish folks who can't stand anything non-tiki I ask you to temporarily leave the room...
I wasn't sure about posting this on here since it is not tiki, but Wendy said I better so she can see the painting I described to her at Tiki Kon that I am making right now, so you can blame Wendy.



First a bit of explanation. I grew up in Coos Bay Oregon for a lot of my younger years, and had the good fortune to get to see a movie theater there of antiquity that made me fall in love with all things Egyptian and nearly spurned me into a archaeology career. This theater was opened in 1925 and is utterly drenched in Art deco Egyptian revival theming. It still is mostly intact inside and is one of only about four Egyptian themed theaters left in the United States. Unfortunately it is currently closed to the public because it needs a lot of renovation to the roof and walls, and they need to raise a considerable amount to be able to get it up to code enough to open again. All the volunteers that are working towards that goal are doing a bang up job, and I wondered if there was anything I could do art wise to help. I pitched the idea to the board of making a painting to sell, and also make prints of it to sell to raise money. So I am now working on the largest canvas I have ever done (24X30) to capture the fantastically tiny details of the interior auditorium. I am trying to portray the opening night of the theatre in 1925, so eventually there will be an audience of flapper women and dapper men along with what is there now. In order to be as authentic as possible I have been doing a lot of back and forth conversations with the older members of the board who can remember details of how things originally looked before time took its toll. There is virtually no photos or other actual evidence of how the interior originally was, so I am having to go partly with detective work and partly guessing although as I said much of it is still intact.

I will link you to their facebook page for most photos, I don't feel comfortable putting up too many here because they had a dispute with their volunteer photographer about the rights. Here is the FB photo album: https://www.facebook.com/media/set/?set=a.10151206324019051.467758.233578989050&type=3

I'll post a few though just enough to show you what I am up to. The auditorium still has it's original Wurlitzer organ, and really intricate and beautiful front grills for the organ lofts from which the music would emanate behind.




The first phase was to make a composition layout in photoshop by cobbling together a bunch of photos. I had to scour the net for non official photos because they did not have the angle I was looking for. I wanted to show one of the main side walls with the organ loft, have an audience in their seats in the foreground, show a bit of the theater screen with Charlie Chaplain's "Gold Rush" movie (which opened in 1925 so was a pretty safe bet it was there for opening night), and have it all be in slightly forced perspective. I really wanted to convey the immensity of the place by having one of the main stage pillars looming in front. Here is the quickly cobbled together "blueprint" for the painting.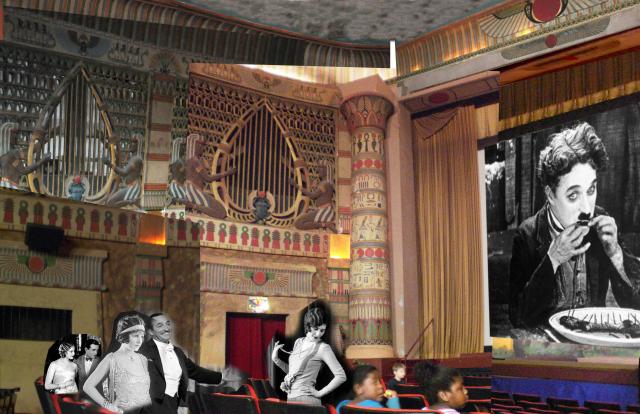 Next I had to try and get all those angles worked out correctly, and get the most important part proportioned right: the pillar. All other measurements and spacing would emanate from that one point so it was crucial it be as correct as possible.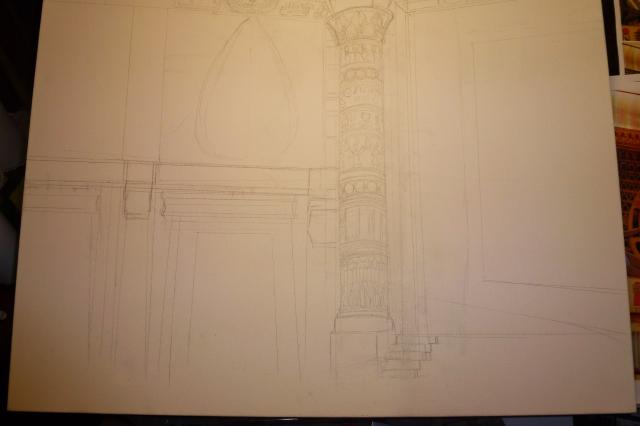 You can see here how I am using the dividing bands on the pillar to measure space and placement of the other details.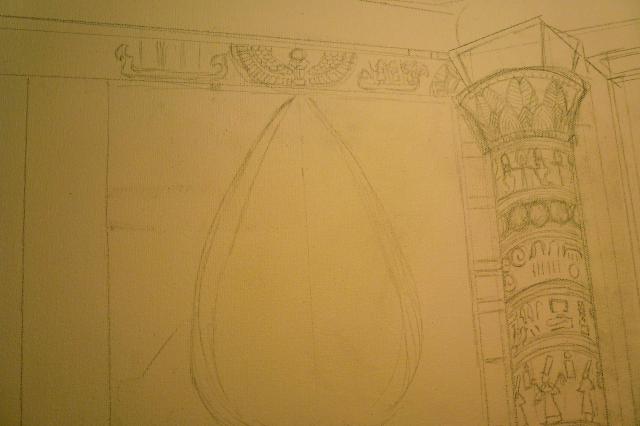 See all that insane detail? Well, like it or not it has to be sketched out before it can be painted. I started on that tonight and got pretty far. Apologies for all the bad photos, very difficult to photograph fine pencil lines.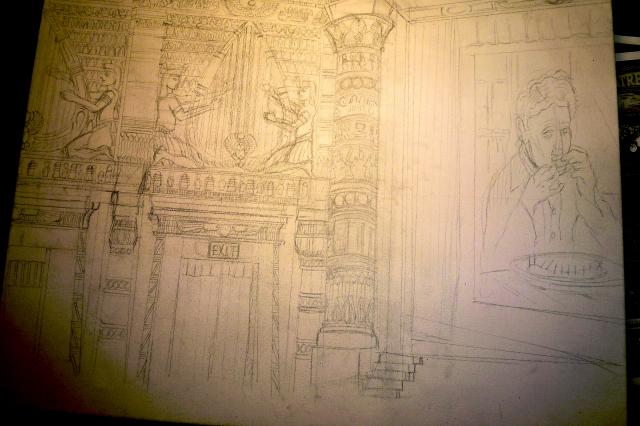 The little tramp by himself...




More details...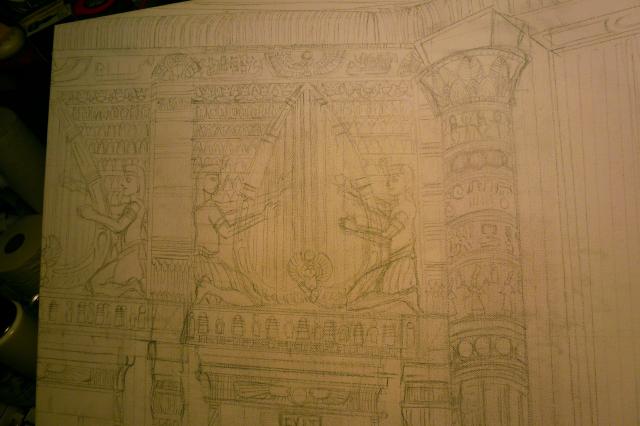 This is without a doubt going to be the most challenging painting I have ever done. The perspective is already making me insane. But I also know once I get down to the painting it will also be one heck of a lot of fun. Sorry for the non-tiki interruption. I figured it would be too large of a jump from saving urban tiki temples to saving urban Egyptian temples. For those in lack of tiki shock, we now return you to your regularly scheduled program.






&nbsp


&nbsp