tigertail777
Tiki Socialite

Joined: Nov 25, 2004
Posts: 679
From: Oregon


Posted:

2014-04-28 5:30 pm

&nbspPermalink

Hey all thanks for dropping by Tiki Tiger Studios!


Hiltiki: Sounds like your an early riser.

Thanks for the comments on torn apart Zombzilla... just wait he is going to get even more gross looking.



Littlegiles: I am probably going to stick with barefoot; I figure she has experience with what is going on and wisely removed her employee shoes for running...she may be the only survivor. Before removing them, I am sure they were probably high heels though.



Cy: Why thank you kindly sir! There is always great stuff coming from Cy studios as well, I may not comment often, but I avidly follow your carving post.


Wendy: The tiger always has creative energy...sometimes too much! It's finding the bodily energy to match that is the problem. One thing that has been helping lately, and I know sounds utterly odd, is coconut oil. A teaspoon each morning is almost as good as a cuppa joe.



I got more done last night but was too exhausted to come in and post at around 6 am. So here we go...

As you may remember this is about where we left off with the main central figure last time...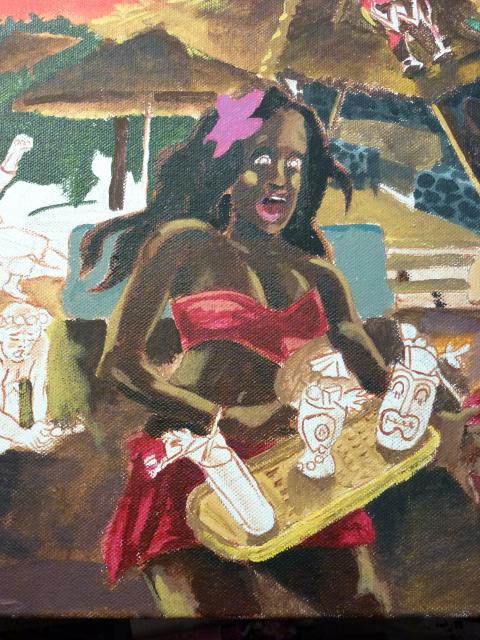 My enthusiasm was beginning to flag on the project, when that happens I decide on just one part that I really have enthusiasm to work on and concentrate on that. This time it was the central figure (at this point I am not sure if she is African American, or Pacific Islander...black or Tahitian/Samoan could be either I suppose). I have never really done any detailed paintings of darker skin tones, and am finding them quite a challenge particularly in this painting because I chose to have all of the women overshadowed by Zombzilla's cast shadow from the sunset. This means that the immediate background behind the central figure is very close in tone to the figure itself and she was getting a little lost. I had to do some light reflective "fudging" to get some high lights in there to make her pop back out again. It was also time to tackle all those savory looking refreshments on her tray, as well as the tray itself.

First thing to do was lay down some basic colors. The "head" mug is loosely based on one of the mugs in Book of Tiki, but I forget the exact page.




Then I worked on the eyes and refining some details a bit before I really plunged in. Notice the nose at this stage, it's pretty indefinite so I wanted to correct that.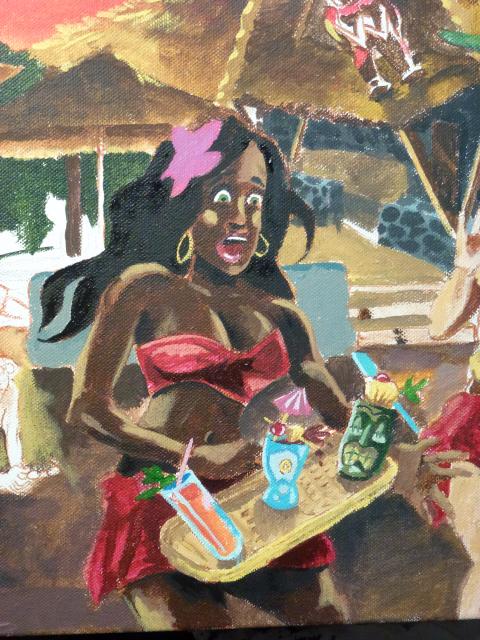 Fixed the nose, added more shadow to her hand. After some research I decided that Sarong was not looking quite right, and changed the tied "tail" part of it to have some movement.




Some reflection in the eyes and lips... ahhh now THAT is a face of TERROR!




Those drinks gave me no end of problems, especially the glass one on the left. The reflections still are not quite right I may work on that a bit more. I think there is too much bright reflection on one side... or something... hmmm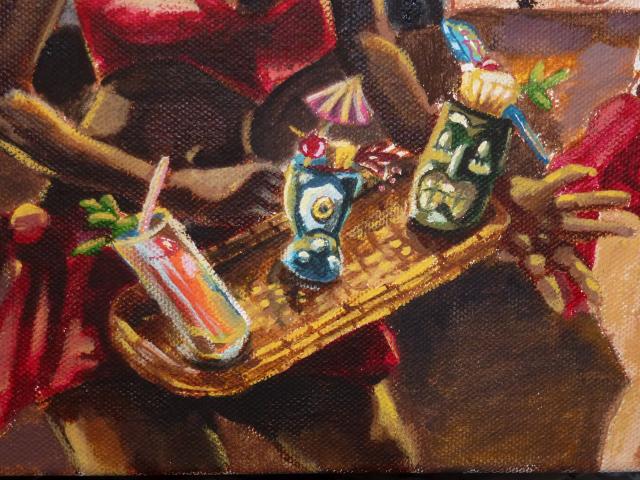 I decided not to do the orchid in her hair till I researched them a bit more, so that is about where I stopped for now.




Thank you for flying Zombzilla airlines, we hope your trip was an enjoyable one and you will choose to fly with us again.








&nbsp


&nbsp