tikiyaki
Tiki Socialite

Joined: May 18, 2004
Posts: 2722
From: The Exotic Port of REDONDO BEACH, CA


Posted:

2011-08-28 11:38 pm

&nbspPermalink

OK, It's Official !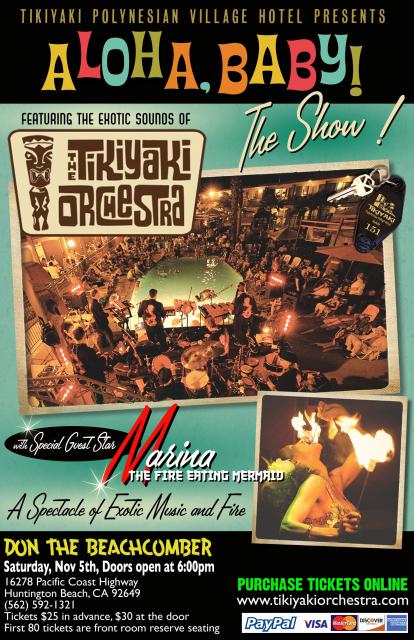 Tickets on sale soon !

SATURDAY, NOVEMBER 5th : DON THE BEACHCOMBER, HUNTINGTON BEACH

THE TIKIYAKI ORCHESTRA : "ALOHA, BABY! - The SHOW" with special guest star, MARINA THE FIRE EATING MERMAID

Your Tikiyaki Polynesian Village Hotel Vacation Getaway comes to life, Saturday November 5th at Don The Beachcomber in Huntington Beach.

"Aloha, Baby! - The Show" will feature The Tikiyaki Orchestra performing the Polynesian Village Hotel Show with very special guest star,straight from the Wreck Bar in Ft Lauderdale, Florida, Marina the Fire Eating Mermaid, performing her dangerous and exotic fire eating act, and other exotic stunts.

Enjoy songs from the brand new album "Aloha, Baby!" being performed live for the first time, old Tikiyaki favorites, some classics, bongo beatdowns, bad jokes by Marty Lush, and everything else you've come to expect from The Tikiyaki Orchestra.

DJ Big Tiki Dude will be spinning the the tunes while the band is not on,and setting the mood just right.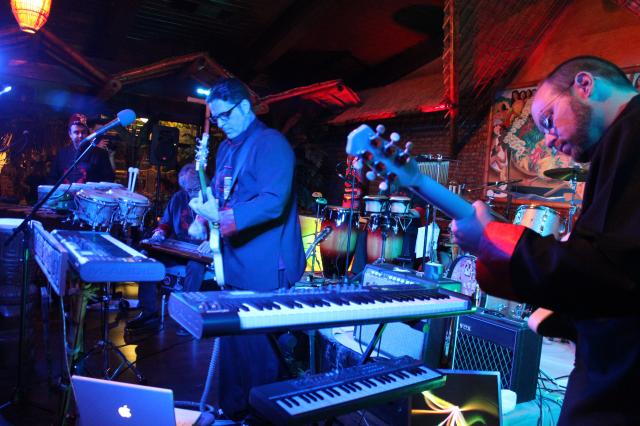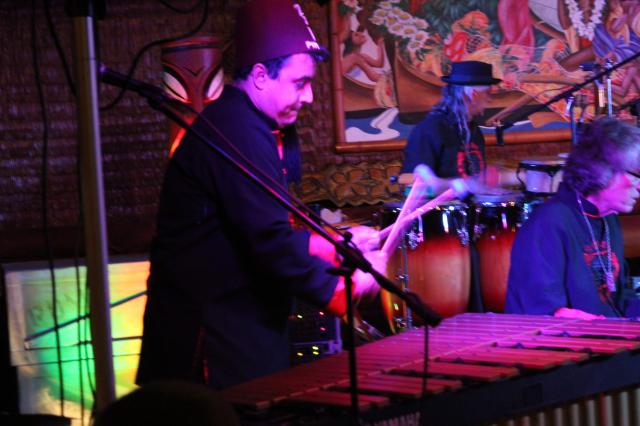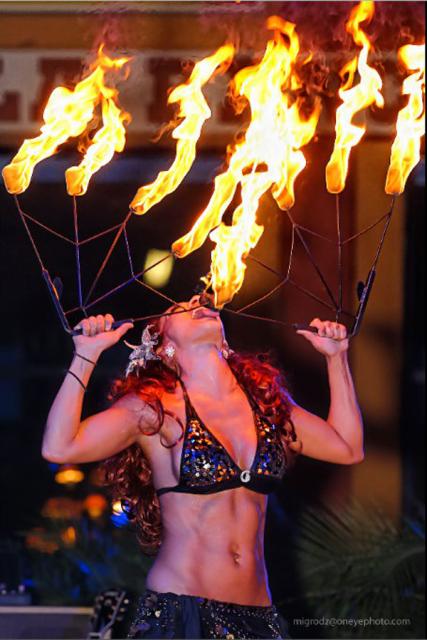 WIN A SPECIAL PELE'S KISS MYSTERY DANCE BY MARINA !
Straight from the Tikiyaki Polynesian Village Hotel's famous bar,The Jungle Jetsetter Lounge, we bring you the "Pele's Kiss" Volcano Bowl Cocktail.
We will be raffling off the super exclusive "Pele's Kiss" , which, in the classic tradition of The Kahiki and Mai Kai Mystery Girls, the lucky raffle winner will get the flaming volcano bowl cocktail complete with a special dance and lei ceremony by Marina herself. Marina was once a Mystery Girl at the Mai Kai in Ft Lauderdale,and has performed this mysterious hypnotizing dance on many an occasion. This night,she will present the "Pele's Kiss" to the lucky winner. Raffle Tickets will be sold the night of the show.

The first 80 tickets will get special front room seating in the High Chief's Room where the band and Marina will be performing,and the rest of the seats will be in the beautiful Hidden Village, which has a great view of the stage. These tickets will be first come, first serve. There is no difference in price, so,once tickets go on sale, act fast to get the best seats.
All seats will be at tables,and Don's Will be serving dinner and cocktails in both rooms.

As if that's not enough,also on this night, The Hula Girls will be rockin' out their killer brand of Hulabilly in the Dagger Bar (admission is free)
We will be coordinating the shows with as little overlap as possible so everyone gets to enjoy both shows.

Please stay tuned to this thread, as we will be making more show announcements as they develop
Special thanx to Queen Kamehameha, Wildsville Man and Art Snyder for facilitating this great show with us. We look forward to returning to SoCal's Largest classic Tiki Temple.

Aloha, Baby! and we look forward to seeing everyone at the show.

Tickets :
$25 in advance (at tikiyakiorchestra.com)
$30 at the door

Don The Beachcomber
16278 Pacific Coast Highway
Huntington Beach, CA 92649
(562) 592-1321


[ This Message was edited by: tikiyaki 2011-08-28 23:58 ]

[ This Message was edited by: tikiyaki 2011-09-05 10:34 ]

&nbsp


&nbsp