TikiRootsRocka
Tiki Socialite

Joined: Apr 15, 2011
Posts: 259
From: Los Angeles, California


Posted:

2011-11-01 1:24 pm

&nbspPermalink

Here it goes!!!
I took my first ceramics class over the summer and here's what I came up with.
These were all made with soldate 60 clay.
I'm an absolute beginner, so I'm using this as a journal to keep notes and document my progress.
Any suggestions would be greatly appreciated.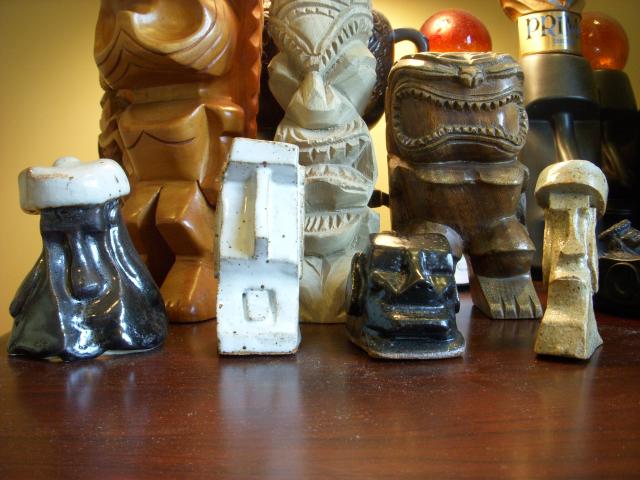 gloss white - 1) dripped on 2) dipped 3) brush streaks
You can't really see as much difference between the area where the drips and streaks are, as I would have liked.



topknot - bray shino - 2 dips
body - matte black - 3 dips
I think 3 dips on the body was a little too much. The edges take on a really dark brown and the black looks charcoally. Maybe better for a volcano. This was my melting Moai, but, he looks like a depressed little Moai after glazing. I was actually tearing apart what I had created up to this point. A few seconds into ripping into it, I said to myself, "hey, he looks like he's melting, keep him."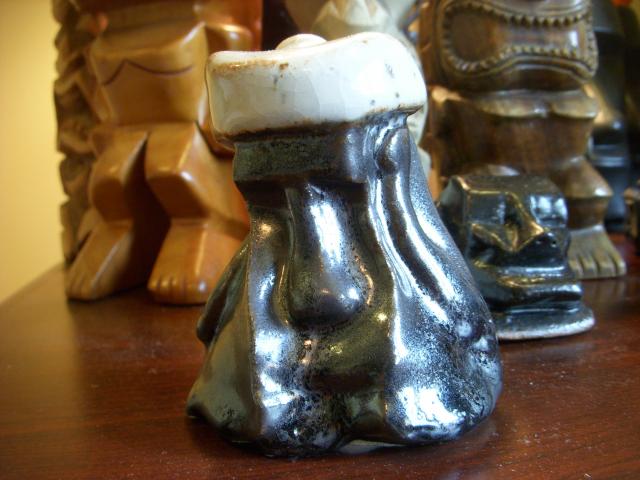 clear H51 - 2 dips
I like how this glaze turned out. I held it by the feet and the glaze dripped off the topknot and left a little bit of a thicker layer and is more gray than the rest. Also, the bottom area where I held it needed to be touched up a bit and also has more gray. This is my favorite so far!



Thanks to everyone for the inspiration and suggestions!

I might've never picked up this hobby if it wasn't for TC!

My second ceramics class just started, and I'm hooked.

This time, we're using "B mixed with sand." So far, I like this way better for sculpting.

It's an independent study class, so for my class time, I'm going to focus on glazing for the first 4 weeks and mess around with the wheel for the last two (1 - 2 hour class/wk).

Again, any suggestions would be greatly appreciated.

Mahalo for looking!!!










[ This Message was edited by: TikiRootsRocka 2014-02-04 17:40 ]

[ This Message was edited by: TikiRootsRocka 2014-02-13 09:55 ]

[ This Message was edited by: TikiRootsRocka 2014-04-22 07:08 ]

&nbsp


&nbsp