TikiTomD
Grand Member (6 years)



Joined: Sep 20, 2009
Posts: 696
From: Flagler Beach, FL


Posted:

2013-08-18 4:05 pm

&nbspPermalink

Wow, Sven, what a visual treat! There seems much more to explore here, so I hope you will continue to share your findings

Wonder if Laya Raki still lives in Beverly Hills or the Los Angeles area? Her husband evidently passed away in Los Angeles in 2005.

It's a little difficult to veer back to the main thread after that gorgeous bit of exotica, but I'll try. While interviewing Faalia (Barney Lee) earlier this year, he revealed to me that he had been part of the pilot film for "The Beachcomber." One day he and two other knife dancers were flown from Honolulu to Kauai, where they were filmed while performing with their knives in a luau scene at night. After filming, they were promptly flown back to Honolulu. He never did see it, but remembers that they were told Cameron Mitchell was the star and that, if successful, a TV series would follow.

In a list of movies filmed in Kauai, there is an entry for "The Beachcombers (1960)"; I suspect a typo was made in listing the name with a plural form. The year is in the correct timeframe.

Faalia studied hula with Eleanor Leilehua Hiram and knife dancing with John Pi'ilani Watkins while living on Oahu. He went on to perform as a fire knife dancer at the Hotel Lexington Hawaiian Room in New York City, Yankee Clipper Polynesian Room in Fort Lauderdale, Mai-Kai in Fort Lauderdale, South Pacific in Hallandale, Luau in Miami Beach and Tahiti Village in Key Largo, as well as many club dates all over the country, but primarily in South Florida. He appeared twice on "The Ed Sullivan Show." Faalia retired to Palm Bay, Florida, where he currently lives. It is an honor to have been a guest in his home, a veritable museum of Tiki.

Here is a young "Prince Faalia," the only fire knife dancer to perform with three knives, until one eventful night in the Polynesian Room (a story for another thread)...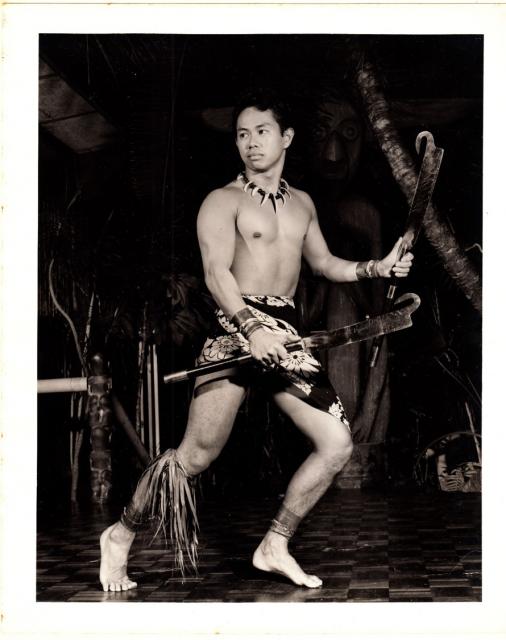 -Tom

&nbsp


&nbsp