bigbrotiki
Tiki Socialite

Joined: Mar 25, 2002
Posts: 11605
From: Tiki Island, above the Silverlake


Posted:

2012-01-19 4:17 pm

&nbspPermalink

The above tales of origin brought back to me a fact that many who have been here for a while are familiar with, and which I thought this thread to be a good place to remind ourselves of: How Oceanic Arts got their NAME - and where many of the wall-hanging designs that ended up in that Bensons catalog originated.

(Those of you who know my previous posts on this subject, bear with me for a recent find that once more proves that often, truth is stranger than fiction)

When the demand for South Seas art began to heat up in the mid-50s to the late 50s, there were only TWO South Seas art books around in America:
The 1946 Museum of Modern Art exhibition companion entitled "Arts of the South Seas" (whose cover was used by Barney West as his logo), and:

This 1954 art book, entitled, (duh!) OCEANIC ART: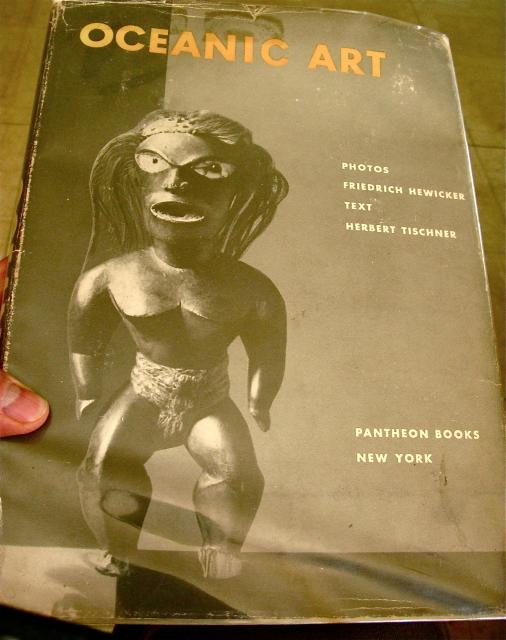 Both books were thus extensively used by American Tiki carvers as sources for their carvings. The full page, expertly modeled photographs in "Oceanic Art" especially lent themselves for being turned back into 3D. Take the above Benson's catalog (which we now established was really an O.A. catalog):




Photos from "Oceanic Art":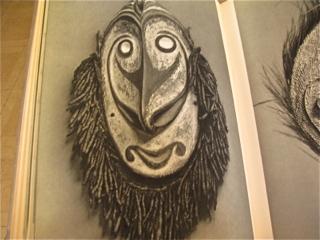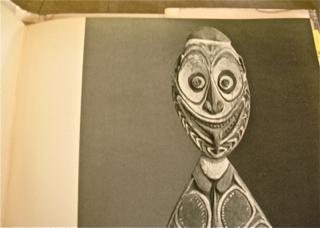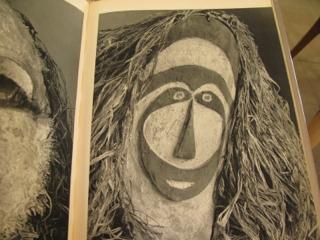 Now remember, our young carvers had no aspirations of being "original artists", all they were offering were "authentic" Oceanic carvings - clearly not museum originals. This "fakery" aspect constitutes much of the charm of Polynesian pop. Some of the catalog's photos even came straight out of the book: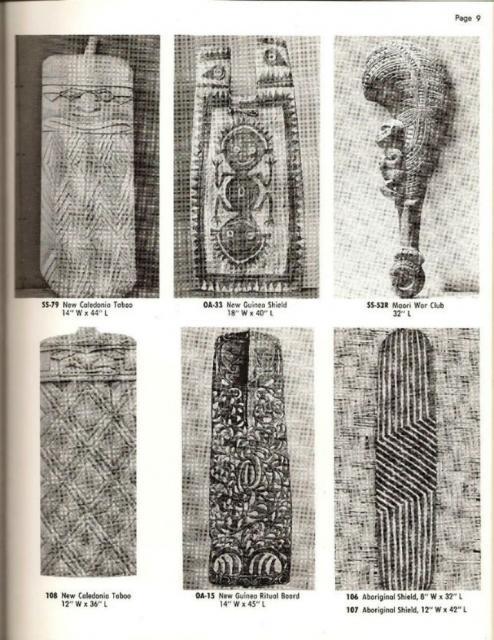 As we know, these "artifacts" were then displayed in Tiki temples all over America, like the Mai Kai...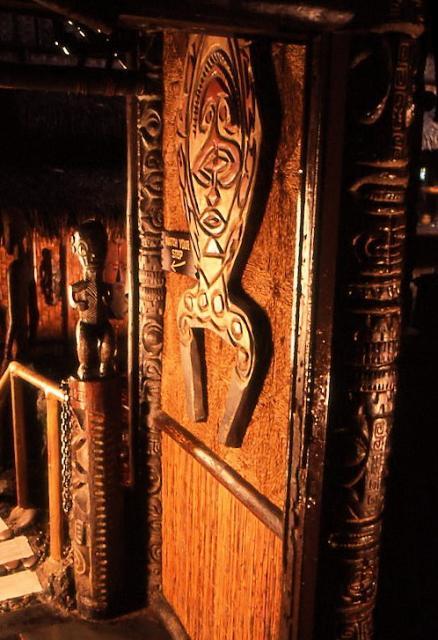 ...and the Kahiki: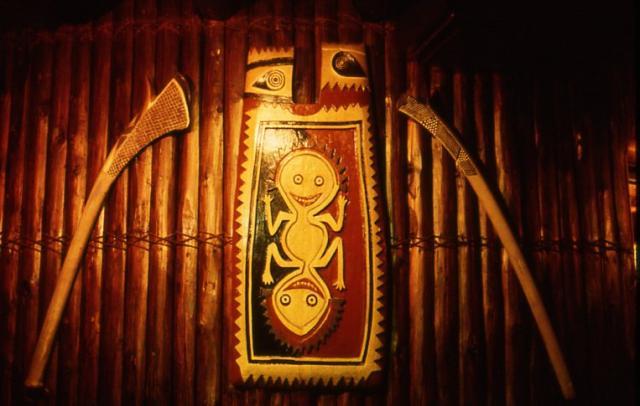 While I had pegged the book as a source of inspiration early on in my research (see BOT page 154), I had always assumed that it was the English version of an originally GERMAN art book, because of the names of both, photographer and author...




...and the fact that most of the carvings hailed from German museums: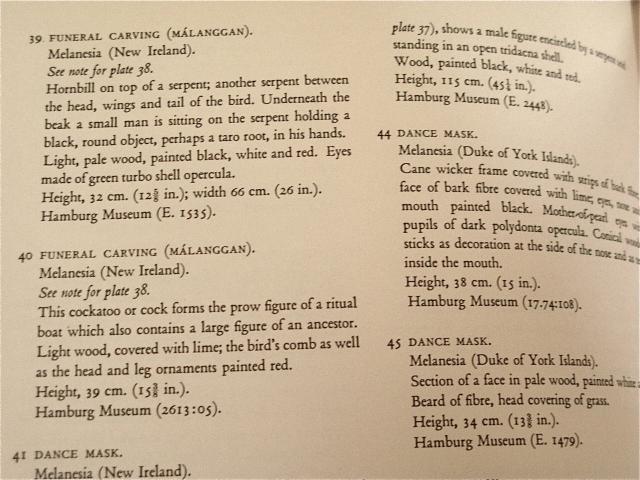 ...like my hometown anthropology museum in Hamburg. So yesterday JonPaul (who is a passionate South Seas art book collector himself:
http://www.tikiroom.com/tikicentral/bb/viewtopic.php?topic=35924&forum=1 ) came by my house, and as I mentioned this thread I was joking that I should deduce these findings to the fact that a lot of the art in American Tiki temples was actually based on a German book. So while were sippin' various rums, I set out (for the first time) to find the original German version of "Oceanic Art" on the internet. First I found one dated 1970, then one 1956, by different publishers. This would not do, because the American version had a copyright of 1954: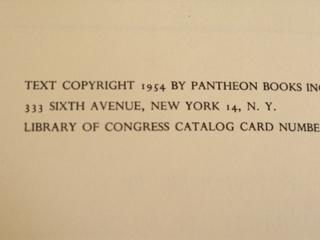 Then, I struck gold because I found an actual image of the German 1954 version: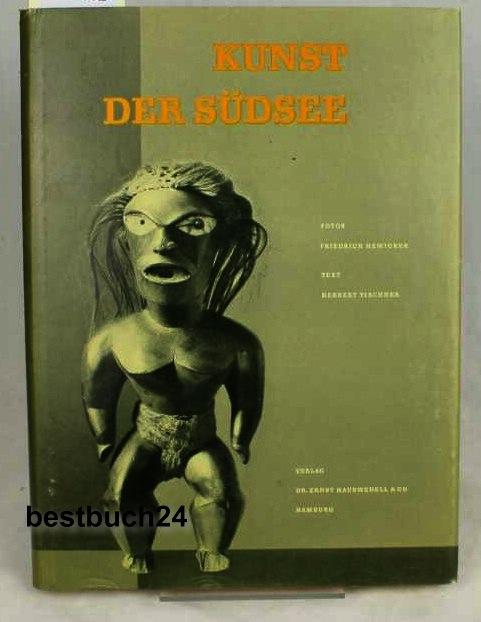 And now, if you have been able to follow my train of thought for this long, it got really strange: I read the name of the publisher of this book, Dr Ernst Hauswedell, Hamburg, and had a memory flash:

In my teens, when growing up in the Fontenay neighborhood of Hamburg, I had a gang of friends with which we would play and roam around through the backyards. There was a red head girl named Corinna who me and my older brother were friendly with. I remember her dad had an art auction business...and her last name was Hauswedell!!! I had been to her home several times, but really had no memory of it, or her dad.

I quickly googled her name, and she had become a peace researcher and activist, with her own publications. And yes, her father had published many bibliophile books in the 1950s, something I was never aware of.

This book had originated in my direct vicinity, down the street from me! Now factually, this happening does not really "mean" anything more than that. But if you were able to retrace my thinking at all, it was a mind-bending experience. The lord sure works in mysterious ways. I am glad JP was there to see it happen. We had to have another rum after that!


[ This Message was edited by: bigbrotiki 2012-01-20 11:25 ]

&nbsp


&nbsp