Tiki Shark Art
Tiki Socialite

Joined: Aug 31, 2006
Posts: 3893

Posted:

2012-05-24 10:35 pm

&nbspPermalink

ALOHA TIKI TRIBE!
ALOHA TIKI TRIBE! (echos off green volcanic cliffs and jungle mountains that look like giant skulls with water falls leaping out of their gaping maws, while strange tropical birds make strange calls in the dark green mysterious regions of the inner island)

ART SHOW!

The Wyland Kona Oceanfront Gallery was the only gallery on the Big Island that took a chance and carried my "low-brow" art when most galleries here could not be bothered. It was a up hill fight to get "tiki-art" shown here in Hawaii! Very strange, but most galleries have a tunnel vision of what tourists will buy, and do not like taking a chance on anything that has not already sold for the last 20 years.

I was told flat out that "TIKI" was dead and would not sell in Hawaii. (can you even grasp what a backward mind set that is?)

I'm glad to say the Wyland Kona gallery has proven that is not true. I started on a small area on a wall in the middle of the gallery, then got moved to the front, then moved to the front window area. Now I'm one of the most displayed artists (next to the big guy - Wyland - in the gallery. BIG thanks to owner Mark Hanna and his sales team for taking a chance on me and my "weirdo-low-brow poly-pop-surreal art".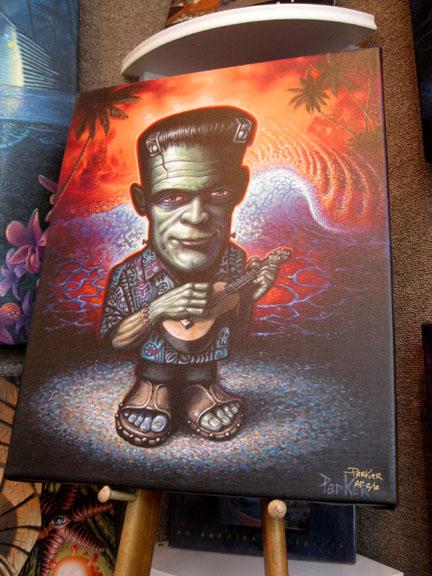 "Frankenstein goes to Hawaii"
Limited editions
Signed, numbered, certificate included
Giclee on canvas and paper

Big Art Show at the WYLAND KONA OCEANFRONT GALLERY. May 25th, Friday night. 6 to 9:30PM Wine, cheese and art!
Wyland Kona Oceanfront Gallery
75-5770 Alii Dr
Kailua Kona, HI 96740-1782
Phone – (808) 334-0037
Toll Free – (888) 435-6612
Email – artexpert@hawaii.rr.co
Gallery web site: http://www.wylandbigisland.com/
Or contact me at info@tikishark.com


BIG ALOHA, hope you can drop in!
Brad Tiki-shark Parker
_________________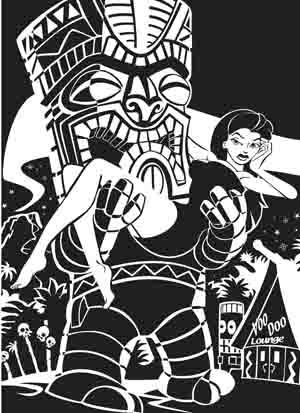 &nbsp


&nbsp