Tiki Shark Art
Tiki Socialite

Joined: Aug 31, 2006
Posts: 3885

Posted:

2013-09-13 10:43 am

&nbspPermalink

Aloha Tiki Tribe!


On October 24th & 25th, 2013, here in Kailua-Kona Hawaii, Body Glove is celebrating it's 60 year Anniversary as
one of America's best known Surf Brands. As part of that, I got together with Body Glove and Tiki-Farm and I designed a set of Tiki-Mugs.


(Me, and Body Glove owner Bill Meistrell, and his Tikis, and new Tiki-Mugs)



"The Body Glove Tiki-Mug Set". The first, and only, tiki-mugs this world famous Surf Brand has ever made in 60 years of surf history.
Kinda hard to believe for a big surf brand, but there ya' go.

In this set you get 3 monster mugs!:


(and when I say MONSTER I really do mean there is a MONSTER involved here!)



"The Body Glove 60th year Anniversary Tiki-Mug". Emblazoned with the surfing motto "Protect the Core"
.. .meaning the core of the sport of Kings: a good sport, with good sportsmanship, and real surfing ideals
from a beach community based surf brand, not corporation / wall street slogans, but real beach livin' & loving' ALOHA."



"The 'Shark-Tiki' Body Glove Tiki-Mug" - the mythic Mug of a Tiki dedicated to a Shark-God who watches over wayward surfers.
It's two aumakua Shark-spirits swim around it's base.



"The Body Glove Sea-Creature Tiki-Mug". Lurking in the tropical jungles of a remote, unknown island caressed with perfect waves,
this sea-beastie doesn't like sharing his shore, and gives a menacing new meaning to the old warning: "Locals Only!" He's the newest,
and only, sea-monster spawned from a 1st place winning Surf Film: Body Glove's "The Disappearance".



Discover The Body Glove Sea-Creature in Greg Browning's 1st place Trans World Surf film festival winner -
- this 7 minute feature: "The Disappearance": http://www.youtube.com/watch?v=YH7i3d0VJ1A



PRE-ORDER the limited-edition Tiki-Mugs these come with autographs of the local Artist who designed the Mugs (me),
and Meistrell family members (the owners of the Body Glove Surf Brand for 3 generations.), and were here in Kona
for the Body Glove party with Mayor Billy Kenoi (Mayor of the Big Island of Hawaii) I'm not kidding!, a REAL-DEAL
Blessing from a Hawaiian Kahu akua, still, I'm not kidding!, a free concert (maybe Henry Kapono, but, if Henry has
touring commitments, I am pushing to have Tiki-culture famous just turned 90-years-young vibraphone player
Sean Wilkinson! Still, not kidding!, Take a spin on the "Body Glove Hawaii Wheel-of-Prizes" and WIN BIG when you
buy a Tiki-Mug! Meet the President of Body Glove, Meet the Body Glove SEA-CREATURE and get a Photo with him!
join in a Live Radio show from the party on LAVA FM! ..and get your Tiki Mugs sharpie-marker signed by as many
of these special people as you can, as well as your BG Sea-Creature Beach Towel, and Creature Tee, and Sea-Creature
Art Print... we are overwhelmed at all the ALOHA the Big Island is showing us at this event! (P.S. the Hawaii governor's
office called my Art Agent with more news about yet another very special "happening" at the Event, but it's too soon to
talk about THAT) , ...and we'll have Body glove 60th Anniversary cake, and of course, Exotic Tropical DRINKS! Per hhaps one named "The Kona Kreature served in a tall frosty Creature Tiki-Mug!
(And, on a more sober note, money from this event is going to local Big Island Charity as well. Spreading ALOHA!)
...And this all takes place at the fabulous open-air Don's Mai-Tai Bar in the lobby of the Royal Kona Resort, right on
the Kona Bay at Sunset!, Then the Wyland Kona Oceanfront Gallery on night 2!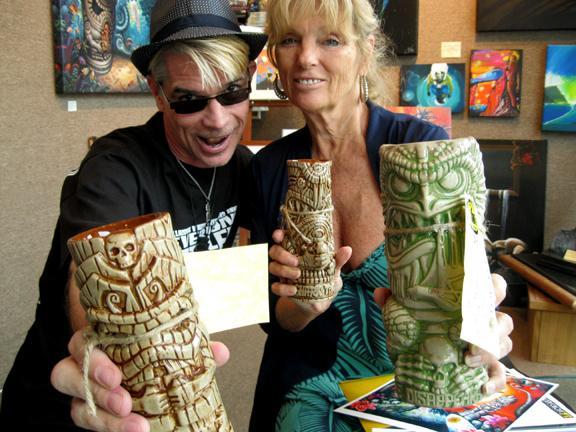 All these mugs are for pre-order purchase from jillw@wylanbigisland.com at the Wyland Kona Oceanfront Gallery, my home gallery here in Kailua-Kona, Hawaii. Mahalo Tiki will also have some of these mugs that have all this Big Island mojo and celeb autographs and ALOHA...

Now, these are obviously special event mugs, signed, blessed, defaced with sharpie markers, and all that...but I didn't want to make Tiki-Mugs that would only be sold to people who had the $ to come all the way to Hawaii for this once -in-a-lifetime event.

This is all fantastic, beyond anything we dreamed of happening, but... what about the tiki tribe members livin' somewhere on the mainland, or Canada, or France, on a budget?

What? they don't get the chance to have a Tiki-Mug? I didn't want that. Never was my intension. Coming here would cost $. The special autographjed Mugs are being sold by a Art Gallery and are at Art Gallery prices. Honestly, I didn't set out to make Tiki-Mugs the average collector could not afford.

Once, back in the 80's, a very special person - a personal mentor; British writer, film maker, and artist, Clive Barker told me "Art should be for everyone, not just the rich" ...and that stuck with me.

So, after the Huge Body Glove Anniversary Event... we are gonna offer some of the Tiki-Mugs, (with no special autographs, or Big Island Mayor mojo, or Hawaiian blessings, or drunken sharpie scrawls, or any of that) Just the beautiful Tiki-Mugs, up for sale on-line - for as long as supplies last. I cannot say exactly how many, but this gives everyone at least a chance to get one or a whole set for their collection, even if they can't afford a trip to Hawaii.

REALLY, I would LOVE to get a Signed Tiki-Mug to every single person who wants one, - I don't think that is in my power. But, this is with-out us going bankrupt (I think).

So....


After October 25th, while supplies last, you can order unsigned mugs on line at http://www.tikifarm.com
or
http://www.mahalotiki.com.

I hope that helps the tiki-tribe members who were starting to feel real left out... not feel so left out.

Big, BIG, Aloha and mahalo for all your support!

_________________
Brad (Tiki Shark) Parker
"Brad Parker creates lurid paintings that pull in influences from tiki, comics, and rock."
- Honolulu Magazine "The Best Of" 2012 Issue


http://youtu.be/7HTCkZXaA

[ This Message was edited by: Tiki Shark Art 2013-09-13 11:16 ]

&nbsp


&nbsp