Atomic Mess
Tiki Socialite

Joined: Apr 13, 2012
Posts: 283
From: Hack-Ah-Nee


Posted:

2013-02-06 12:57 pm

&nbspPermalink

Thanks Hang 10.

Hey all, here's an update.
I started making another comb after new year as someone wanted to buy one. I thought would try basswood as I read on here it's easy to carve and it's also easy to get in thin sheets...

Big mistake! I didn't like carving it at all, really hard to get detail and pretty fuzzy/splintery.

I was not happy with the result but I still had another piece so decided to have another go. I got a better result second time round by making sure my knife was really sharp and changing the way I carved it...





The original (mahogany) is on the left, then the first basswood in the middle and the second on the right. The designs on the middle one are pretty undefined. You can see here-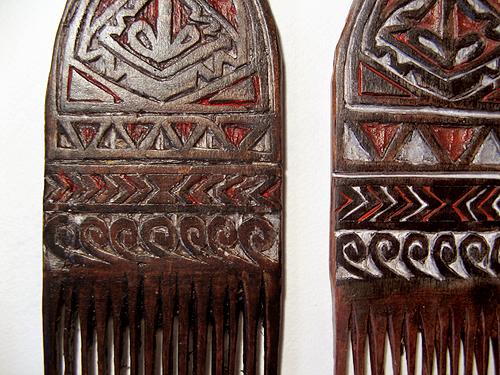 the second basswood version (the right) came out much better. I'm going to try and rescue the other one but next time it's back to hardwoods for me!





[ This Message was edited by: Atomic Mess 2013-02-06 12:58 ]

&nbsp


&nbsp