Gene S Morgan
Tiki Socialite

Joined: Jul 18, 2011
Posts: 342
From: Midwest the navel of the USA


Posted:

2012-07-10 9:36 pm

&nbspPermalink

You can add clay to your model to create your design, but I prefer to mostly to carve because that is how it is supposed to be done. I push the draw button at the lower arrow. And, then I push the invert button at the upper arrow. This allows you to remove clay rather than add. Just start carving a general face look. Vary the size and strength sliders to vary the carving.You aren't going for detail at this point, just a general placing of features. Look at the example to get ideas. Notice, because of the symmetry button, all you have to do is work on one side and it is mirrored on the other.






Actually I find this to be much like carving wood. You dig in and then sand it. The sanding is done with the smooth button.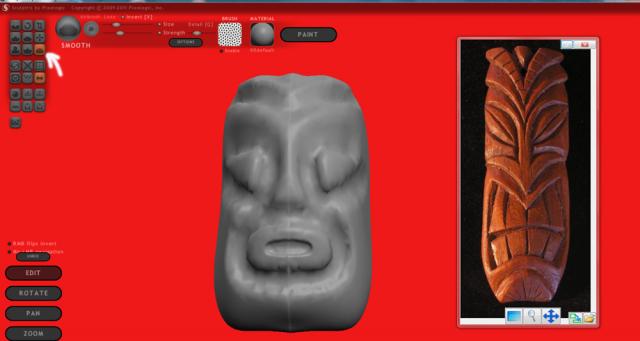 Check out the buttons in the lower left. You can move the model all around. Smoothing is easier if you zoom in. You can do these moves on the fly if you hold down the ALT key.






Used some more grab and smooth to try to define the face. Grab is a little bit of a cheat. As you can see the design is be altered greatly from where we started. It will be more defined as we go.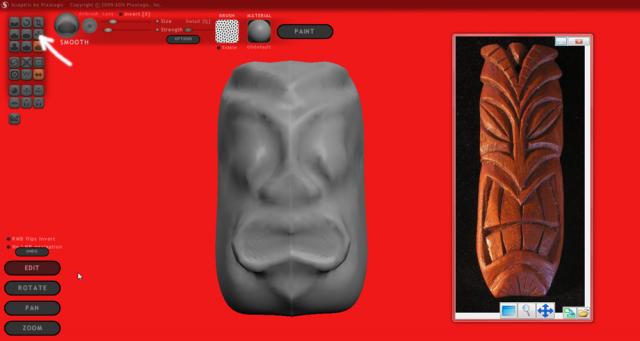 &nbsp


&nbsp