jimsflies
Tiki Socialite

Joined: Jun 02, 2010
Posts: 361
From: Michigan


Posted:

2013-07-31 06:17 am

&nbspPermalink

No problem Thurston Howell. I enjoyed all the photos. I am half way to having my own pineapple bush now.

I picked up my corrugated metal roofing last night. I thought I would have a longer wait to get the metal from Menards, the website said 12-21 days but it came in less than a week. I was shocked at how thin the metal is. If it doesn't work out for a roof I might be able to wrap up left over dinner in it.

This is a long shot...but if anyone has any tips for putting a metal roof on, please share. My current plan is to make templates from a big piece of cardboard and then cut the metal. With all the crazy angles, I can't think of any other good way to do it. As for cutting, not sure if turning my skill saw blade backwards to cut it is the way to go or get some electric shears. Given how thin it is, if the saw blade catches it, I think it will really mess it up.

The weather wasn't very cooperative last weekend to get much done. Since I thought I had longer before the metal would be here, I took a few minutes to add some bracing to the sides of the structure. It helped stiffen it up quite a bit.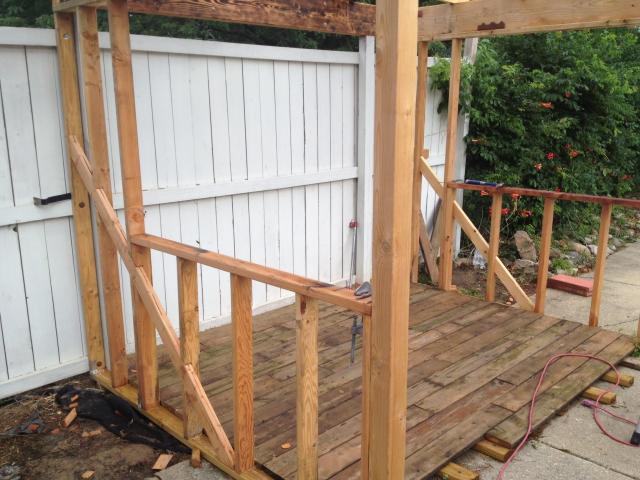 Also started burning the roof rafters. I'm planning for the underside of the roof and rafters to be exposed so am taking time now to "finish" them so I don't have as much to do after the roof is on.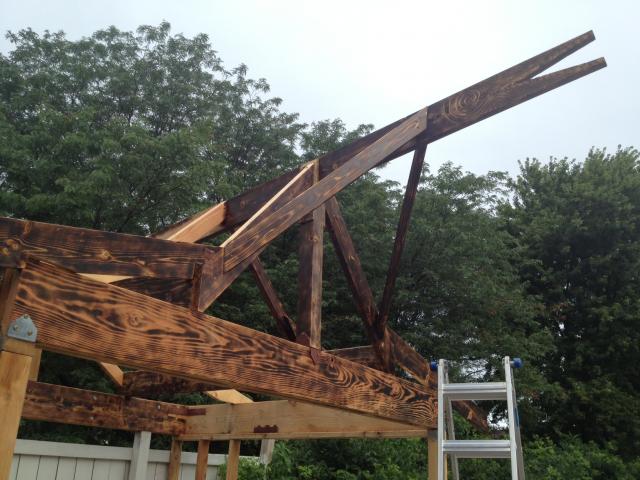 &nbsp


&nbsp