ikitnrev
Tiki Socialite

Joined: Jul 27, 2002
Posts: 1323
From: D.C. / Virginia


Posted:

2012-10-07 09:30 am

&nbspPermalink

I was going to initially place this post in the carving forum, but decided it was of enough unique broader interest to post in the general tiki category.

I witnessed a portion of a pretty cool piece of performance art yesterday. A friend of mine, Andrew Wodzianski, inspired by the novel 'Moby Dick,' decided to replicate the final epilogue of the novel. For those who have not read the novel (spoiler alert!), the whaling ship Pequod is wrecked in the South Pacific, and only Ishmael survives, clinging to Queequeg's coffin-turned-life buoy for an entire day and night before being rescued.

Wodzianski decided to replicate this final epilogue, with a performance piece titled 'Self-Portrait as Ishmael'

For the (e)merge Art Fair held in D.C. this past weekend, he created a coffin, placed it in the event hotel swimming pool at 5am on Friday, and wearing period costume, raised himself onto the coffin. For the next 36 hours, Wodzianski stayed floated on this coffin - through darkness, through the next day, ending his marathon at 5pm on Saturday.

I stopped by on Saturday afternoon, and was impressed that Wodzianski had been carving an abstract primitive face pattern on the coffin top.

Here are several photos I took of this event.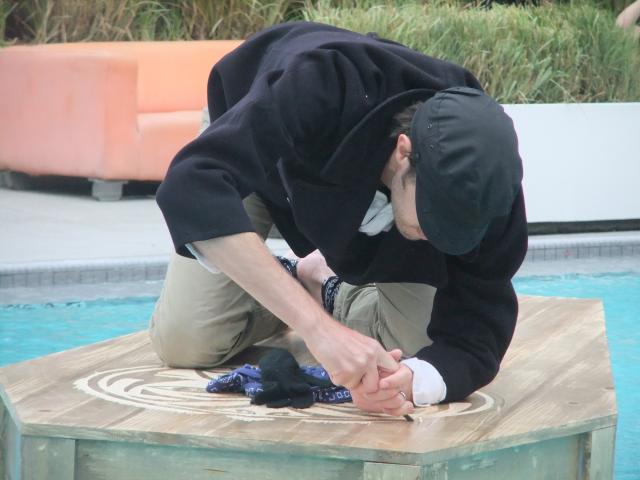 Here is a photo of the carved coffin, post-event, as it is transported away (that is not Wodzianski in the photo)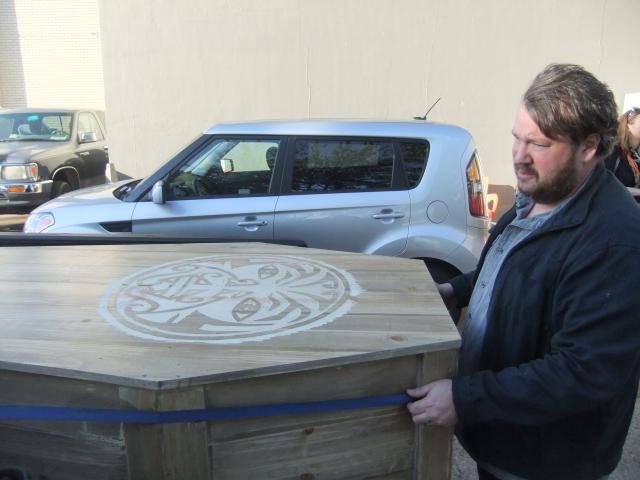 Here is Wodzianski's website - currently a link to a more rustic single photo for this event
http://www.wodzianski.com/





&nbsp


&nbsp