Dustycajun
Tiki Socialite

Joined: Nov 16, 2007
Posts: 5147
From: Santa Barbara, CA


Posted:

2012-11-11 6:47 pm

&nbspPermalink

Name:King Kamehameha Hotel
Type:hotel
Street:75-5660 Palani Road
City:Kailua-Kona
State:HI
Zip:
country:USA
Phone:
Status:operational

Description:
At Bigbro's suggestion, I decided to start this post for the King Kamehameha Hotel located in Kailua-Kona.

Here is a nice early artist conception of the hotel grounds.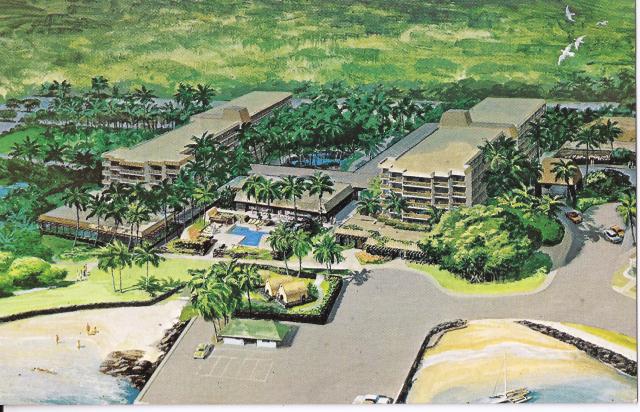 And the historical Ahu'ena Heiau, a temple dedicated to Lono who was the Hawaiian God of peace, agriculture and prosperity resides there.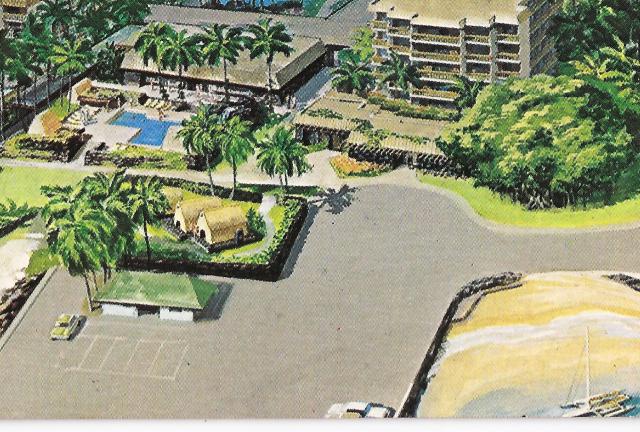 Photo of the Heiau with its Tikis.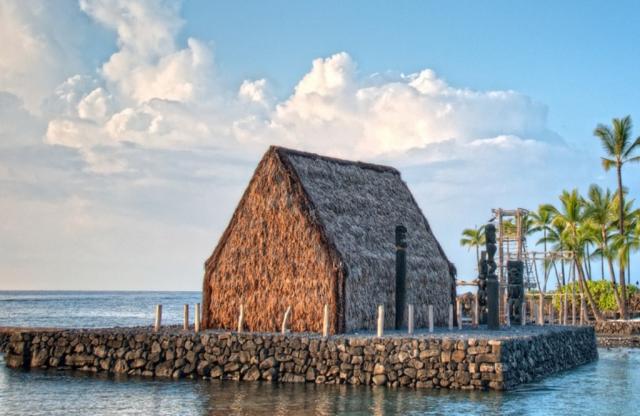 I also have these postcards of the great old rooms at the hotel.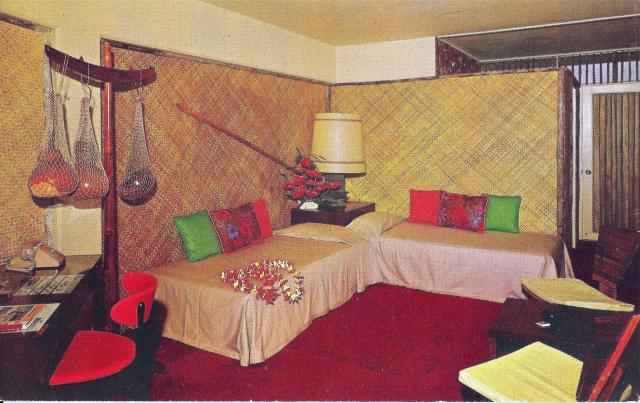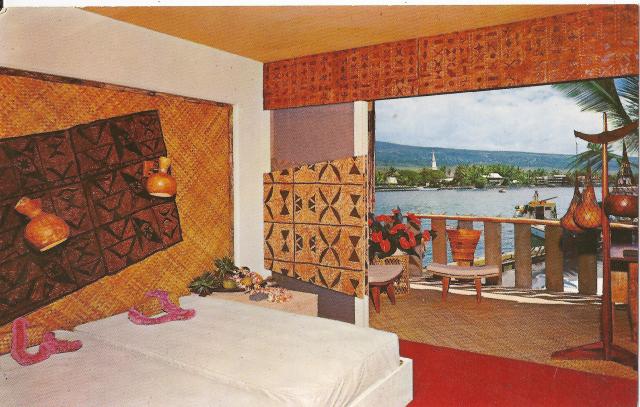 Some history of the hotel:

The Kona, Hawaii, hotel is on one of the most historic sites in all of Hawaii. King Kamehameha the Great established his royal residence adjacent to the current site of his namesake hotel. During his reign he rebuilt Ahu'ena Heiau, a temple dedicated to Lono who was the Hawaiian God of peace, agriculture and prosperity. Here, on The Big Island, Kamehameha the Great lived and conducted matters of government, until his passing on May 8, 1819. Indeed, our Big Island hotel owes quite a debt to our island's rich history and culture.

King Kamehameha's residence included all of Kamakahonu, the bay around which the hotel is focused. Besides homes, his residence also had numerous fishponds and gardens.

The hotel is filled with many exquisite and historic artifacts and depictions of 18th Century Hawaiian life. Among many of King Kamehameha's Kona Beach Hotel's treasures are a fascinating mural, portraits of Hawaiian royalty, Ahu'ula (treasured feather cape), Mahi'ole (feather helmet), Lei Hulu (feather wreaths), Lei Nio Palaoa (whales tooth pendant), war weapons, ancient Hula instruments, and displays of domestic and agricultural artifacts.

Ahu'ena Heiau

Reconstructed by King Kamehameha the Great between 1812-1813, the Ahu'ena Heiau is on the register of National Historic Landmarks as one of the most important of Hawaii's historic sites. In the heiau or ancient temple, the dominant temple image was of Kalaemoku, a chief deified for his healing of acute diseases. Carved upon Kalaemoku's helmet was a perched bird. Other images in the heiau were of ancestral gods with whom Kamehameha maintained close rapport for the benefit of his kingdom.

Members of Kamehameha's council frequently met with him at the Ahu'ena Heiau for ritual prayers and to instruct Kamehameha's young heir in the ways of wise government. Click here to learn more.

Hawaiian Mural

Prominently displayed in the lobby area of the King Kamehameha hotel in Kona, Hawaii, is a large and compelling mural painted by renowned artist Herb Kane. The mural depicts Kamehameha, dressed in a simple kapa wrap, in conversation with his son Liholiho, heir apparent who ruled as Kamehameha II.

In the painting to the left sits Ka'ahumanu, a favorite wife of Kamehameha and champion of the missionaries. Without her assistance in the guise of Christianity, the missionaries would not have landed in Hawaii and been allowed to stay. A formidable person, she became the most prominent woman in politics and was named Kuhinanui, or Esteemed Regent, to Kamehameha II and Kamehameha III. Embodied with much power in her own right, Ka'ahumanu successfully maneuvered to acquire even more power. Her leadership capacities were outstanding.

Portraits of Hawaiian Royalty

In addition to portraits of King Kamehameha I, the Big Island hotel boasts 20 beautiful paintings of other Hawaiian royalty including Queen Ka'ahumanu (his favorite wife), King Kamehameha II and his wife Queen Kamamalu, King Kamehameha III and his wife Queen Kalama, King Kamehameha IV and his wife Queen Emma, and the bachelor king Kamehameha V.



Now if we could just get some tourist photos.


DC




&nbsp


&nbsp