Hurricane Hayward
Tiki Socialite

Joined: Jun 07, 2008
Posts: 1465
From: 16 miles from The Mai-Kai


Posted:

2012-12-21 7:02 pm

&nbspPermalink

On Dec. 28, 1956, the venerable Mai-Kai restaurant opened its doors on a desolate stretch of Federal Highway in Fort Lauderdale. In the ensuing half-century, the rest of the world has changed radically but you can still be guaranteed a totally immersive South Seas experience in this one-of-a-kind slice of Polynesian paradise.

This mid-century marvel will celebrate its 56th anniversary next Friday (Dec. 28) with its annual Customer Celebration Party in The Molokai bar starting at 5 p.m. Live music will be provided all night by Ty and Andrew, The Mai-Kaiís house band, playing a mix of island and holiday music on ukuleles, bongos and guitar.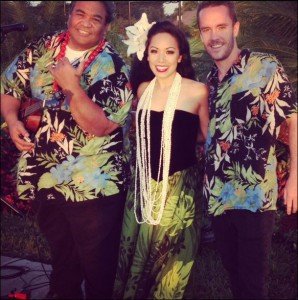 Ty (left) and Andrew with fellow Mai-Kai Islander Hokulani at a recent catered event. The duo will be performing at the 56th anniversary party on Dec. 28. (Photo courtesy of The Mai-Kai)

There will also be an extended happy hour all night in The Molokai. After 7 p.m., just tell your waitress that youíre there for the celebration party in order to receive half-priced drinks and appetizers. This includes most of The Mai-Kaiís legendary tropical cocktails, many of which date back to the early days of Tiki mixology in the 1930s. Taste history in a glass all night while you munch on decadent pupus such as Shanghai Chicken and Crab Rangoon.

* Facebook event:
http://www.facebook.com/events/421372501269257/

* More from The Atomic Grog:
http://www.slammie.com/atomicgrog/blog/2012/12/21/the-mai-kai-celebrates-its-56th-birthday-rings-in-2013-with-special-events/

Ring in 2013 Polynesian style

Three days later, on Dec. 31, guests can turn from celebrating the past to embracing the future at The Mai-Kaiís annual New Years Eve festivities.

There will be two special Polynesian dinner shows (at 7:30 p.m. and 11:15 p.m.) featuring The Mai-Kaiís legendary Polynesian Islander Revue, the longest running (since 1961) authentic South Seas restaurant stage show in the continental United States. It is still choreographed by Mireille Thornton, a former dancer and widow of late Mai-Kai co-founder Robert Thornton.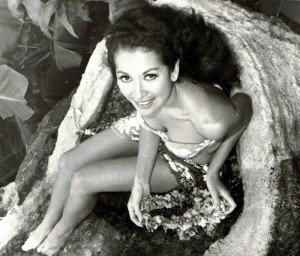 Mireille Thornton in the early 1960s. (Photo courtesy of The Mai-Kai)

In addition, The Molokai bar will be open from 5 p.m. until well into 2013, with its usual happy hour from 5 to 7 p.m. and no cover charge all night. If youíre looking for a less expensive option, or a quieter alternative to the usual New Yearís Eve rabble-rousing, the bar is great option and tends to be relatively uncrowded. It does get festive at midnight, when The Mai-Kai passes out hats, horns and party favors. But as usual itís done with class and style, The Mai-Kai way.

* More from The Atomic Grog:
http://www.slammie.com/atomicgrog/blog/2012/12/21/the-mai-kai-celebrates-its-56th-birthday-rings-in-2013-with-special-events/#2013


_________________
Events, music, art, cocktails, culture



The Mai-Kai Cocktail Guide

&nbsp


&nbsp