tikibars
Tiki Socialite

Joined: Apr 11, 2002
Posts: 2026
From: Aku Hall, Chicago


Posted:

2013-01-03 1:28 pm

&nbspPermalink

Hi

I've had this in storage for like a decade. Pulled it out today and thought I'd share it.
I don't have any idea where this comes from. I got it at an auction here in Chicago around 2001 or so. Seems like it is probably restaurant décor, as it is much too big (about 66 inches by 36 inches at widest/tallest points) and too heavy for most people's homes. Haven't noticed it in the background of any photos of classic Chicago tiki bars, but then again I haven't scoured my archives very thoroughly looking for it either.
If anyone has ideas, conjecture, thoughts, or evidence on where it comes from, I'd be interested.
On the back is a tag from the company who supplied the wood, but there is no info on the artist or décor company.

I didn't post it here to sell it, I posted it so that others could check it out and perhaps share info, but if someone who can pick it up in Chicago is interested, we can talk. I absolutely will not ship it (much too large/heavy for me to want to deal with it), don't ask! (thanks).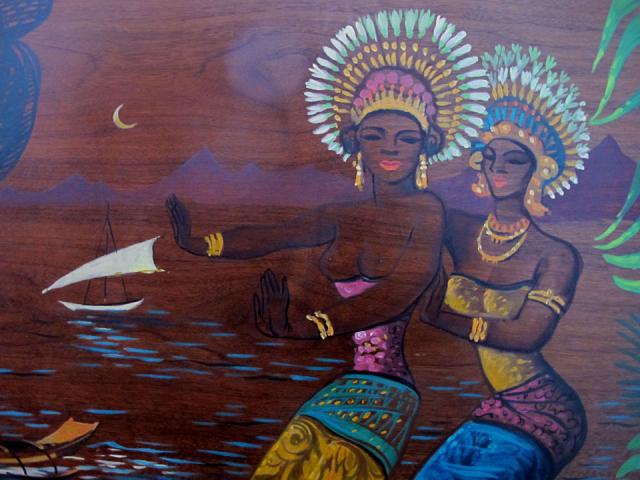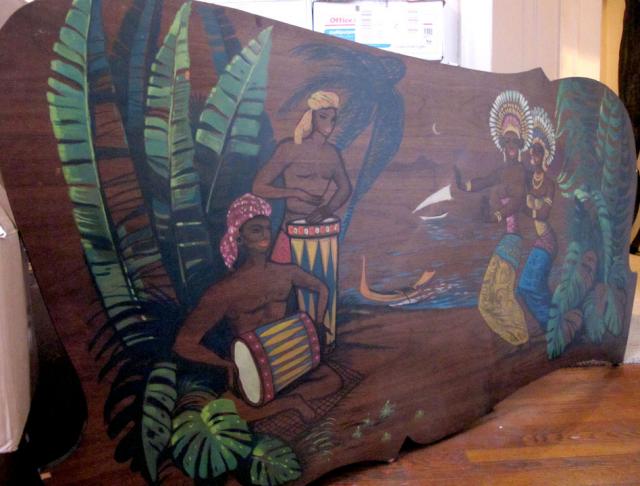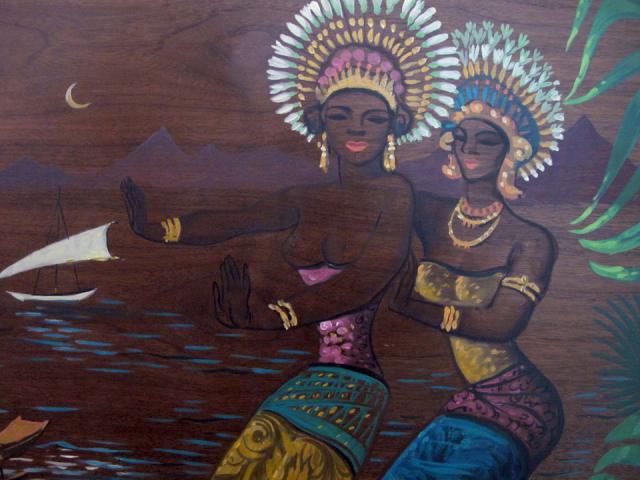 _________________
- James T.
My newest book is "Destination: Cocktails" - www.destinationcocktails.com.
See www.tydirium.net for info on Big Stone Head, Tiki Road Trip and all of my other projects!

&nbsp


&nbsp



Mr. NoNaMe
Tiki Socialite

Joined: May 10, 2006
Posts: 1919

Posted:

2013-01-03 4:27 pm

&nbspPermalink

You could try old Balinese restaurants. Similar iconography from your painting to Bali are the outrigger, sailboat sail, headdress on the ladies, head scarf on the guys and painting on the drums.

"Dutch East Indies" would be a good search term.

_________________
Viva Kate!

[ This Message was edited by: Mr. NoNaMe 2013-01-04 06:28 ]

&nbsp


&nbsp