arriano
Tiki Socialite

Joined: Jun 13, 2006
Posts: 1439
From: San Diego


Posted:

2013-03-01 09:50 am

&nbspPermalink

The Blue Gardenia that once appeared on older Bali Hai menus is now known as the Blue Mystique. Along the way, the cocktail has changed a bit. But first some history:

"The Blue Gardenia" was a 1953 film noir directed by Fritz Lang. In the film, a woman gets drunk on a few Polynesian Pearl Diver cocktails at a Polynesian themed restaurant and goes home with a man she meets at the bar. They get into a scuffle and the next day the man is found dead and the woman fears she may have killed him. The film's title theme song was sung by Nat King Cole. A film about a woman getting drunk, going home with a strange man, and possibly killing him seems like an odd choice to name your cocktail after. But perhaps the perceived danger was appealing.

The Blue Gardenia, like the Blue Mystique, was a cocktail for two. Originally the drink called for Rhum Negrita from Martinique, lime juice, blue Curacao and brandy, and was garnished with a gardenia blossom.

I don't know when the cocktail name was changed to Blue Mystique, or if the ingredients to the cocktail changed at the same time as the name or if the changes have been ongoing. Either way, the Blue Mystique is made with Ron Rico light rum from Puerto Rico, blue Curacao, Sweet n Sour, and brandy. Sadly, it's not garnished with a blue mystique orchid, but a pineapple wedge and cocktail cherry.

To make a Blue Gardenia, I came up with the following recipe:

BLUE GARDENIA
4 oz Martinique Rum (I used St. James)
1 oz Blue Curacao (I used Bols)
2 oz Lime Juice
1 oz Brandy (I used Christian Brothers)
1˝ oz Simple Syrup

Blend with ice for five seconds on high, and pour into a small bowl. Obviously, the garnish should be a gardenia blossom. But I don't have access to a gardenia bush, so I subbed another flower.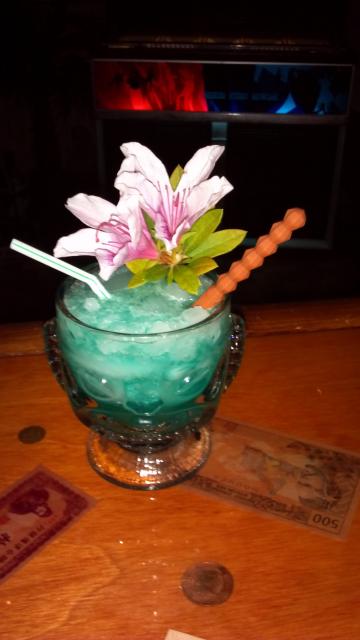 [ This Message was edited by: arriano 2013-06-03 11:09 ]

&nbsp


&nbsp