VampiressRN
Grand Member (first year)



Joined: Nov 23, 2006
Posts: 6162
From: Sun City Lincoln Hills (NorCal)


Posted:

2013-02-10 8:57 pm

&nbspPermalink

CAP CITY TIKI CRAWL

October 11/12/13

For those of you who are new to the Sacramento Crawl here is our history and some helpful hints for participating. This will be our 8th year of celebrating Tikiphiles in Sacramento. The majority of our crawls have been organized by Duane (Psycho Tiki D) whose passion for Tiki has driven all of us to be better collectors and open our homes to share with our friends. Over the years we have seen some fabulous collections, experienced great entertainment, listened to awesome bands, and secured event mugs. But more than anything, we have built life-long friendships and learned more about our love of Tiki.

This year we are again having the South of Sacramento (SOS) events on Friday. We have another Friday change so we will go to Minnies earlier for our lunch stop http://minnies.58-s.com/ and adding another home bar stop after that. Saturday, we will meet for brunch at http://www.towercafe.com/ then a visit at http://www.swanbergsformen.com/ and then more homes. On Sunday, more homes and then http://www.mahalotiki.com/ will be hosting a BBQ & Car Show for the last stop on our crawl. Wendy & Dan are providing our fabulous crawl mug. Kudos to all our hosts for this year...we have some new, exciting homes to tour. Please RSVP in this thread if you are attending and I will track the Crawlers here. Wendy is tracking mugs on this page as well.

PM me with your email address if you need the Crawl addresses.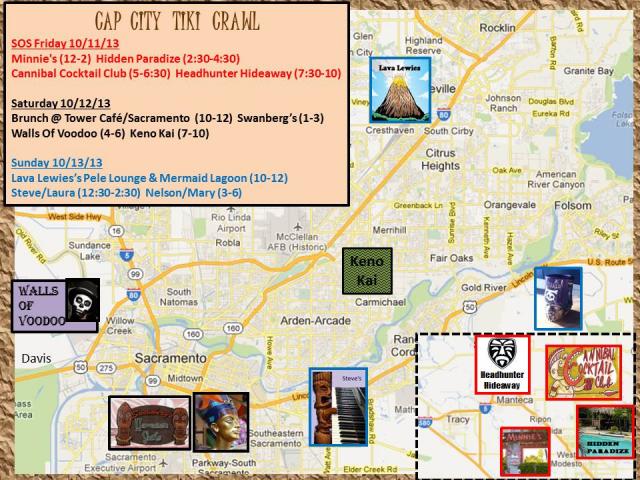 CRAWLERS
Marlene
Wendy & Dan
Matt & Melody
Brenda & Scott
Sandy
Dave & Eva
Steve
Laura
Nelson & Mary
Mr/Mrs Cloudmonkey
minitikimeow + 1
Mike (Tikihula) & Alia
Randy and Milly
Rizzeaux + 1
Monty
Tony (Longboard) & Karen
AnthonyMaye
Darilyn (as possible)
Tabo64 & Wife
J & Miss Monk-ii
Polynesian Paddy & Moai Mike
Joanne and Jama
Mr & Mrs Kalu (Dru and Julie)
Manfred and Annie
MaukaHale (John)
Cole & Jenny Unger
Bali Hai Betty (Zack & Andrea)
TheQuinn (Bill & Tonja)
Cathie Wartelle
Lloyd*AloHHHa & Amber


I know there are more...please post your name as a crawler so I can add to our list. This helps us do the high math calculations related to eatin' & drinkin'.

[ This Message was edited by: VampiressRN 2013-10-14 19:47 ]

&nbsp


&nbsp