Gene S Morgan
Tiki Socialite

Joined: Jul 18, 2011
Posts: 342
From: Midwest the navel of the USA


Posted:

2013-09-18 7:19 pm

&nbspPermalink

Tiger Tail I always enjoy your post. You spend more time thinking about things than most folks. You always come up with some clever way to illustrate your opinions.

I have not done much lately with making pendants. It is frustrating for me to have to ship designs off and wait for prints back and then start the process over again when it does not turn out as I pictured. I admit I have some ADD issues and lack patience. I am anticipating getting my own 3D printer this winter and that would help a lot. I count on my wife to help me decide what works and what doesn't. She wears a different tiki pendant everyday and checks how each looks on different color clothing. I colored these very light (trying to get a bone look) for dark clothing.





You sent me on a real adventure when suggesting my tikis reminded you of Coco Joe's key chains. I dug up every web image I could find to try to understand what you meant. I hope it wasn't this guy you meant. I don't think mine look quite that primitive. The brow line is too crude and those colored plastic eyes really turn me off. It is so tacky.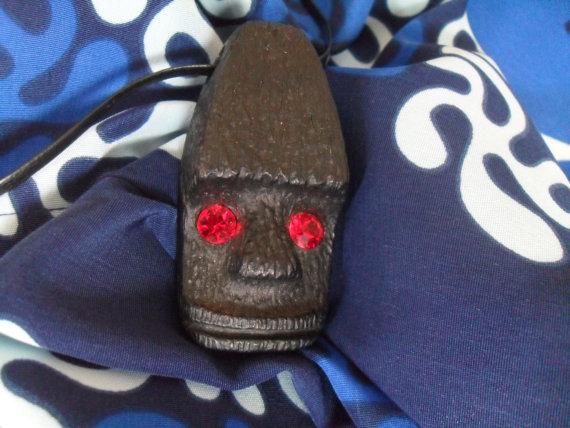 I finally found some key chains. The groups were small and hard to see, but I did not recognize anything like my stuff here. And, more more colored plastic eyes, yuk.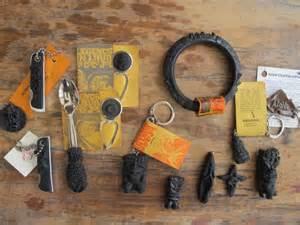 I like this guy. The mouth could be better and there is to much going on the forehead and the brow line could have been better. The eyes and nose are really cool though. I think if I would have presented one of my tikis with that head shape the resident tiki "experts" would have got out the ropes and threatened lynching. (they have done it before, not to me, but I'm not the only one they bully. I read the forum)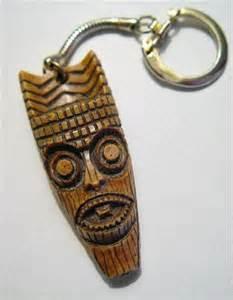 I like this last guy. Looks kinda like the creature from the black lagoon. He is pretty fun and the forehead is well designed. Of course the plastic eyes would have to go.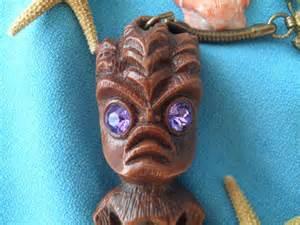 The coconut head in your movie still I think is pretty far from anything I have done. I never do painted eyes. When I was first married and a poor college student I had my mask collection hanging on our apartment wall. (I have been collecting mask from around the world for over 50 years. My house is full of them. At that time I only had about a half a dozen) I bought a coconut head almost exactly like that one and hung it on the wall with my mask. A couple of months later I took one of mask off the wall to dust and it fell apart in my hands. It was eaten up. I found a hole in the coconut head and when I broke it open I found a termite nest. It had to be there when I bought it, termites are not common here in the cold Midwest. My mask collection ended up reduced to just a couple. So, seeing that coconut head again gave me nightmares.

Thanks you for your post. As you can see I really follow through when someone make constructive criticism.

&nbsp


&nbsp