TikiAno
Tiki Socialite

Joined: Aug 07, 2012
Posts: 1345
From: San Diego, CA


Posted:

2013-06-14 10:33 pm

&nbspPermalink



Quote:
---

On 2013-06-13 18:43, GROG wrote:


You should have carved it a bit deeper. And would it have hurt you slap some stain on there?! Damn if you're not the laziest carver on TC.


---


Heh heh.

Finally got back working on the Swap pieces. With the piece leather hard (if not a bit drier), was able to trim a bit more and get rid of any of the black clay that had migrated over to the white clay body. I cleaned up some of the texture on both the background and the skull:


Then I punches holes where I plan to put a lanyard or braided rope through for hanging purposes (better view of the background texture):


Signed and dated the back: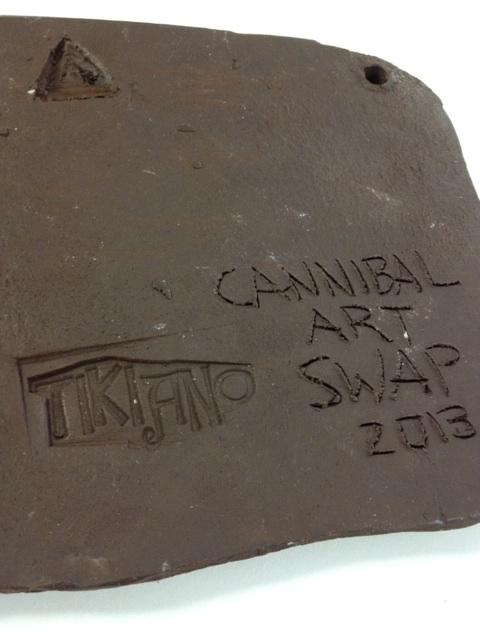 Then left that outside to dry up a bit more (spoiler: initially in the shade, then the sun moved around and started to bake it up real quickly). Started working on the cannibowl.

While the cannibal bowl is (obviously) a popular item, I'm heading into a (slightly) sillier direction. Here you go....
First I took some white clay and formed up a pair of hiking boots:


Then I raised the bowl up on some wood, and slipped (and scored) the boots underneath the bowl. I initially put shoelaces on, but had to smoosh them down as I was attaching them.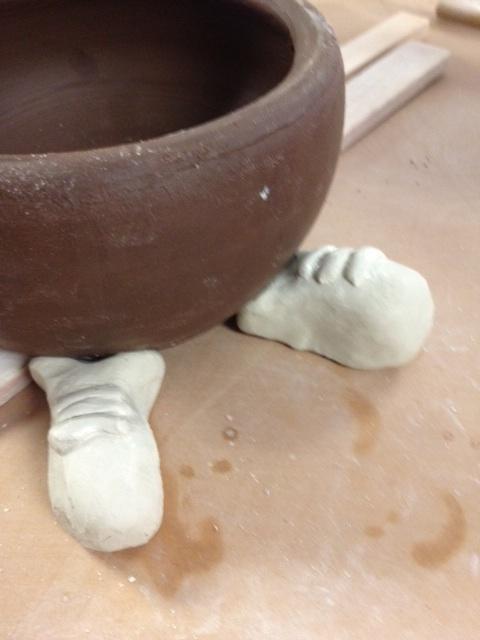 Do you see where I'm heading w/ this yet? Then I added some knees to attach to the boots. The legs are to be hanging out of the kettle/ bowl: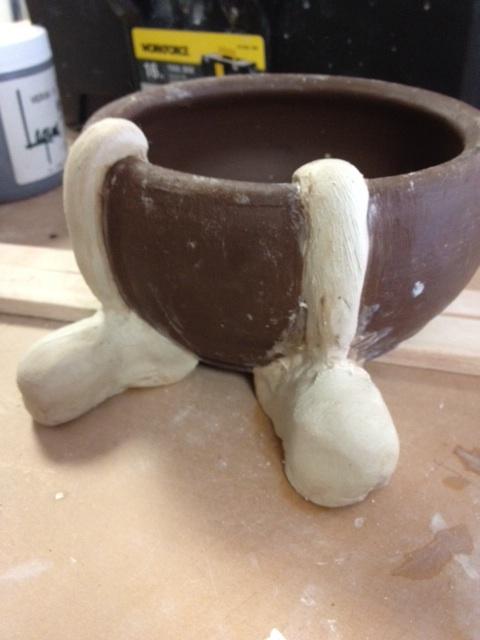 I started working hands on the opposite side of the bowl.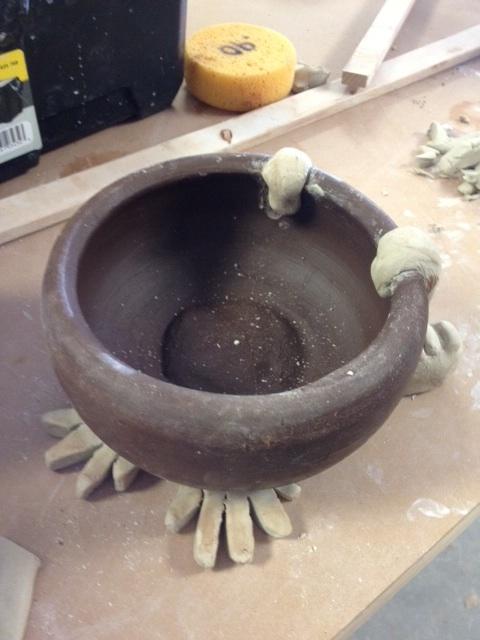 Then forearms and a lil' bit of elbow, along w/ fingernails:


And then shoelaces came back.... it's an explorer in the pot!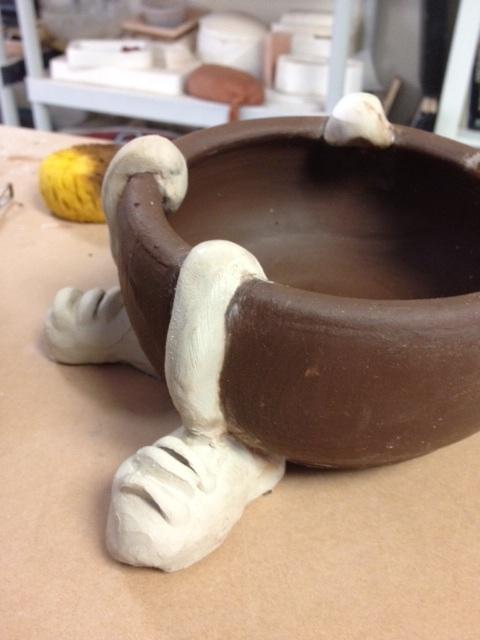 Top view:


Now waiting for this to dry up. My plan is to use different glazes in the interior of the bowl- one glaze will (hopefully) look like the "soup" line, and the bit above will be black. The exterior, aside from the body parts, will be left unglazed, and will turn black when glaze fired.

After spending some time on this, I walked over to grab the Skull & Cutlery tile, and found it to be sitting in the direct sun- not the best for clay- even though it WAS fairly dry already. I scooped it up and put it on another shelf (indoors) to finish drying. I noticed that it wasn't quite laying flat. Stupidly, I lightly poked at it to check how dry is was, and....

(ugh). I can't believe it, but I cracked it.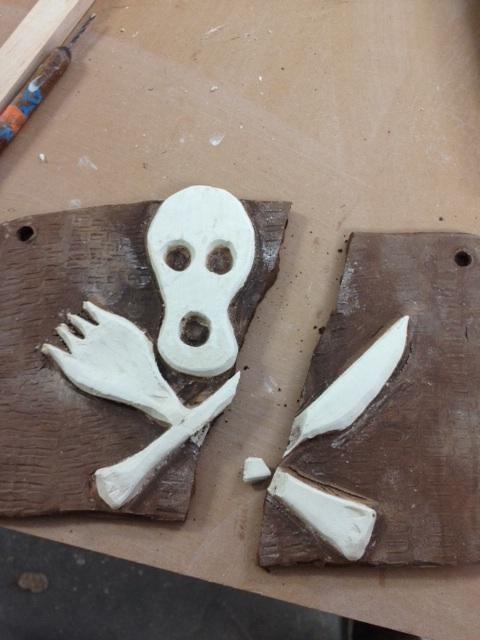 I mixed up some super duper slip (w/ vinegar instead of water), which supposedly has superior sticking potential. I made a thick sludge, used it as glue between the two pieces (as well as the front and back) and forced the two together. It lined up pretty well- I may have to add some white clay and amend the connecting points. It's all wrapped in plastic and will check on it next week to hope for the best.

I guess this is why I was working on two pieces at once?



&nbsp


&nbsp