Aloha Daddy
Tiki Centralite

Joined: Aug 25, 2013
Posts: 82
From: Southern California


Posted:

2013-08-25 2:18 pm

&nbspPermalink

Aloha fellow tiki enthusiasts! I have embarked on building a modest little tiki bar in my garage or otherwise known as my guy lair. First a little history, I fixed up my garage with a pool table and a TV for my then teenage son for he and his buddies but he quickly outgrew it so I had to take over. First thing I did was to add bamboo fencing along all the walls and top it with a 1"x2" trim painted black. My saltwater reef aquarium soon was banished to the "Lair" so since it fit the theme, why not? Advance to now, I had always wanted my own little tiki hangout so I decided to search for the perfect place for it and staked out my guy lair as the perfect place. After designing how I wanted it to look, and extensive measuring, I found it would fit into the 3 car tandem garage and be the perfect addition to the lair.

I started out building the 2x4 frames for the shelf along the wall and the actual bar structure that would come out from the wall and form the L-shaped bar. I added the legs and attached it to the wall.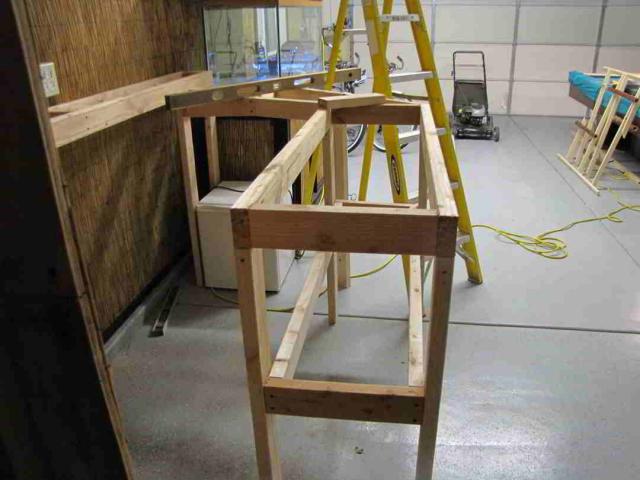 Now, before you say anything, I know I'm not the best carpenter, but I do well enough to get myself in trouble,
, but it relieves the pressures of the day and I have fun doing it. So this won't be the best built bar in town but I think you will like it, it's a lot of fun. My plan is to cover the front with bamboo, have an A-frame roof and finish the bar top to look like a surfboard. We'll see how it turns out but I'm off to a good start. I want to be able to house my tiki mug collection, my hawaiian matchbook collection and my tropical swizzle stick collection and just have a cool place to hang with friends and family. I have actually already built a lot of this but I just decided to share it with the Tiki Central family, so here we go...hope you enjoy the journey! Mahalo!

&nbsp


&nbsp