LoriLovesTiki
Tiki Socialite

Joined: Jul 03, 2011
Posts: 1320
From: NJ


Posted:

2013-08-28 6:22 pm

&nbspPermalink

Thanks to everyone who answered my questions and helped me plan our recent trip to Hawaii. My husband and I had a great trip to 4 islands, met 5 tc peeps, bought mugs, decorations, a new tiki calendar and a bunch of other stuff, drank numerous mai tais and had a fantastic time! Since you were so helpful to me I thought I'd share our trip and some reviews/suggestions in hopes it will be helpful to others.

We flew direct from Newark, NJ to Honolulu – 10.5 hours and it was torturous! Seriously, if we had to do it again we'd stop over, even if it was just to stretch our legs. We had Trader Vic's mai tais from a bottle, just to start things off.

After landing we headed directly to La Mariana. The décor is fabulous but I wasn't overly impressed with the food or my Mai Tai. But I did get to purchase a brown handled Wendy mug.

We stayed at the Hyatt Waikiki Beach for two night before our cruise started. Great location and terrific view of the beach. The next morning we had a early tour to Pearl Harbor. Everyone needs to go there.

Upon our return we changed clothes to go on our walking Waikiki tiki tour with Phillip Roberts.


We lucked into being able to tag along on the very last tour which was arranged by Pittsburgh Pauly. Pauly & Phillip were kind enough to let us join them. This was a definite highlight of our trip! We saw so much and Phillip showed us things we would never have seen without him. I couldn't have liked Pauly and his friends more either and we all had the most delicious Mai Tais at the Royal Hawaiian. They were my favorite of the entire trip. Although no others really compared I did my very best to compare as you will see if you read on. The Royal Hawaiian's bar is in the perfect location and the company was excellent. I got a copy of Waikiki Tiki and Phillip signed it as well.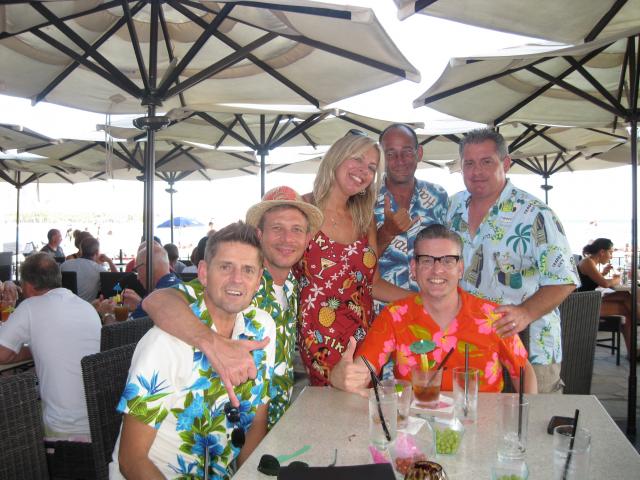 After our group split up my husband and I needed to get something to eat. We end up at Tiki's Grill drinking another Mai Tai and dinner. Of course we purchased the mugs our drinks came in which were quite garish but manage to make me smile! Three Mai Tai's can cloud a person's judgment you know! Jet lag hit again and after Hula's we called it a night.



I'll post more about Maui, The Big Island (we visited both Hilo & Kona), Kauai and the North Shore of Oahu another time.

_________________


Lori

[ This Message was edited by: LoriLovesTiki 2013-08-31 18:43 ]

&nbsp


&nbsp