dtel
Tiki Socialite

Joined: Sep 06, 2013
Posts: 117
From: South Mississippi


Posted:

2013-09-09 11:00 pm

&nbspPermalink

New here and have been reading a lot, it's addicting looking at all the great looking builds and reading the stories.

I have to admit we started a hut before I found this site. It was going to be a Tiki Bar but like most people I really didn't know what that really means, still not sure. The more I read the more I learn, so it will be a build and learn as I go thing, so for now I will just call it a Hut as not to offend.

It started as a project to redo our front garden/landscaping, we live in the country so the front yard is fine, hidden from the road (to the right 100' away in pic) by 2 rows of large Azalea's. There was a pond with waterlillies and Koi surrounded by gardens when we decided to make a change. After about 15 years of that we wanted something different so we went with the hut idea, we like doing this kind of stuff, my wife and I did landscaping as a living and still enjoy it.

It's all still rough, just getting started but happy so far (I love building things). The frame of the hut is up and I started the bar and have some landscaping in, we have a long long way to go.

This is the only pic I have so far, it's just some temporary white Christmas lights hung for when we sit out there at night. The hut is 16' wide and 24' long, we live in the South and need the shade in the summer for sure.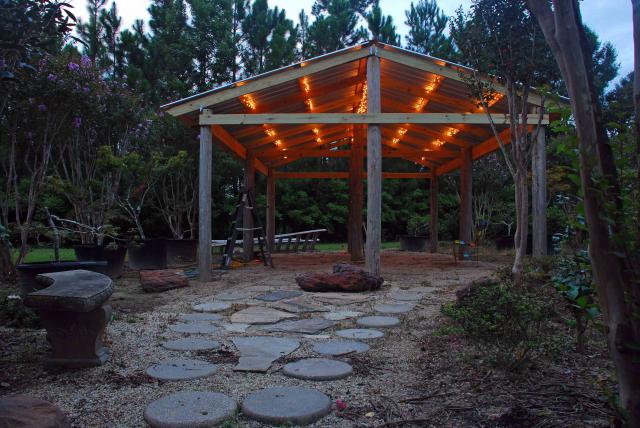 [ This Message was edited by: dtel 2013-09-09 23:09 ]

&nbsp


&nbsp