Hurricane Hayward
Tiki Socialite

Joined: Jun 07, 2008
Posts: 1412
From: 16 miles from The Mai-Kai


Posted:

2014-03-03 01:56 am

&nbspPermalink

This thread will serve as a running log of all the updates to the The Mai-Kai Cocktail Guide on The Atomic Grog, including many upcoming new features, reviews, recipes and related minutia. Following this initial post, I'll outline some of the new stuff to whet your appetite and hopefully give fans of The Mai-Kai, its delicious tropical drinks, and my blog a place to easily find out what's new.

I'm hoping this also gives like-minded folks a central place to share comments, questions and feedback. I'd love to hear from you. But first, I realized that I've never told the whole story of my odyssey in chronological order. So sit back, relax and enjoy a Barrel O' Rum, Mutiny or Jet Pilot as we take off on this exotic journey ...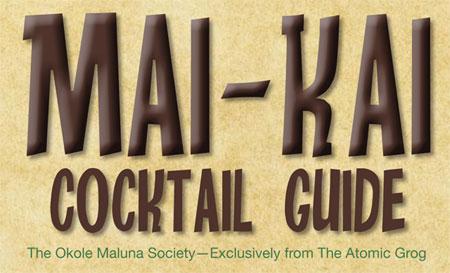 When I first launched the modern version of the Okole Maluna Society back in April 2011, shortly after starting TheAtomicGrog.com blog, I had no lofty ambitions. The goal was to post one review per week for one year of The Mai-Kai's legendary cocktails, taking advantage of my years of "research" and personal ratings that I shared with friends and first posted on Tiki Central in September 2008:
http://www.tikiroom.com/tikicentral/bb/viewtopic.php?mode=viewtopic&topic=29713&forum=10&start=15

In preparation for this daunting task, I drove my wife crazy taking photos and notes while we enjoyed our cocktails on our regular visits. (To be fair, Susan supports my obsession 100 percent. We were engaged at The Hukilau in 2009 and married at The Mai-Kai in 2010. In short, she's a saint.) So I revisited all 47 drinks on the menu to ensure that my ratings were accurate, and to note flavors and nuances. Looking back on that original "Top 40," it's actually changed very little ... a testament to the consistency of those delicious drinks coming out of The Molokai and Mariano Licudine's famous back bar.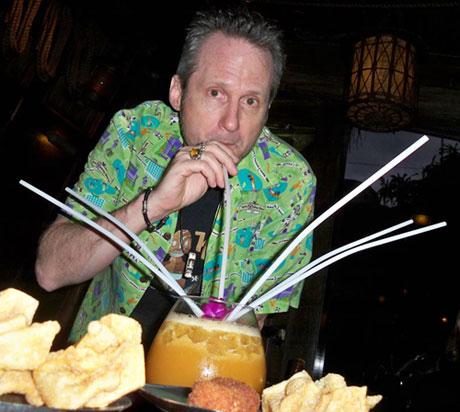 Hayward conducting research, April 2012.

If I could help others negotiate the daunting cocktail menu, I was happy. Whenever we would visit with friends, newbies and old-timers alike, the most common questions were always: "What does that drink taste like? Will I like it?" Many regulars admitted that they stuck with a handful of drinks they knew, rarely sampling anything different. What amazed me from my very first visit was the incredibly vast range of flavors and high quality of the majority of these cocktails, which I later learned were for the most part descendants of early Don the Beachcomber classics from Tiki's early days. I wanted to share this knowledge.

But I wanted the guide to be more than a simple rating of the drinks. Thanks to the inimitable Jeff "Beachbum" Berry, I learned something even more fascinating about the late Licudine and his cocktails. "Sippin' Safari" had lit a spark in me to research the history of these rum-laced concoctions and perhaps find a few recipes. By the time my blog came to fruition, I had identified the "ancestors" for most of the cocktails on the current menu. Jeff was extremely helpful, pointing me in the right direction and revealing some that I missed. I must also give props to Tim "Swanky" Glazner, unofficial Mai-Kai historian and fellow cocktail geek, whose SwankPad.org blog and Grogalizer.com Tiki drink database gave me many ideas and information to make my goal a reality.

Armed with a handful of official recipes that Jeff and The Mai-Kai had published, plus dozens of Don the Beachcomber "ancestors," I launched the guide and prepared my liver for the weekly challenge of posting reviews and recipes. Coinciding with the Master Mixologist Rum Barrel Challenge, a cocktail contest at The Hukilau in June 2011, the first published review was a close look at the iconic Barrel O' Rum.
http://www.slammie.com/atomicgrog/blog/2011/06/27/the-rum-barrel-the-rodney-dangerfield-of-tropical-drinks/
Along with it came the main guide page, which remains the central location of all the updates:
http://www.slammie.com/atomicgrog/blog/mai-kai-cocktail-guide/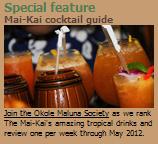 An early Atomic Grog homepage tease to the guide.

As I began my journey, some very interesting and exciting things happened. As I researched each week's cocktail, I started coming across more and more recipes. I found a few authentic recipes, but even more importantly I started finding quite a few very good re-creations of Mai-Kai drinks here on Tiki Central. They weren't the actual top-secret, coded recipes that date back some 50 years and are still closely guarded secrets. But some of them were pretty damn close, and this provided another spark of inspiration.

As the weeks went by and my knowledge about how these drinks were put together grew, so did my ability to create my own tribute recipes. My first was the Mai-Kai Special, an original concoction that had no true ancestor. But bolstered by efforts by my TC brethren, I pulled it off nicely:
http://www.slammie.com/atomicgrog/blog/2011/07/06/cocktail-review-what-makes-the-mai-kai-special/

More and more followed, and what started as a goal of having a decent collection of around 50 (mainly ancestor) recipes has now grown to 86, with even more to come. The recipes page went up in June 2012:
http://www.slammie.com/atomicgrog/blog/mai-kai-cocktail-guide/mai-kai-cocktail-recipes/

Here's an handy tip: In most web browsers, the recipes page is "hidden" among the main links that can be found on every blog page. Just hover your mouse (or tap your finger) below the "Mai-Kai Cocktail Guide" link and it becomes visible and active (see below). This can be handy when you're sitting in The Mai-Kai, savoring a cocktail, wondering exactly what ingredients could be making it so delicious.




It also quickly became apparent that these recipes were becoming a nifty resource for home bartenders. So I tried to take particular care to ensure quality and accuracy. The guide gives people who may never have the opportunity to visit The Mai-Kai the chance to sample these fabulous drinks at home.

It became a challenge to tackle some of the more difficult tribute recipes, such as the Mai Tai or Zombie, and to hunt down the correct ingredients and glassware, such as the metal cup for the 151 Swizzle. It also gave me an excuse to purchase all the official mugs and scavenge thrift shops for unique finds. This exercise also gave me the opportunity to fine-tune my skills in both mixology and presentation, learning how to create ice cones, ice shells, flaming coffee grogs, and other distinctive presentations.

The discovery and search for unique ingredients became stories unto themselves. Bolstered by some of the research and discussion here on Tiki Central, I realized that fassionola was a small but key ingredient in some of the cocktails. I not only found a rare bottle, but also was aided by readers in coming up with a fine substitute.
http://www.slammie.com/atomicgrog/blog/2011/11/20/mai-kai-cocktail-review-cobra-kiss-is-an-exotic-taste-explosion-guaranteed-to-strike-your-fancy/

In November 2011, I was privileged to accompany general manager Kern Mattei on a memorable behind-the-scenes tour of the bars and kitchen, which I documented in this post:
http://www.slammie.com/atomicgrog/blog/2011/12/28/behind-the-magic-a-backstage-tour-of-the-mai-kais-mysterious-bars-and-kitchen/
My favorite stop was the secluded back bar, with its legendary rum collection and old-school vibe. We were there on a busy night, and the bartenders were swamped with orders. They were knocking out drinks with quick precision, passing them off to the servers to be garnished. There were no shakers in sight. Blended drinks went into traditional blenders, while most of the Tiki classics were prepared in top-down mixers (upper left in photo below), just as Don the Beachcomber did. I snapped this photo of a service station, complete with its unmarked bottles of mixes and syrups that ensure the recipes remain secret, another throwback to the early days of tropical mixology.



A service station in The Mai-Kai's back bar.

We also spotted a unique rum, Kohala Bay (upper middle in photo), which Kern told us was used in many of the classic recipes as a substitute for Dagger, the distinctive dark Jamaican blend that Donn Beach employed in his arsenal. When I realized that this was the secret weapon in many of The Mai-Kai's best drinks, I had to get my hands on some. This set in motion a series of events that resulted in my discovery of the only retail store in Florida that carried it. After sharing my discovery, my faithful blog readers lobbied their local liquor stores, and it's now available in several other locations across the state, plus mail order. Check out the full story of my adventure on the Kohala Bay thread:
http://www.tikiroom.com/tikicentral/bb/viewtopic.php?mode=viewtopic&topic=45641&forum=10&start=15

The Hukilau blew through town with earlier-than-normal April 2012 dates, the same week as the Miami Rum Renaissance Festival. Before these festivities, I made sure to post what became some of my most popular tribute recipes - the Jet Pilot, Black Magic and Mutiny. At Swanky's symposium, "Mai-Kai: History, Mystery & Adventure," I provided a handout on the ancestry of the cocktails and their link back to Donn Beach's ground-breaking creations.

The rum and Tiki hordes returned home, and all was back to normal as I eyed the upcoming one-year mark and completion of my task. Or so I thought. A bombshell dropped in late April 2012, when The Mai-Kai brought back the legendary Lemon Hart Demerara rum after distribution once again became available in Florida. To those of us in the know, this was BIG. The Zombie and 151 Swizzle were already among the highest-rated drinks when they were made with the inferior Bacardi. With Lemon Hart 151 back in the mix in these and other classics, the bar was raised significantly.

After much more research, I wrote this full report on Lemon Hart, listing all the drinks that returned to their original recipes:
http://www.slammie.com/atomicgrog/blog/2012/05/08/rums-of-the-mai-kai-legendary-lemon-hart-returns-to-the-promised-land/
While I was at it, I also took at look at Kohala Bay and Appleton, offering quick links to all the drinks that likely contain these distinctive rums.



Lemon Hart 151 makes the deadly Shrunken Skull a much more flavorful potation.

Between the 15 drinks containing Kohala Bay and Lemon Hart, I jokingly blamed Kern for creating a lot of extra work for me to revamp my blog, but I surely didn't mind. On June 2, I posted my 52nd and final weekly review: a lost classic known as Big Bamboo. This was followed by a detailed wrap-up of all my research on the ancestry of The Mai-Kai cocktails, which I call the tropical drink family tree:
http://www.slammie.com/atomicgrog/blog/2012/06/05/mai-kai-cocktail-guide-discover-a-fruitful-and-delicious-tropical-drink-family-tree/
Little did I know that this page would continue to grow and evolve, with more updates coming in 2013 and 2014.

On June 9, 2012, we celebrated the end of the year-long journey and were treated to flights of Lemon Hart cocktails at The Atomic Grog's Mai-Kai Mixer:
http://www.slammie.com/atomicgrog/blog/2012/06/16/cocktail-flights-soar-at-mai-kai-mixer-reveal-revolutionary-use-of-rums/

My liver and I took a welcomed respite, but it didn't last long. I continued to tweak reviews, add new tribute recipes, and furthered my research of the mysterious cocktails that disappeared from the menu over the years. My wish to actually taste one of these "lost cocktails" was fulfilled in August 2012, when Kern treated us to a recipe from the vault at a small FOM event during the dog days of summer. The Demerara Cocktail was the start of another surprising odyssey.

I revised my earlier review, eventually posting a new tribute recipe in what would become a new series of "lost cocktails."
http://www.slammie.com/atomicgrog/blog/2012/01/08/mai-kai-cocktail-review-the-demerara-cocktail-is-a-throwback-to-another-era/
I had earlier posted the Last Rites (from "Sippin' Safari") and now had a plan to explore some more of these lost classics from the 1956-57 menu. Kern was more than happy to help. After I posted my interpretation of the Demerara Float and Impatient Virgin in September, he brought back an authentic Last Rites recipe for the annual Hulaween party on Oct. 26.
http://www.slammie.com/atomicgrog/blog/2011/10/29/mai-kai-cocktail-review-the-classic-last-rites-returns-from-the-grave/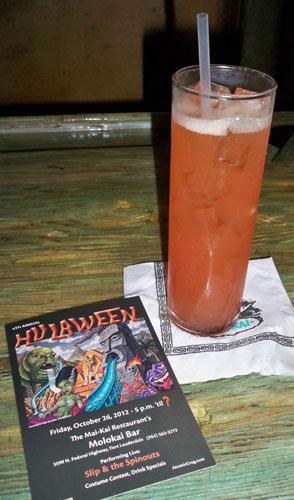 The Last Rites at Hulaween 2012.

In 2013, reseach continued into the history of the lost classics. I took on the challenge of taking the Don the Beachcomber ancestor recipes for such drinks as the Doctor Funk and trying to step into Mariano Licudine's shoes and predict how he would have tweaked the recipe to fit The Mai-Kai's oveure. Doug of The Pegu Blog commented that this poses a challenge "kinda like putting flesh onto dinosaur bones."

But once again, Kern Mattei came to the rescue. His curiosity must have been piqued as much as mine, because in February he brought out some more retired recipes for a special event. Kern worked behind the bar in the 1980s, so he has first-hand knowledge of many of them. We were thrilled to be the first customers in decades to enjoy the Island Queen, Demerara Float and a big surprise: the Suffering Bastard. This one wasn't even on the menu, but Kern explained that it was a popular request, so The Mai-Kai had its own (very different) version of the iconic Joe Scialom mid-century classic.
http://www.slammie.com/atomicgrog/blog/2013/06/03/lost-cocktails-of-the-mai-kai-the-off-menu-suffering-bastard-was-just-a-mai-tai-with-a-kick/

Read Beachbum Berry's "Potions of the Caribbean" for a fascinating chapter on Scialom, who coincidentally retired and lived in obscurity for decades in Hallandale, not far from The Mai-Kai, before his death in 2004. I can't help but wonder if the master mixologist ever stopped by to sample a few libations at The Mai-Kai, especially during those few years when he lived nearby and Mariano Licudine was still behind the bar.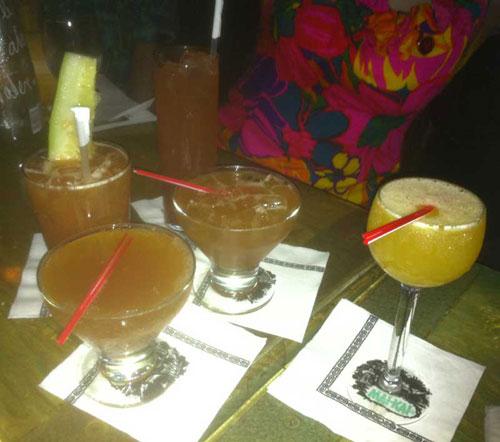 Classic "lost cocktails" make a comeback at The Mai-Kai in April 2013.

When VIPs stopped by in March and April, Kern again treated us with an assortment of lost classics. During Miami Rum Renaissance Festival with such Tiki luminaries as Beachbum Berry, Martin Cate, Stephen Remsberg, Joe and Nicole Desmond, and others in the house, he pulled out all the stops. On one quiet night in The Molokai, we enjoyed a smorgasbord of long-gone drinks, including (clockwise from lower left in photo above) the Demerara Float, Suffering Bastard, Last Rites, Demerara Cocktail and Island Queen (in its original glassware).

This provided the impetus for the "Lost Cocktails Party" held in The Molokai on the final day of The Hukilau in June. Three drinks from the 1956 menu (see photo below of the Impatient Virgin) were available all day for the packed house who enjoyed stepping back in time and savoring these blasts from the past.

For me, it seemed like I was finally at the end of a long journey. I had identified and posted reviews of 10 lost classics from the 1956 menu, plus one from off the menu. These included eight ancestor recipes and 10 tribute recipes. I covered the current menu quite extensively, with six original recipes, 33 ancestor recipes, and 25 tribute recipes. I took a much-needed break and found it refreshing to relax at The Mai-Kai with a cocktail and not whip out a notebook or camera.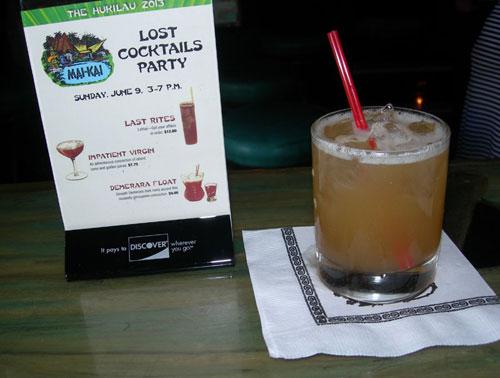 Retired drinks from the 1956 menu return at a special event during The Hukilau in June 2013.

But as the months went by, little by little, I began to note little things here and there. My notebook began to fill up again with ideas and new features I wanted to add to the guide. I realized that some of my favorite drinks were still lacking a proper tribute recipe. Jeff Berry once called me a "completist," and I had a gnawing feeling that my job was not yet complete.

The other major motivator that rekindled my passion to revisit the cocktail guide was a growing interest from the Tiki community. Even though I've added very few updates, it seems to continue to gain readers. I'm particularly humbled by the folks here on Tiki Central (particularly the regulars on the "What Are You Drinking - Right Now?" thread) who enjoy mixing up the tribute recipes. And I was thrilled to find the Cobra Kiss tribute featured at Trader Vic's in Portland during last summer's Tiki Kon.

So as 2013 came to a close, I started to make plans for a big push in the new year to post updates, new recipes and special features that I had been planning but not yet pulled together. And, as fate would have it, another bombshell dropped in the waning days of the year that brings another major update to The Mai-Kai as well as my cocktail guide.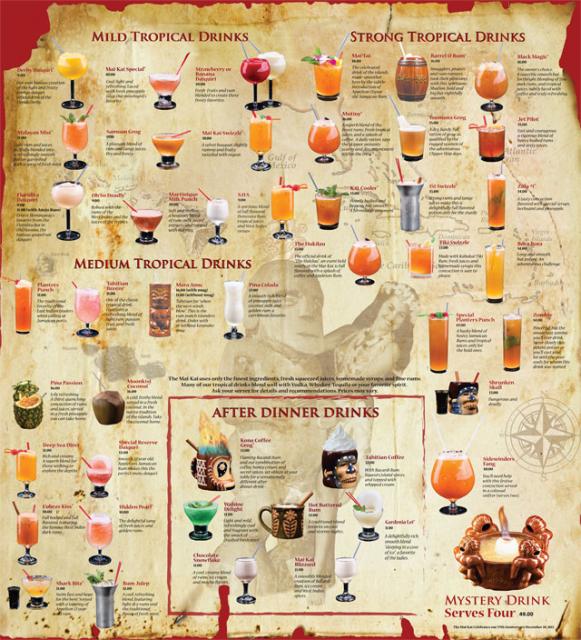 The Mai-Kai's new cocktail menu, which officially went into service on Jan. 17, 2014.

The Mai-Kai's beloved cocktail menu was in the midst of getting a complete overhaul, its first redesign in decades. At this point I'd like to thank two other very important folks at The Mai-Kai who have been 100 percent supportive and helpful with my ongoing endeavors: The Big Kahuna, managing owner Dave Levy, gave me a sneak peek at the menu in his office prior to its release. And Pia Dahlquist, director of sales and marketing, graciously gave me advance copies to post on The Atomic Grog.

A prototype of the menu was revealed at the 57th anniversary party on Dec. 28, and I posted it along with a full report on Jan. 4:
http://www.slammie.com/atomicgrog/blog/2014/01/04/historic-mai-kai-celebrated-new-cocktail-menu-unveiled-at-anniversary-party/
The menu is gorgeous, a much-needed update that brings it into the 21st century yet still maintains the old-school feel. The map of Polynesia and vintage photo of The Mai-Kai's owner and show choreographer, Mireille Thornton (Dave's mom and wife of late founder Bob Thornton), are a great touch. The traditional artwork that had illustrated each drink for the past 56 years, another one of those links back to Don the Beachcomber, has been replaced by modern photos. It's sad to see the old drawings go away, but the photography is so well-done it's hard to not like it. And I'm sure it will sell a lot more drinks.

The centerspread still contains 47 enticing rum-based tropical drinks, but for the first time in a decade you'll find one new creation to try. The Tiki Swizzle is the first new addition to the menu since another strong offering, The Hukilau, was added. To make room, the Mai-Kai Cappuccino was bumped back to the dessert menu. No big loss ... it's at the very bottom of the ratings. The Tiki Swizzle, on the other hand, makes its debut at No. 29, just below the Bora Bora. Give it a try if you're looking for something on the strong side, yet still sweet and savory that won't totally knock you off your bar stool. My review was posted on Jan. 20:
http://www.slammie.com/atomicgrog/blog/2014/01/20/mai-kai-cocktail-review-the-new-tiki-swizzle-is-a-sweet-and-savory-addition/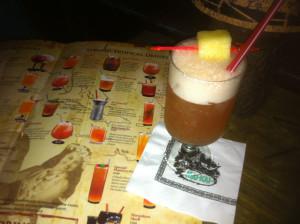 The latest Mai-Kai tropical cocktail, the Tiki Swizzle, in January 2014.

The Tiki Swizzle actually had a "soft debut" over the prior months after it was featured during The Hukilau in June. You may have picked up a sample in the Tiki Treasures Bazaar in the Yankee Clipper at the Kahakai Tiki Rum booth. It was featured on table tents in The Molokai, becoming popular enough to justify its inclusion on the new menu. Before scoffing at the addition of a spiced rum cocktail, give it chance. It also features the flavorful Kohala Bay, and it fits in nicely with all the other classics on the menu.

So now that we're up to date, the question remains: What comes next? Stay tuned, the next post will preview all the planned enhancements. In the meantime, Okole Maluna!


[ This Message was edited by: Hurricane Hayward 2014-03-03 12:08 ]

[ This Message was edited by: Hurricane Hayward 2014-03-03 12:13 ]

&nbsp


&nbsp