Hurricane Hayward
Tiki Socialite

Joined: Jun 07, 2008
Posts: 1479
From: 16 miles from The Mai-Kai


Posted:

2017-05-26 12:38 am

&nbspPermalink

This is the latest update in the ongoing guide to the distinctive juices used at The Mai-Kai. To recap the entire thread, go back to page 13 of this thread. The info below has been added to that page so it can be used as a complete reference guide. http://www.tikiroom.com/tikicentral/bb/viewtopic.php?mode=viewtopic&topic=47293&forum=10&start=180

EXCLUSIVE NEW INFO: Where to find the orange and grapefruit juices used at The Mai-Kai
New key lime juice revealed! **** Take a tour of the historic roadside stand selling these fresh juices

> Juice industry news

* First, an update on the news from the Florida fruit industry, which has been batted by setbacks in recent years. This first story, published in January, details the latest grim news: The U.S. Department of Agriculture reduced its orange crop forecast for the 2016-17 season, knocking the Florida orange crop down 1 million boxes from the previous month's estimate. It's a 13 percent reduction from last season. The grapefruit crop estimate fell as well. The culprit is greening, a bacterial disease discovered in 2005 that has now spread throughout Florida and to other states such as Texas and California. Because of citrus greening, production of Florida's signature crop is down 70 percent from 20 years ago.
http://protectingyourpocket.blog.palmbeachpost.com/2017/01/12/floridas-orange-crop-estimate-sinks-lower-as-tree-killing-disease-spreads/

* In April, some encouraging news was reported: The U.S. Agriculture Department announced that the key to thwarting greening's march could lie in spinach proteins that scientists at Southern Gardens Citrus, a subsidiary of Clewiston-based U.S. Sugar, have been working with under strict research regulations for years. While there's no cure, there's hope that a fortified virus could be used as a tool that growers could use to manage greening.
http://www.palmbeachpost.com/news/state--regional/usda-seeks-input-bio-control-agent-aimed-citrus-greening-disease/WX45J8au8TpnKIG2Himm5L/

* In early May, the European Union dropped its requirement that U.S. citrus groves be surveyed for citrus canker, which is expected to save Florida growers and other U.S. citrus growers an estimated $5.6 million a year. The change will also ease entry of U.S. citrus into the EU market. Industry experts estimate that citrus exports will increase by 25 percent, or about $15 million, during the first year.
http://protectingyourpocket.blog.palmbeachpost.com/2017/05/03/florida-citrus-growers-to-benefit-from-eu-canker-rule-trade-changes/

Now, to the subject at hand:

KENNESAW ORANGE AND GRAPEFRUIT JUICES HIT RETAIL STORES

Among the many secrets of The Mai-Kai's famous cocktails are the fresh juices available only in South Florida. Our research revealed the souce of the fresh, unpasteurized orange and grapefruit juices as Kennesaw (http://www.kennesawjuice.com), a South Florida company that has been sourcing fresh squeezed orange and grapefruit juices since the 1920s. It was assumed that these juices were available only for restaurants and non-consumer stores such as Restaurant Depot, but I've recently come across these sweet elixirs in several South Florida locations.

You can now find the juices in many Whole Foods stores ...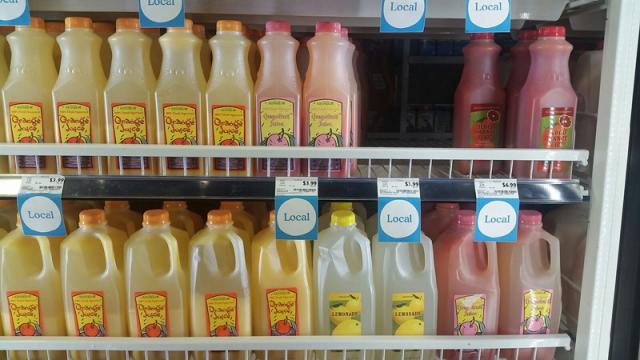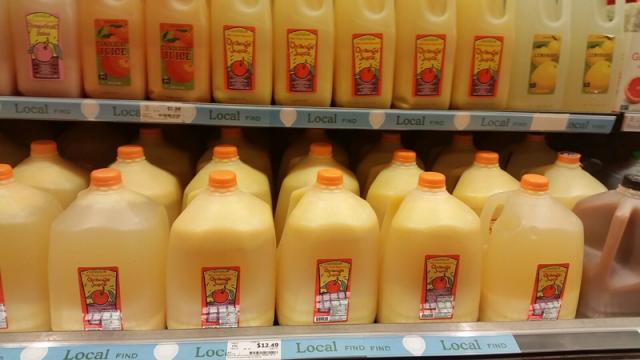 It's unclear how many South Florida locations carry Kennesaw juices, or how widespread the distribution is outside of this region, but it's definitely worth seeking out and inquiring. It's tagged as "local," so I'm afraid it may be limited.

If Kennesaw juices are unavailable in your local Whole Foods, the next best option may be Trader Joe's, which carries its own brand of unpasteurized juices ...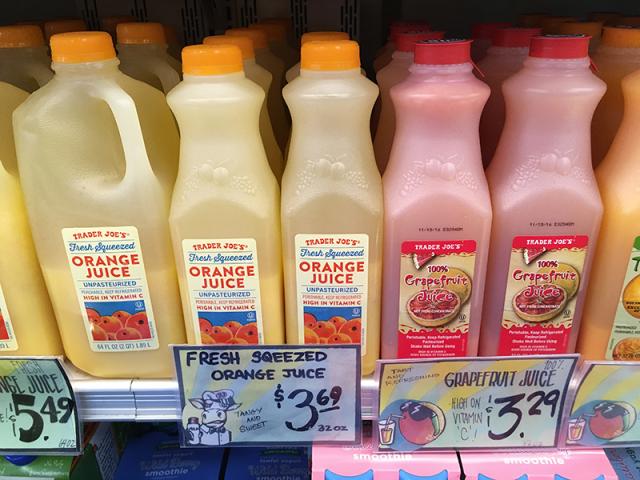 As noted back on the original thread, it's likely that these juices are sourced from Natalie's Orchid Island Juice Co., a premium brand of fresh Florida juice typically found in supermarkets with the disclaimer "minimally processed" but not technically "unpasteurized" ... http://www.orchidislandjuice.com/juices/orange/

My order of preference for OJ and grapefruit juice would be:
1. Kennesaw (unpasteurized)
2. Trader Joe's (unpasteurized)
3. Natalie's (minimally processed)

Note that white grapefruit juice was not available, only red. I'm told by manager Kern Mattei at The Mai-Kai that Kennesaw's juices are seasonal, and that white grapefruit appears only when it's fresh. But I've yet to see it in the stores.

Armed with these juices, you'll come much closer to the unique flavor profile of the cocktails at The Mai-Kai.

BUT WHAT ABOUT THE LIME JUICE?

The big missing link was still lime juice, which is reported to be a fresh key lime blend. It's much more tart then fresh-squeezed Persian limes, as detailed in the research on the original thread: http://www.tikiroom.com/tikicentral/bb/viewtopic.php?mode=viewtopic&topic=47293&forum=10&start=180
I was somewhat happy with my blend of 1 part fresh Persian limes mixed with 1 part of Mrs. Biddle's Key West brand key lime juice from concentrate (or similar). However, I knew this wasn't quite right, as detailed in our taste tests at Swanky's book release party in September. Then, I received a tip:

I was urged to check out an old-school juice market in Davie, not far from The Mai-Kai. Stores run by citrus groves are great remnants of Florida's past and are scattered all over the Sunshine State. I feel guilty that I too often forget about them and pass them by on my way to Publix. I know they often carry the freshest juices, but I wasn't sure about the state of the local juice market and have not frequented them lately. My tipster about this particular location urged me to look for the Kennesaw juices, plus a unique key lime juice not seen before.

So off I went. Here's a photo tour from my initial visits to Bob Roth's New River Groves in Davie, est. 1964.

You can't miss New River Groves when driving by on Griffin Road ...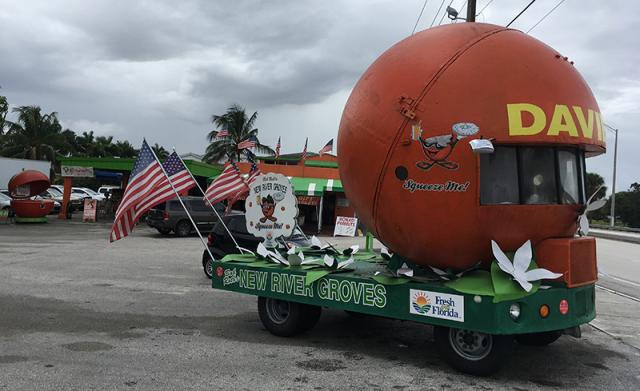 A sign promises exactly what we're looking for ...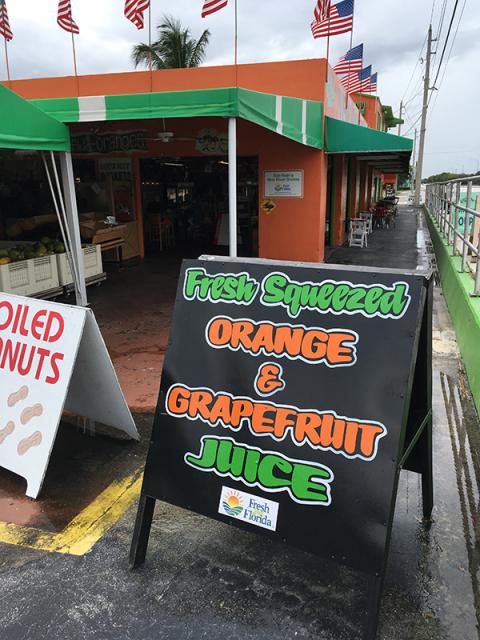 A peek around back reveals the fresh daily crop ...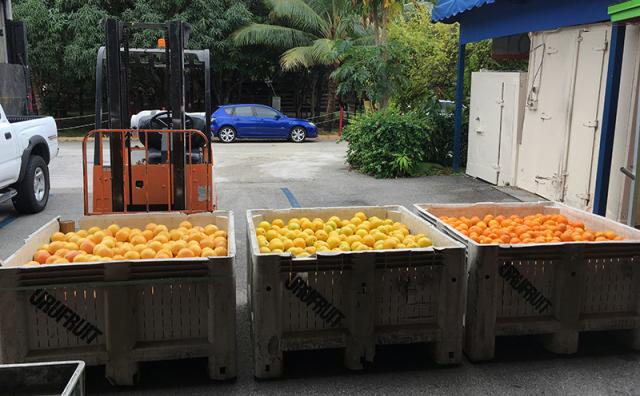 New River Groves is famous for its key lime pies ...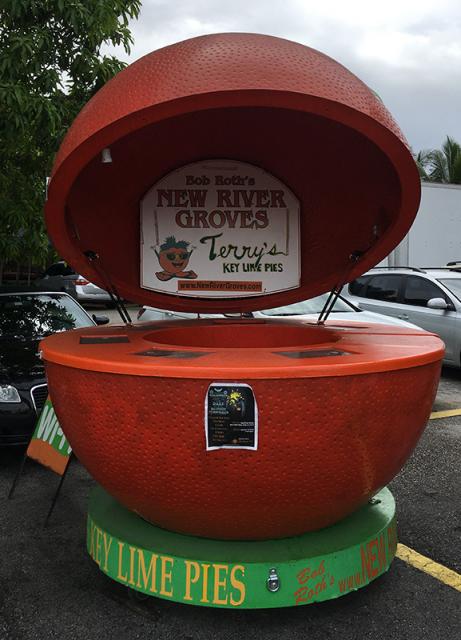 The sprawling building contains several areas, including a juice bar, a cafe and a retail store ...



I now use this delicious pure, raw honey in my honey mix for Mai-Kai cocktails ...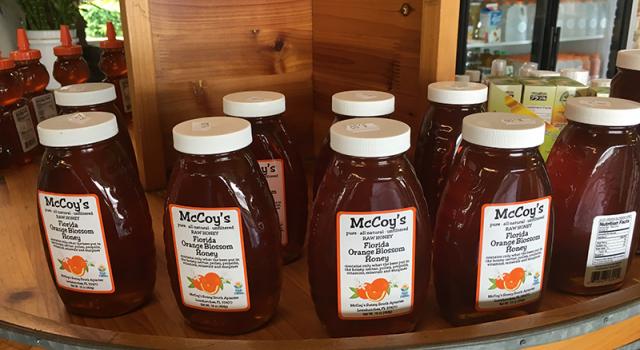 As promised, I was able to find Kennsaw's orange and grapefruit juices ...



Here's a closer look at the grapefruit juice ...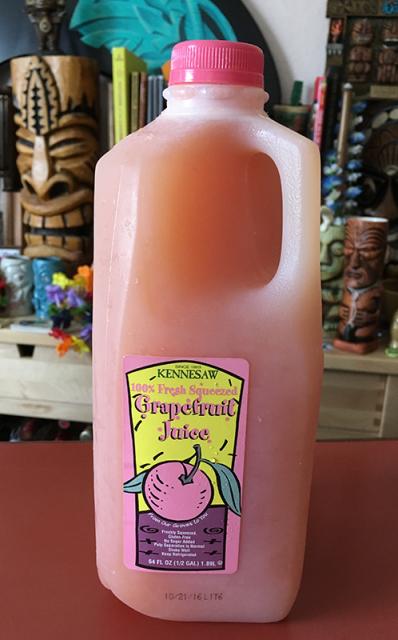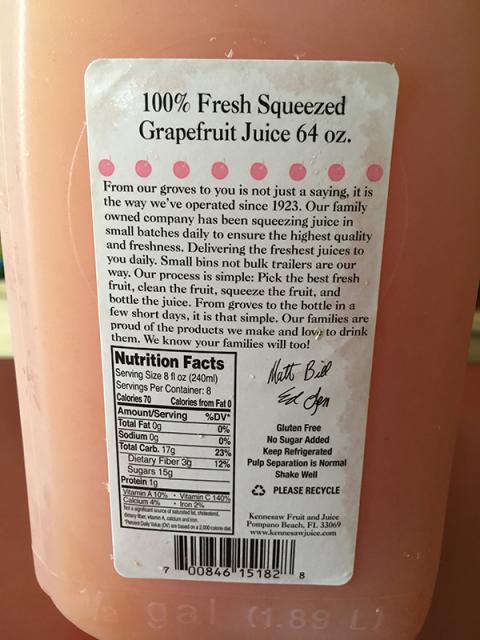 Go back to page 13 to see my earlier review of the orange juice: http://www.tikiroom.com/tikicentral/bb/viewtopic.php?mode=viewtopic&topic=47293&forum=10&start=180
The grapefruit is just as fresh and pulpy, perfect in Mai-Kai cocktails. After repeated visits, I still haven't seen white grapefruit juice. If when it's in season, I wonder if it isn't sent to retail outlets since it's not considered as popular as the red juice.

I was momentarily distracted by this classic jukebox, with a song selection that seemingly hasn't changed since the 1970s ...


The gentleman in the photos is family patriarch Al Roth, father of Bob Roth and a local legend who died in 2015 at the ripe old age of 104. He operated groves until 1972. Son Bob Roth's own groves and market remain a family business after more than 50 years. The famous Terry's Homemade Key Lime Pie is based on the family matriarch's award-winning recipe. Terry Roth lost her battle with cancer in 2002, but her delicious pies live on.
http://www.sun-sentinel.com/local/broward/davie/fl-al-roth-obituary-20150216-story.html

Then I spotted the holy grail ...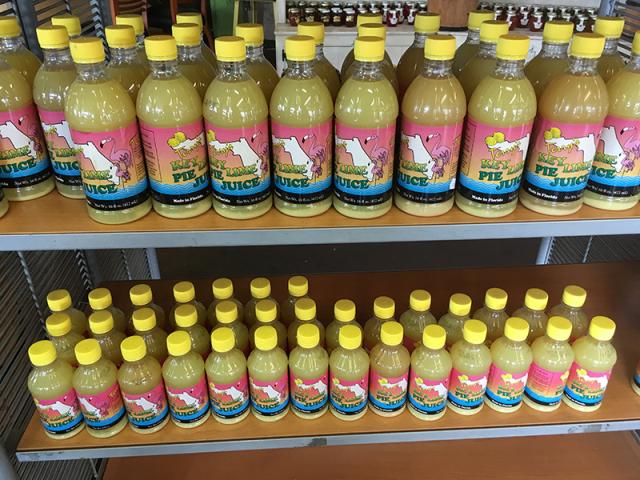 The special ingredient in Terry's Homemade Key Lime Pie is also sold by the gallon jug ...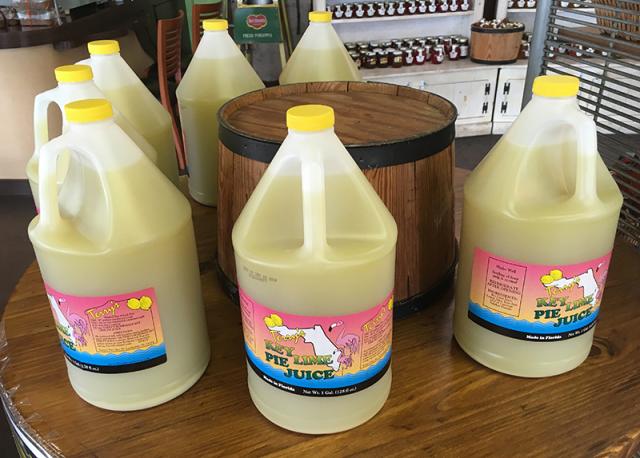 I rushed home to try it, and it didn't disappoint ...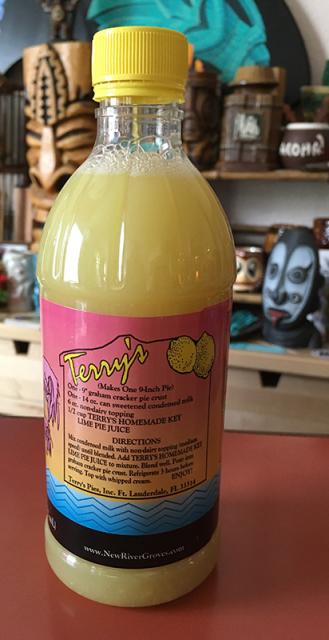 It's not from concentrate, unlike the common supermarket brands ...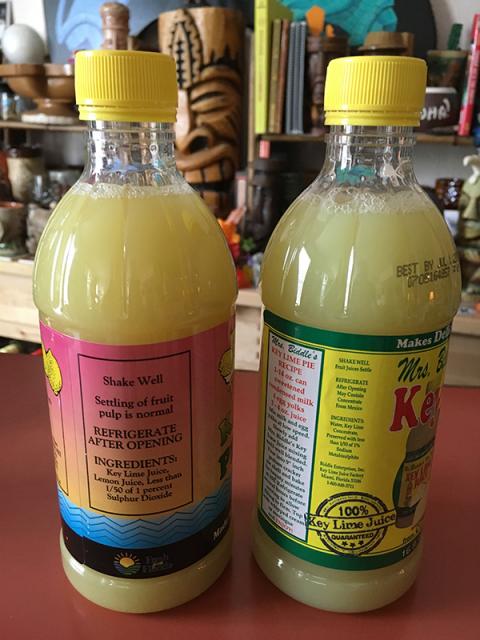 Here's my tasty booty from that first visit to New River Groves, including the requisite key lime pie sample ...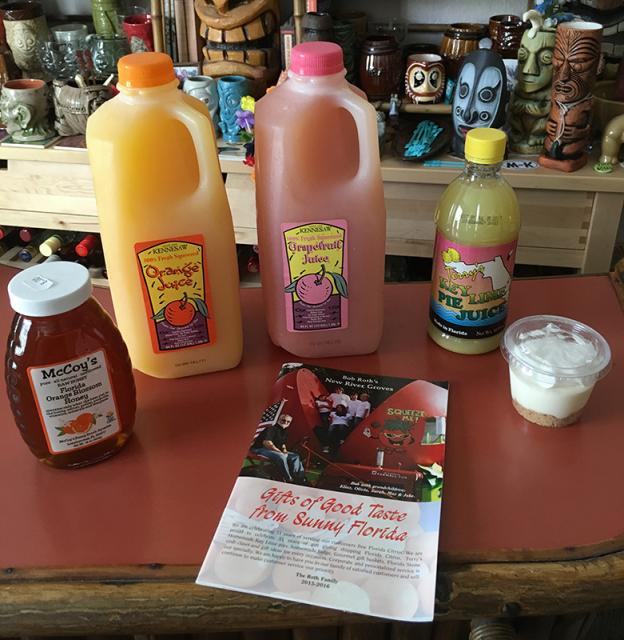 Bob Roth's New River Groves is open every day from 8 a.m. to 5:30 p.m.
Official website: http://newrivergroves.com
Facebook: https://www.facebook.com/BobRothsNewRiverGroves/
Fruit and bakery items can be purchased and shipped throughout the United States and Canda. I did not see an option for ordering the lime juice, however it doesn't hurt to ask.

RATING THE KEY LIME JUICES

1. Terry's Key Lime Pie Juice (not from concentrate). Less tart and easier to drink than any key lime juice I've ever tasted. Very similar to the Mai-Kai juice I tasted back in September. It works well straight out of the bottle in rich Mai-Kai cocktails, but I also like to blend it with fresh squeezed Persian lime juice (2 parts key lime to 1 part Persian) to create a blend that works well in all Tiki cocktails.

2. Key lime juice from concentrate (Mrs. Biddle's or similar brand). On its own, this juice is extremely tart and hard to drink, so I like to blend it with equal parts fresh squeezed Persian lime juice. This dampens the tartness a bit, but it still falls short of the No. 1 choice above.

Postscript: I've been curious about the use of key lime juice in cocktails and wondered if there was a historical precedent. My questions were answered by a story I found online from Punch, published in January 2014, and titled "Why Your Daiquiri Isn't the Same as Hemingway's".
http://punchdrink.com/articles/why-your-daiquiri-isnt-the-same-as-hemingways/
In it, Jennifer Colliau, founder of Small Hand Foods, investigates why the limes America's bartenders used a century ago are at odds with the citrus we shake with today. The reason: Key limes were actually the more widely used during the golden age of the cocktail. "Until two hurricanes decimated Florida's groves in 1926 and 1928, the key breed ruled as America's common lime," Colliau writes. Her recipe for the Key Lime Daiquiri is the one I now follow using my key lime juice blend: http://punchdrink.com/recipes/key-lime-daiquiri/

I'm not sure exactly how this may have influenced Mariano Licudine or The Mai-Kai. Persian limes would have been prevalent across the country by the 1950s. The use of key lime juice in the restaurant's bars could even be a more recent development. Whatever the origin, it's just one more distinctive twist that gives The Mai-Kai's cocktails a deliciously unique flavor profile.

[ This Message was edited by: Hurricane Hayward 2017-05-27 00:51 ]

&nbsp


&nbsp