BambooLodge
Tiki Socialite

Joined: Feb 09, 2003
Posts: 551
From: Just up the road from Chef Shangri-La


Posted:

15 days ago; 1:28 pm

&nbspPermalink

Howdy & Aloha Folks!

Get ready because here's the line up for this year's "Fong Fest" being held Saturday 9/13 @ the Chef! First up, the poster (artwork once again created by the fabulous Mr. Pete Klockau/Ragbag Comics)...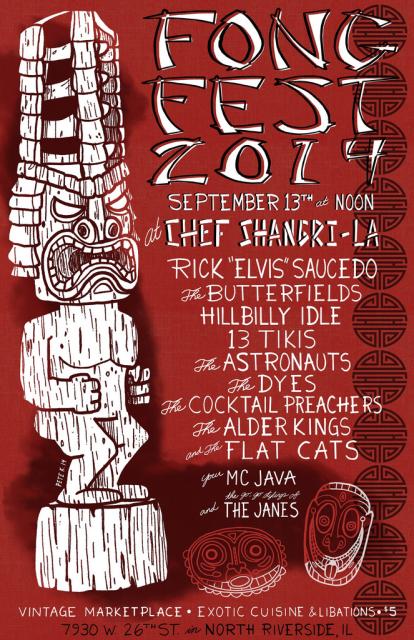 Schedule & event info...

1:00pm Rick "Elvis" Saucedo http://www.ricksaucedo.com/
2:00pm The Butterfields http://www.facebook.com/pages/The-Butterfields/175955009142673
3:00pm Hillbilly Idle http://www.facebook.com/HillbillyIdle
4:00pm 13 Tikis http://www.facebook.com/pages/13-Tikis-Chicago/1395451570695918
5:00pm The Astronauts Space Age Combo http://nauts.kostalmusic.com/
6:00pm The Dyes http://www.facebook.com/TheDyes
7:00pm The Cocktail Preachers http://www.cocktailpreachers.com/
8:00pm The Alder Kings http://thealderkings.wix.com/alder
9:00pm The Flat Cats http://www.flatcatsmusic.com/

Plus, our MC for the day, the one and only Java of Bachelor Pad magazine, and the Go-Go dance stylings of THE JANES https://www.facebook.com/TheJanesGoGo


There will be a Polynesian Market Place with lotsa cool vendors, food & drink specials, plus more surprises as well, and still only $5.00

that's right folks $5.00! Guaranteed you will not find this much entertainment packed into one event for a measley 5 bux! Oh yeah and kids under 12 are FREE!

Event will be held Saturday September 13th in the parking lot of the Chef (entire event will be outdoors).Gate will open at 12:00pm with a special performance by the Legendary Rick "Elvis" Saucedo at 1:00pm, bands start at 2:00pm and run thru 10:00pm. No large canopy, tables or chairs will be provided, so we encourage everyone to bring your own pop-up and chairs.

There will also be a charity raffle again this year (with lotsa fun stuff) and tickets can be purchased the day of the event for $5.00 each or 5 for $20.00. All proceeds will go directly to the CatNap from the Heart.
http://catnapfromtheheart.org/

More exciting news to come soon!

Updates also available at http://chefshangrila.com/

See ya'll at the Chef!

~D&C~
_________________
BaMbOoLoDgE...where the South Pacific meets the Great White North!

&nbsp


&nbsp