Hurricane Hayward
Grand Member (first year)



Joined: Jun 07, 2008
Posts: 1533
From: 16 miles from The Mai-Kai


Posted:

2017-08-11 11:59 pm

&nbspPermalink

The August calendar has been updated with all the latest news on Tiki Oasis, plus a full recap on the Surf Guitar 101 Convention including lots of photos and video ...

The Tiki Times – 2017 Events Calendar: August means Tiki Oasis, surf guitar and hot summer events

http://www.slammie.com/atomicgrog/blog/2017/08/05/tiki-times-events-calendar/




We also have coverage of Swanky's West Coast tour in support of "Mai-Kai: History and Mystery of the Iconic Tiki Restaurant," including stops at Smuggler's Cove and Tiki Oasis ...




Aug. 10-13 – Tiki Oasis in San Diego, the 17th annual celebration of Tiki culture is the longest-running and largest event of its kind in the world. Thousands of enthusiasts gather at the Crowne Plaza hotel (the home base since 2006) for three days and four nights jam-packed with 20 bands and performers, 30 DJs, more than 100 vendors from around the world, 35 educational seminars, burlesque and car shows, plus lots of poolside parties and fun.

http://www.slammie.com/atomicgrog/blog/2017/08/05/tiki-times-events-calendar/#Tiki-Oasis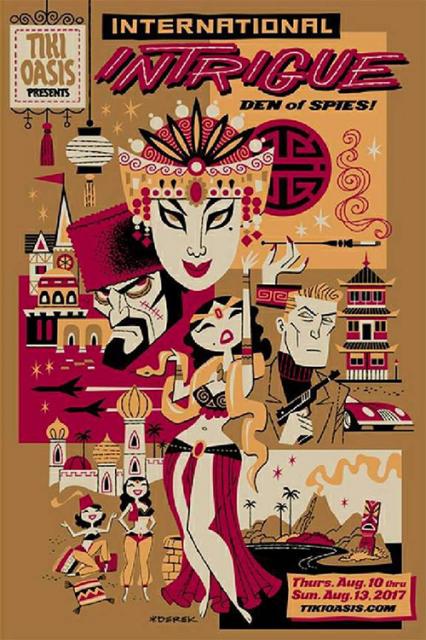 Plus previews of events across the world, including The Hula Hop, FezTiki 2017, the Don the Beachcomber Mai Tai Festival and "Tiki Time! Exotic Cocktails and the Cult of the Tiki Bar," an evening program with book signing and tastings at Smithsonian Castle in Washington, D.C. The Smithsonian Institution hosts Martin and Rebecca Cate, winners of a 2017 James Beard Foundation Book Award and 2017 Spirited Award for Best New Cocktail & Bartending Book.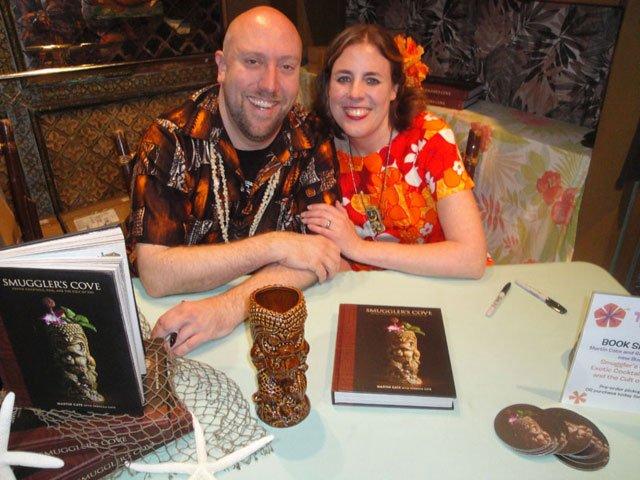 If that weren't enough, there's one more spotlight event this month ...

Aug. 24-27 – Asbury Park Surf Music Festival featuring live music, DJs, Tiki cocktails, vendors, and more. This fourth annual festival is presented by Hi-Tide Recordings and includes four days of surf-rock happenings on the New Jersey shore centered around the host hotel, The Asbury, and Asbury Park's historic Convention Hall.

http://www.slammie.com/atomicgrog/blog/2017/08/05/tiki-times-events-calendar/#Asbury-Park




Also, don't forget Aug. 26 – Surf Rock at The Mai-Kai ... The Intoxicators and The Disasternauts at The Molokai lounge.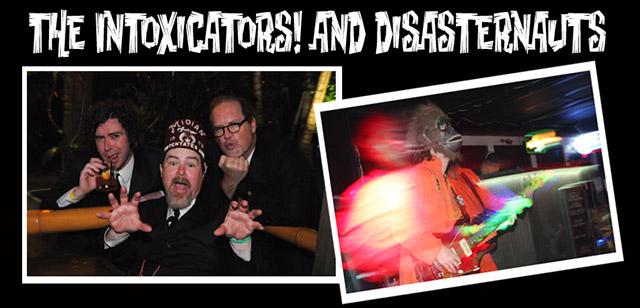 Plus full lists of ongoing and upcoming events ...
http://www.slammie.com/atomicgrog/blog/2017/08/05/tiki-times-events-calendar/#ongoing
http://www.slammie.com/atomicgrog/blog/2017/08/05/tiki-times-events-calendar/#upcoming

A reminder: We constantly update all of the monthly event guides, adding photos and video from multiple sources (Facebook, Twitter, etc.). Take a look back at July for a comprehensive recap of Tales of the Cocktail ...

http://www.slammie.com/atomicgrog/blog/2017/07/01/the-tiki-times-july-2017-events-calendar-summer-heats-up-with-tales-of-the-cocktail/#Tales-of-the-Cocktail

And don't forget the June news, including The Hukilau,Surfer Joe Summer Festival, Ohana: Luau At The Lake, and Tiki Kon ...
http://www.slammie.com/atomicgrog/blog/2017/06/05/the-tiki-times-june-2017-events-calendar-summer-season-heats-up-with-the-hukilau-ohana-luau-at-the-lake-tiki-kon-and-more/


_________________
Events, music, art, cocktails, culture



The Mai-Kai Cocktail Guide

&nbsp


&nbsp