tikitube
Grand Member (first year)



Joined: Apr 25, 2017
Posts: 264
From: Ozark Underwater Cliffs


Posted:

2018-04-15 6:56 pm

&nbspPermalink

We recently checked out the Saturn Room for their annual birthday luau event. It's about a three hour drive for us, but we had several friends willing to share the drive and we had Mr. Tiki visiting, so we had a good excuse to hit the road.

When I called the bar several days before, they said that they were opening early (at noon) and that the event would run until 2am. Seeing as we didn't intend on spending the night in Tulsa, we decided to go early in the afternoon.

I think we arrived around 2:30pm. There were very few people there, and there was no sign of the food trucks that they had said would be outside (which was a problem because we had all skipped lunch and figured we would eat when we got there).

Arriving inside, they handed us free tshirts and showed us the mugs they had for sale, including a signature mug for a new drink called the Tulsa Driller. Their stir sticks are cool.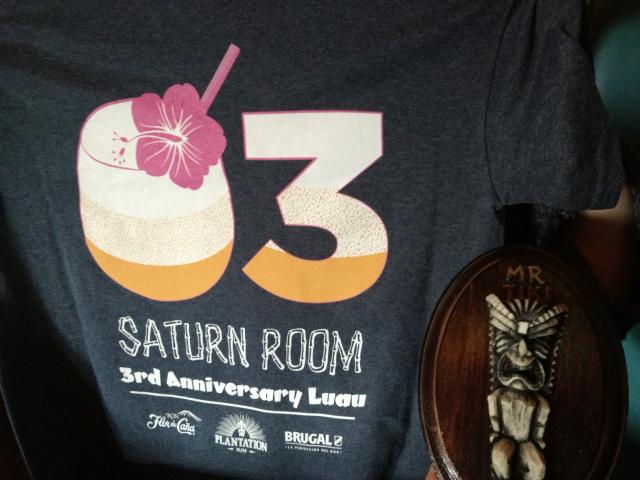 Mr Tiki approves!


We were told to sit wherever we wanted, so we grabbed the large booth nearest to the entrance. The decor is nice - classy and well-layered, though the overall room layout feels a little strange. It's basically a huge line of booths that sit across from the bar. They have large doors by the bar that they open to the outside, so during the day there is bright light (glare) spilling in. While we were there, they were playing a (hip?) mix of funk and more modern lounge tunes. It was more upbeat than I expected, but I figured it was supposed to be a party, right?

Our waiter was friendly, as were the bartenders who agreed to pose with Mr. Tiki. Is that Dexter?



We started off by ordering a Scorpion Bowl and some of their new Tulsa Driller cocktails in their take home mug. The Scorpion Bowl tasted sweeter than I expected for a tiki drink, but went down easy enough. The other drink, however, wasn't a hit. In fact, none of the six people at our table liked it very much. It seemed to have a strange sour flavor that we couldn't quite identify. Could that be Worcestershire sauce? We asked the waiter and he said no, just a "very funky tasting rum" for the Tulsa Driller cocktail. As something of a novice in rum drinks, I just sorta nodded. The mug is cool enough, though once someone pointed out the overall phallic shape I couldn't quite look at it in the same light. Plus, it's called a "driller".




The waiter surprised us with a free Blue Hawaiian that he said the bartender had made by mistake. It was tasty, but again much sweeter than anticipated. At this point we were all starving and still waiting for some food. A single food truck had finally arrived in the parking lot, but wasn't ready. We waited a bit longer, stopped ordering drinks, and were about to ask for the bill when our waiter told us the food truck had opened for business. We ordered Cuban sandwiches and empanadas and brought them inside to eat.

With food in our bellies, we then ordered Mai Tai and Suffering Bastard, shots of plantation pineapple rum (a favorite of our friend), as well as another signature Saturn Room drink... Chairman Mao's Revival.

The first two drinks were well balanced and our favorites of the evening. Although the Mao came highly recommended, we all felt that the strong peppercorn flavor was a bit much, and that the best part of that drink was the cute mug.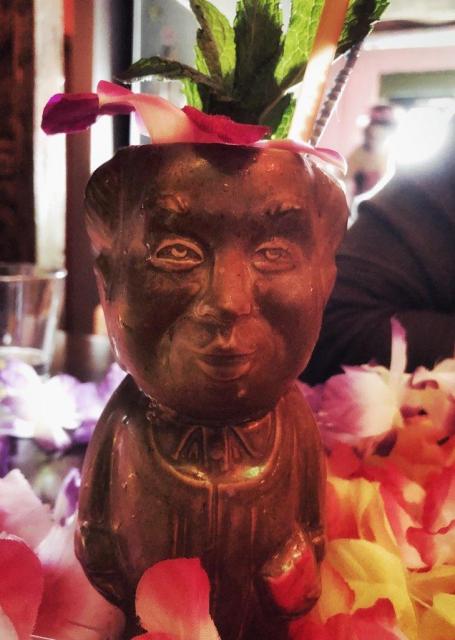 We stayed a few more hours, enjoying our drinks, the company and overall atmosphere. However, the "luau" party never really seemed to arrive and so we left by 7pm having enjoyed the overall "tiki bar" experience, but feeling like the party wasn't going to start until later than we could stay.

If we go back next year, we'll have to arrive and stay later. I think the atmosphere will be better in the dark, anyways. Maybe then we can also catch the live music and pig roast!

&nbsp


&nbsp